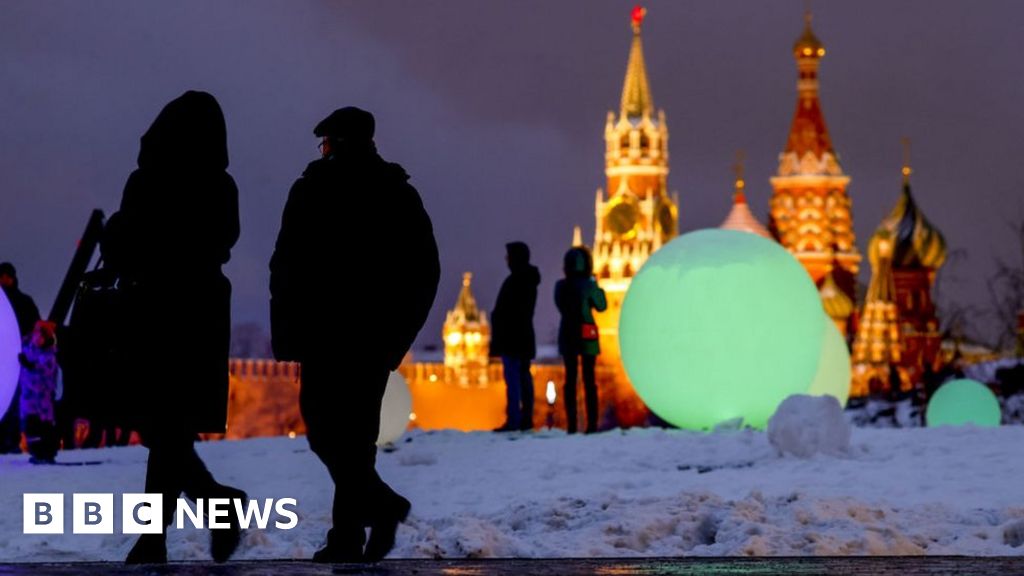 By Pavel AksenovBBC Russian defence correspondent, Moscow
Image source, Getty Images
Image caption, Russians are gearing up for their New Year and Christmas holiday and have little time for talk of conflict
There may be hope of US-Russia talks in the new year but the build-up of Russian troops on the Ukrainian border has led to fears of an invasion and all-out war. Commentators and experts in Moscow are as alive to the risk as their Western counterparts, but for most Russians there is little interest.
To gauge the public mood, I asked Muscovites if they were worried by the prospect of conflict or further economic sanctions. The EU, UK and US have all warned Moscow of a harsh economic response and President Joe Biden has threatened President Putin with "sanctions like he's never seen".
For Roman this is no time for war and he wants relations to improve.
"The situation in the country is quite complicated as it is. Then again," he glances up at the Kremlin, "up there they might have a different view."
Amalia believes the Kremlin will ultimately take the right course of action.
Despite the hope of talks in the coming weeks, the rhetoric is at a high pitch and defence analysts and journalists here agree there is a risk of conflict, even if Russia's troop movements can be explained away by routine exercises. That could also indicate preparations for some form of invasion later.
Sanctions were imposed when Russia seized and then annexed Crimea from Ukraine in 2014. Although they were targeted at individuals and key sectors of the economy, Moscow hit back with an import ban on an array of products.
So far, Roman has not noticed the change.
Image caption, Roman says his life has not been affected by sanctions imposed since Crimea was annexed
"Food is getting more expensive but I think that's a global trend and not linked to sanctions against Russia," he told me.
Sergey is unimpressed by all the talk of a possible conflict. All the reports of a Russian troop-build-up are merely an attempt to provoke Moscow, he believes.
Off camera people are more willing to talk but their opinions are little different.
Vladimir, a pensioner, is convinced Russia would not start a war but believes, in the event of a conflict, all the Ukrainians living in Russia would have to leave and Moscow would have to provide rebel-held areas of Ukraine with money and arms.
Arsen, a biologist, sees no reason for a war: "The official explanation is that the troops are there for the drills, so why not?"
An IT expert, also called Vladimir, has little time for Western reports of a planned Russian invasion but he is concerned by unsubstantiated Russian media claims that Ukraine has sent a large part of its army to the front line. "We need to protect our borders. If Ukraine has pulled its troops close to the border, why can't we do the same?"
The story is very different on Russian social media and that is where you will find most anti-war sentiment.
Facebook user Tatyana Volnova from Moscow backed a small anti-war rally in the city of Kirov last weekend, accusing Russian authorities of "mass brainwashing people who are ready to eat rubbish and to send their sons and grandsons to war".
"We are Russians and we don't want a war," proclaims Olga Mazurova on a public Facebook group entitled Peaceful Resistance St Petersburg. "The world and our country have to hear this."
Accusing Russian authorities of indulging in bellicose rhetoric, she calls on compatriots in cities and villages to "stop this madness".
Some have posted pictures of their own individual protests on Facebook.
Twitter user Alexei Vladimirovich finds the idea of fighting neighbouring Ukraine absurd: "Our brothers and sisters are there. It's like fighting ourselves. Russia will lose everything!"
Some social media users have been trying to work out when an invasion could take place, with some discussion around 23 January.
And there is support for a Russian invasion too.
Pro-Kremlin blogger Anatoliy Shariy, originally from Ukraine, predicts "an immediate triumph for Russia", and suggests defence officials expected a swift and painless war.
A video blog on his YouTube channel has attracted more than 750,000 views in which he rubbishes as "brainwashing" a piece from the Ukrainian front line by a British Daily Mirror journalist.
On the streets Russians are reluctant to talk about any potential confrontation with the West, but military action has become a regular theme on Russian state TV.
For some weeks, daily political shows have focused on the West's "hysteria" over Ukraine.
During a fiery TV discussion with a Ukrainian analyst, Margarita Simonyan – the editor in chief of Russia's leading propaganda channel RT – accused Ukraine of killing innocent civilians in the rebel-held east.
"We can also conduct a non-hybrid war, we can conduct a normal war," she said on the nightly 60 minutes show on the Rossiya-1 channel.
Ukraine was to blame for the unrest dragging on in its eastern regions and if Russia could not sort it out by diplomatic means, then it should find another way to protect it citizens under fire, she said.
It has become a common theme for Russian state media to accuse Ukraine of using violence against civilians ever since the conflict began between Ukraine's military and Russia-backed separatists in April 2014. TV reports purporting to show evidence of such incidents have been aired but regularly debunked as fabricated and fake.
State TV habitually refers to Ukraine as "a colony of the West", with the US accused of "continuing to arm Ukraine".
Ukraine's government and president often come under attack.
The 60 minutes show aired a detailed report claiming that President Volodymyr Zelensky was "a long-term drug addict" who had several dealers. Its main evidence was a montage of Mr Zelensky sniffing or touching his nose on separate occasions.
Whatever the Kremlin may be planning on Ukraine's borders, the rhetoric you hear on TV does not appear to be widely echoed on the streets of Moscow.
Image caption, Kamaliya told the BBC she trusted her government and president to do the right thing
A woman called Kamaliya summed up the views of many who said she hoped it would not happen and just wanted a normal life.
"I hope they'll have enough wisdom and understanding of the possible consequences to prevent a catastrophe that could become not just local but global."
Additional reporting by Yaroslava Kiryukhina, BBC Monitoring, Moscow, and Kateryna Khinkulova.