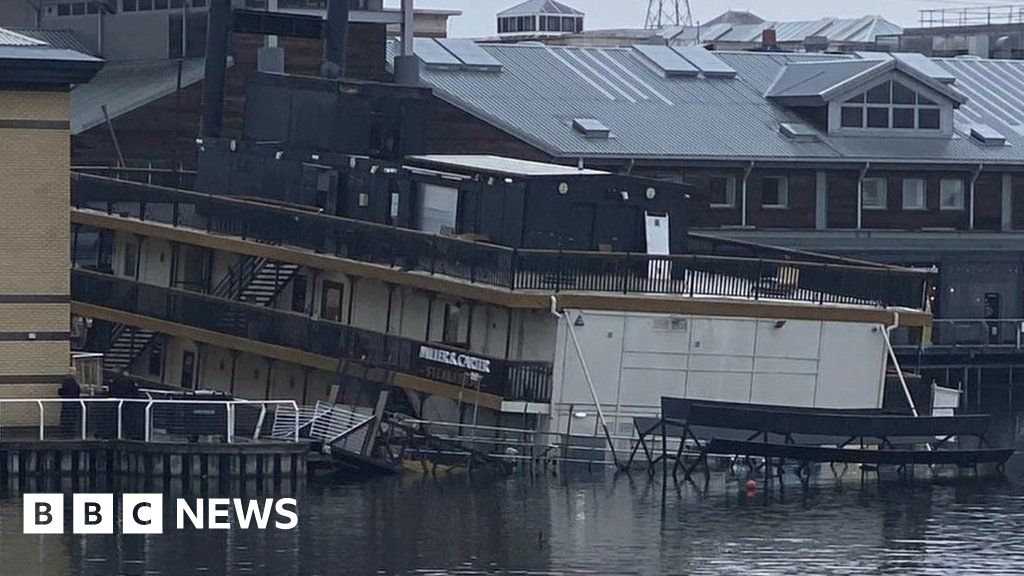 A floating restaurant has partially sunk into a lake at a major UK shopping centre.
Pictures shared on social media showed part of the Miller & Carter restaurant at Lakeside in Essex starting to submerge.
Essex County Fire and Rescue Service said it was informed of the incident at about 11:00 GMT but crews were not required to attend.
A fire spokeswoman said no-one was still in the restaurant.
Image caption, A Miller & Carter spokesman said refunds would be issued "as quickly as possible"
The steakhouse has been built on a paddle steamboat.
A spokesman for Miller & Carter Lakeside said: "We are aware of the situation at our Lakeside restaurant. Regrettably, due to the scale of damage we were forced to close immediately.
"Our priority is our guests, and our teams are working hard to contact everyone who holds a booking with us to inform them of the unforeseeable incident and issue refunds as quickly as possible."
Find BBC News: East of England on Facebook, Instagram and Twitter. If you have a story suggestion email [email protected]
The BBC is not responsible for the content of external sites.