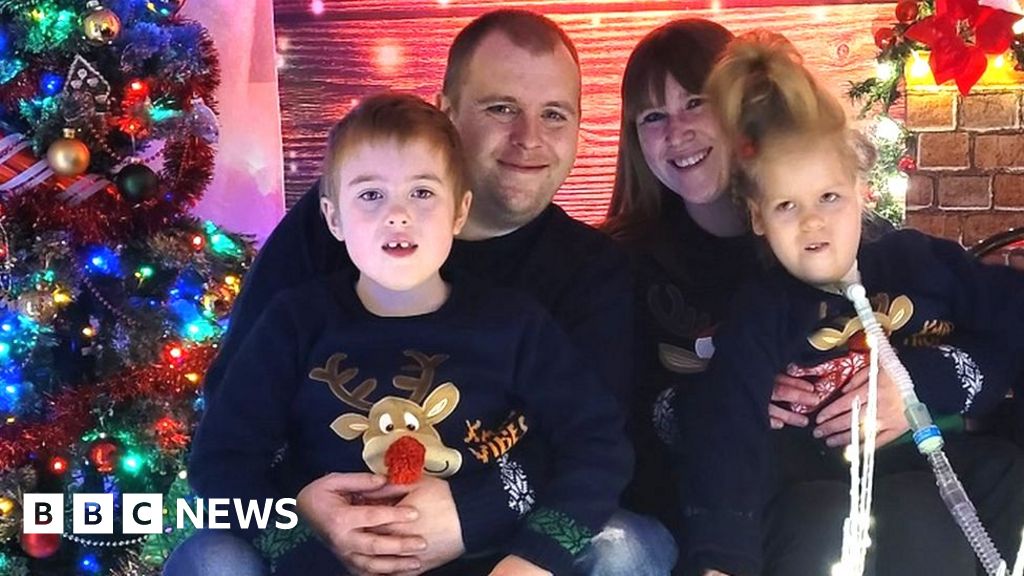 Image source, Arthur family
Image caption, The Arthurs have been shielding continuously since last year
Seven-year-old twins in the Highlands have taken a step towards ending months-long shielding after receiving their first Covid vaccinations.
Orin and Olivia Arthur have Pompe disease, which effects organs such the heart and lungs.
They have been shielding at their home in Tain, Easter Ross, for 22 months along with their parents Lyndsay and Stephen Arthur.
Mrs Arthur said the vaccinations were a "Christmas dream come true."
The rare condition means the twins require specialist care. Even a common cold can lead to them having to spend time in intensive care in hospital.
Mr and Mrs Arthur have been calling for vaccinations for their twins for the past year.
Earlier this week, the UK government said vulnerable primary school children aged five to 11 should be offered a low-dose Covid vaccine.
The Arthurs believe the twins are the first under 12s in Scotland, and possibly the UK, to have the vaccine. They have praised NHS Highland and Public Health Scotland for getting the vaccinations to them.
Image source, Arthur Family
Image caption, Olivia receiving her first dose of Covid vaccine
Mr Arthur said they would have to continue shielding, but the jabs were the first step to returning to a more normal life where they can see family and friends again.
He said: "The past 22 months have been hard work and our principal focus has been keeping to normality as much as possible.
"Lyndsay is a teacher and we have been keeping to the routine of school, and we are lucky to have a nice garden to go into when the weather is nice."
He added: "The big impact is social. The twins can't see their friends and before Covid they were both attending a mainstream primary."
While shielding, people have helped with dropping off groceries but anything that comes into the house has to be cleaned. Social care staff have also been unable to go any closer to the house than the front garden.
Stephen said he hoped early next year would see an end to their shielding. He added: "My wife is still buzzing."