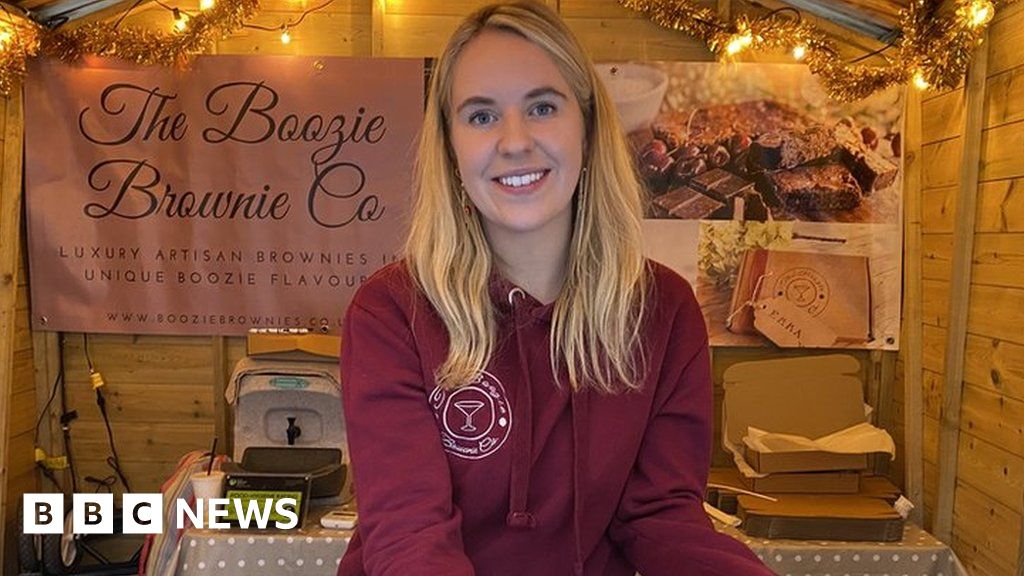 Christmas market stall holders fear their profit margins will be badly hit this year as their goods are costing far more to produce.
Stall holders at Cardiff Christmas market will be selling produce until 23 December.
After surviving Covid, traders are now faced with a rise in their costs because of the cost of living crisis.
However, some stall holders remain optimistic and said they were grateful for shoppers' support.
Emily Becketts, owner of Boozie Brownie Co, based in Herefordshire, has a stall at Cardiff Christmas market for the second time.
She started her business in lockdown after leaving her job in a bakery.
"I am starting to notice that people are less likely to buy my brownies this year with the cost of living rising," she said.
"People are still responding well to the brownies and are enjoying my free samples, but they don't seem to be buying them."
Image caption, Emily Becketts explained that some of the ingredients she uses have gone up by 45%
Ms Becketts said her online sales had dropped since Covid so has started selling her products at more events.
She also recently bought a converted horse trailer to travel to music festivals to create more business.
The chocolate, butter and eggs she uses for her brownies have gone up by 45% in the past two years.
"The industrial oven I use costs me £12 in electric a day and I had a warning in my last bill that my electricity usage had doubled since last year," she said.
"This left me with no other option but to increase my prices from £2.50 a brownie last year to now £3.
"I'm just hoping my sales will be as good this year as they were last year."
Another stall holder, Emily Morgan, created her luxury tea business after leaving her job as a teacher in 2017.
The business owner from Porthcawl, Bridgend county, said: "I have noticed that there's been a slump in my sales. It's affecting me as I have got lots of bills to pay."
Ms Morgan explained how one of the ingredients she uses for her tea, chamomile, has gone from costing £12 per kilogram to £22.
Image caption, Emily Morgan, the owner of Tea by the Sea, left her teaching career to start her business
As profit margins for chamomile tea are now smaller, she had no choice but to put her prices up by 25p.
"I have managed to weather the storm so far but if it gets worse I will have to put all of my prices up," she said.
Ms Morgan said it costs £120 a day to rent a stall in Cardiff Christmas Market – equating to £5,000 for the whole Christmas season.
Therefore, she has opted to only have her stall there for five days.
James Gregg, from Cwmcarn in Ebbw Vale, Blaenau Gwent, sells jewellery made using collected flowers.
The 41-year-old said the jewellery boxes he buys had gone up 50% since last year and chains for the jewellery he makes have also increased in price by 30%.
"A silver chain now is costing me £3.50 to buy, whereas two years ago they were costing me £2 each," he said.
Image caption, James Gregg, the owner of Handmade Boutique, fears that he might have to put his prices up next year due to profit margins falling
Mr Gregg has kept his prices the same for the last three years by swapping a solid silver chain for a silver plated one.
"I won't be taking the same earnings today as I did this time last year," he said.
"I'll be down probably half. This does worry me, I may have to put my prices up next year."