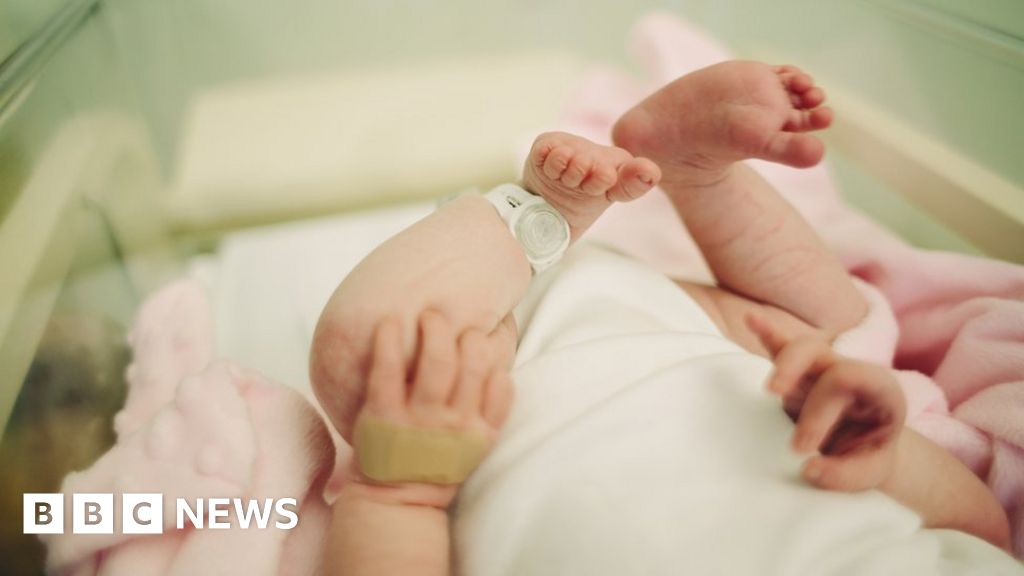 Image source, Getty Images
Image caption, The increase in deaths was high enough to trigger an investigation
A spike in the number of deaths of newborn babies during September was not linked to Covid, a preliminary investigation has found.
At least 21 babies under four weeks old died in September, a rate of 4.9 per 1,000 births.
Infant death rates fluctuate but the increase was big enough to trigger an investigation.
Health officials said there were a relatively high number of premature births but no evidence of a Covid link.
The neonatal mortality rate in September was the highest since the records began in July 2017.
The following month it fell to 3.3 per 1,000 live births, still above average but within the expected range.
Public Health Scotland (PHS) said its initial findings suggested that overall the number of births in September 2021 was at the expected levels.
Commentary in the PHS's Covid-19 wider impacts report said: "Preliminary information on prematurity suggests that the number of babies born at less than 32 weeks gestation in September 2021 was at the upper end of monthly numbers seen in 2021 to date.
"This may contribute to the neonatal mortality rate, as prematurity is associated with an increased risk of neonatal death."
The average mortality rate among newborns in Scotland is just over two per 1,000 births.
Health officials added: "There is no information at this stage to suggest that any of the neonatal deaths in September 2021 were due to Covid-19 infection of the baby.
"Likewise, preliminary review does not indicate that maternal Covid-19 infection played a role in these events.
While all child deaths are investigated, the wider inquiry was triggered after when the mortality rate passed a "control" threshold, designed to pick up abnormal trends in infant deaths.
The review is considered preliminary at this stage, as some information on births at a national level is not fully complete. This data is expected in February 2022.
Despite its finding that Covid did not have a role in September's deaths, PHS goes on to say that there is "international evidence" that infection with the virus during pregnancy is associated with a "higher chance of problems for both mother and baby".
Infection has also been linked to an increased risk of stillbirth and a higher likelihood of premature birth because of the need to deliver the baby early for the health of the mother or baby.