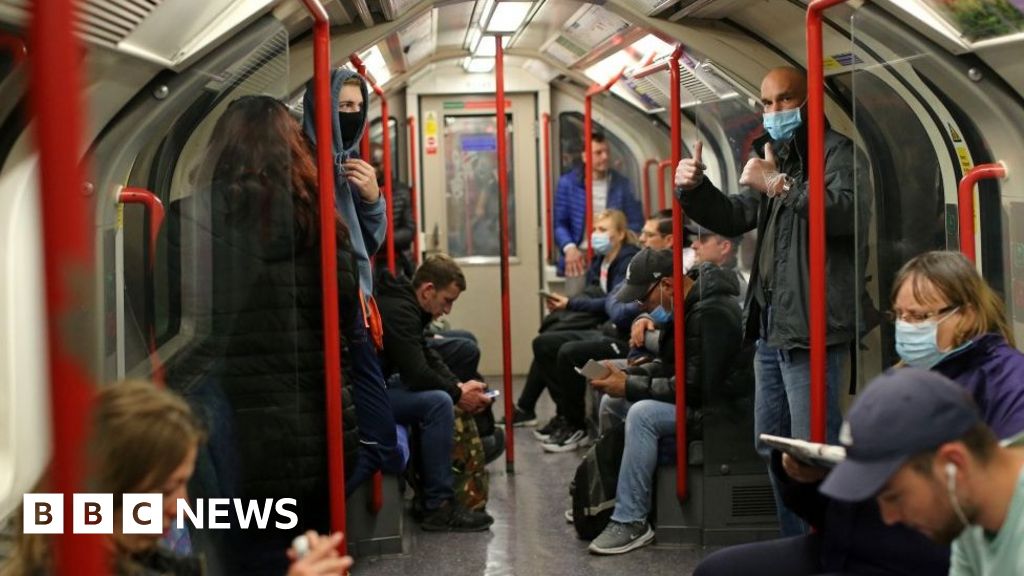 Image source, Getty Images
Image caption, Revellers are usually allowed to use London's Underwound free of charge overnight on New Year's Eve.
Free Tube travel on New Year's Eve has been scrapped for the second year in a row due to the "catastrophic impact of the pandemic" on finances, Transport for London (TfL) has said.
Normally London's Underground is free from 23.45 GMT until 04.30 GMT, a tradition dating to 2000.
Services will still run through the night but usual usual fares will apply.
It is the second year of no free travel but last year's celebrations were restricted due to the pandemic.
This year a ticketed celebration at Trafalgar Square replaces the annual fireworks display on the Thames.
The free travel at new year is often funded by a sponsor but one has not been found for this year.
TfL said: "Following the catastrophic impact of the pandemic on TfL's finances, TfL unfortunately will not be able to offer free travel on New Year's Eve.
"Services on the transport network will run through the night, ensuring that people can enjoy everything London has to offer and get home safely."
TfL's current government bailout deal runs out on 11 December.
Transport bosses are seeking £500m to keep services running until April, plus £1.2bn for 2022/23 and plus more than £1bn a year for major upgrades and maintenance.
Image caption, About 300 drones were used in the display to create images in the sky during the 2021 celebrations
Tony Devenish, Conservative London Assembly member, said it was "no surprise" the mayor of London Sadiq Khan had struggled to find a sponsor for free travel.
He said: "The West End desperately needs the mayor's help to get visitors back into central London.
"Sadly, Khan's acting like a Grinch by cancelling our city's fireworks display and failing to reopen the Night Tube in full.
"His decision to scrap the traditional free Night Tube on New Year's Eve and Day is yet another hammer blow to our city's recovery."
The BBC is not responsible for the content of external sites.