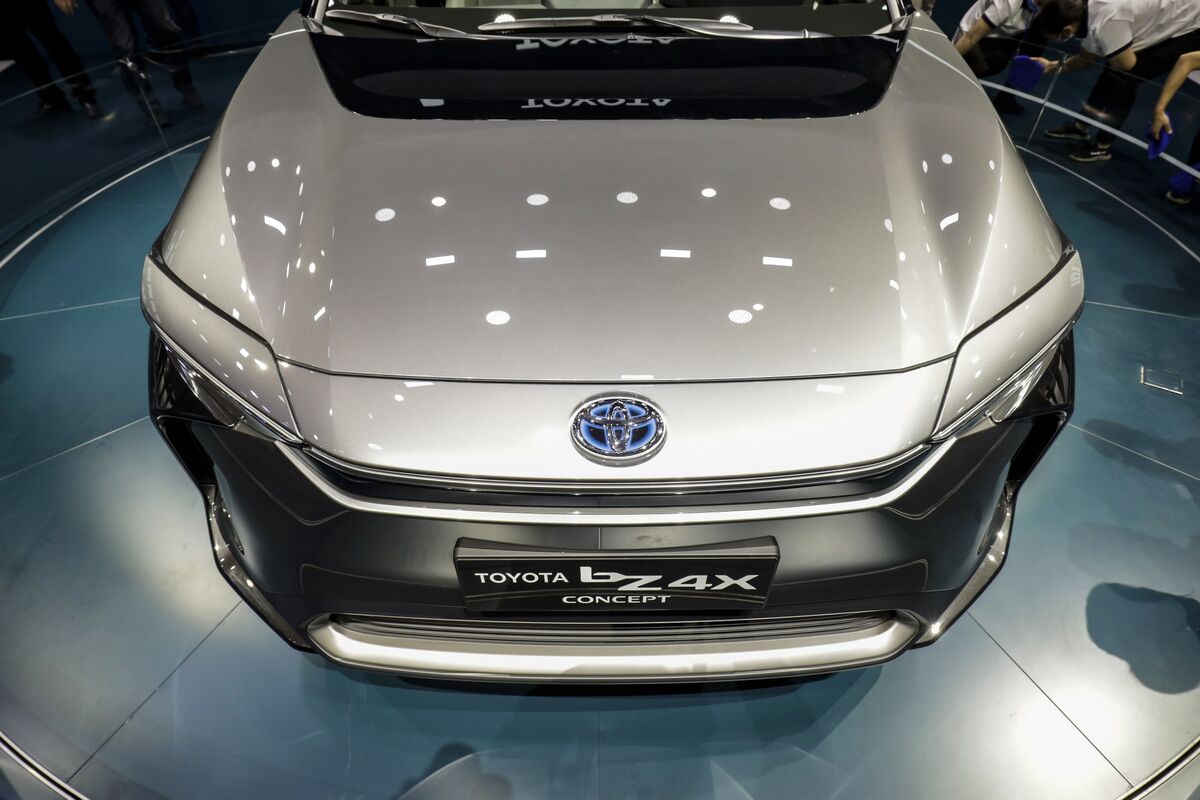 Expert insight into the future of carsGet Bloomberg.com's automotive industry newsletter
Welcome to the Hyperdrive daily briefing, decoding the revolution reshaping the auto world, from EVs to self-driving cars and beyond.
News Briefs
Foxconn is in talks with Saudi Arabia about

making EVs.

Robotaxis are

roaming around Nissans hometown.

Apple

loses a top car hardware engineer to flying-taxi startup.
Toyotas Green Light
Hi Hyperdrive fans, Craig Trudell writing to you today from Brussels.
Ive made the trip here from London to spend a day listening to Toyota unpack its plans for electrification and realizing carbon neutrality in Europe.
The big headline out of the forum: Toyota says its going to be ready to achieve 100% CO2 reduction in all new vehicles by 2035, assuming Western Europe has sufficient battery charging and hydrogen refueling infrastructure in place.
The qualifying bits at the end of that last sentence surely will rub some environmental activists and electric vehicle enthusiasts the wrong way. Toyota already has been criticized by the likes of
Greenpeace and the
Sierra Club for what they view as complacency and foot-dragging. Pioneering hybrids with the Prius was great and all, but its time to go fully electric.
These attacks overlook whats been a clear-cut success story for electrification, particularly here in Europe when the rest of the auto industry professed to be making cleaner cars and were not.
Lets not forget that Toyota 
zigged toward hybrids when virtually every other carmaker in Europe zagged toward diesels. How much harmful emissions would the atmosphere been spared had Volkswagen and others at least partially electrified when Toyota was doing so?
Steady Descent
Toyota has consistently lowered emissions from vehicles sold in Europe
Source: Toyota
Give Elon Musk all sorts of credit for his relentless effort to make electric cars superior to those running on fossil fuels. Hes also made Toyota and other auto manufacturers belly-aching about the lack of charging infrastructure ring hollow by having Tesla go out and build an extensive network of stations on its own.
But for all of Musks achievements, launching rockets into space and landing them back on barges
proved to be an easier feat than fielding a $35,000 Tesla. The Model 3 never really hit that
planned price point. While Musk now aims to bring a
$25,000 model to market within the next couple years, his timelines arent particularly reliable.
Toyota has been climbing Europes sales charts with affordable and efficient cars. Three of its cheapest models  the Aygo X and hatch and crossover versions of the Yaris  are going to account for roughly half a million sales in 2022. More than 70% of the vehicles the company delivers in Western Europe this year will be electrified.
Toyota nearly pulls even with Peugeot, passes Renault and Ford
Source: European Automobile Manufacturers' Association
Note: Figures shown are for European Union + EFTA + U.K.
NGOs, activists, and most importantly regulators should by all means keep the pressure on Toyota to go fully electric. The carmakers chief scientist, Gill Pratt, and regional CEO Matthew Harrison both told me theyll respond to whatever the rules are. Toyotas targets for 2030 and 2035 happen to align the company with proposals the European Union put forth
back in July.
But its hard to argue Toyota is out of touch with what consumers want, or are ready for, given its steady growth here in Europe and massive presence around the globe. Its going to sell roughly 10.5 million vehicles this year, widening its lead over Volkswagen, the worlds No. 2. Tesla, by contrast, is expected to come close to cracking 900,000 cars delivered.
Proponents of battery-electric vehicles ought to celebrate the signal Toyota is sending this week rather than grumble that its taken the company too long to get here. A carmaker that knows a thing or two about what the mass market will accept is stomping on the EV accelerator.
Before You Go
The auto industry is well represented in the
Bloomberg 50, Businessweeks annual list of the people and ideas that have defined global business. Among this years honorees are Toyota board member James Kuffner, Ford CEO
Jim Farley and
John Elkann, chairman of both Stellantis and Ferrari. Elon Musk may be absent, but he certainly played his part in the meme stock craze Bloomberg Opinion columnist Matt Levine
writes about for this weeks issue. You wont want to miss the magazines photo of a shiba inu in a suit and tie.