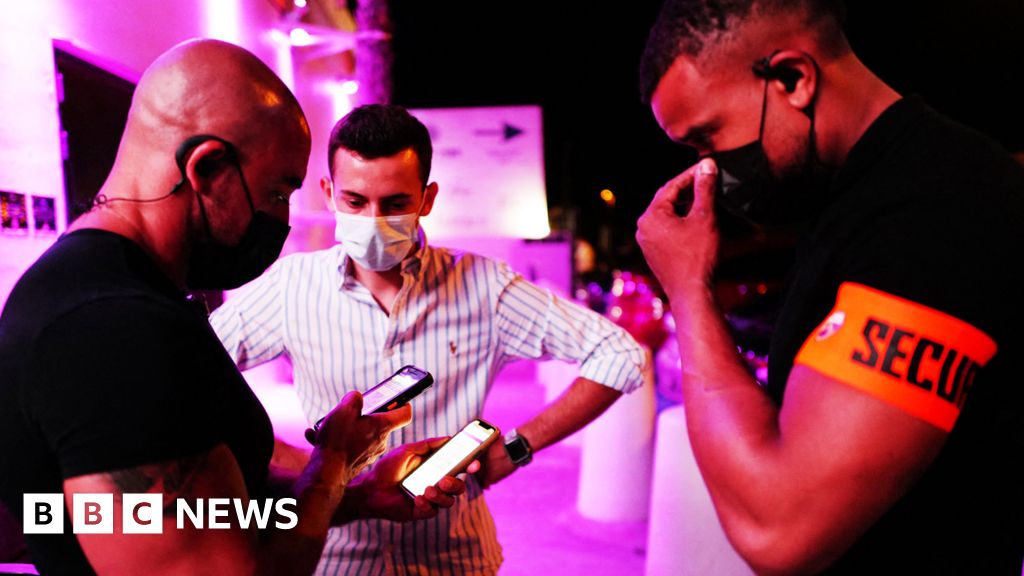 Image source, Getty Images
Image caption, Covid certificatoin will be required at nightclubs and licensed venues.
Northern Ireland's Covid-19 certification scheme, which requires people to show proof of vaccination or a negative test to enter some venues and events, comes into effect today.
However, there is a two-week grace period before fines are imposed on venues that fail to comply.
Ministers agreed to the plan to help curb the spread of Covid-19.
Businesses have said there is a lack of clarity around the scheme and how they should enforce it.
On Friday, Health Minister Robin Swann said unlicensed premises like cafes would be exempt from the rule.
The regulations will be laid in draft form on Monday, but will require assembly approval.
Image caption, Northern Ireland's domestic Covid certificates have three components, a QR code, a selfie and an HSC logo
From 29 November, either proof of vaccination, a negative lateral flow test or a positive PCR test for access to:
nightclubs
licensed hospitality premises, including 'bring your own' alcohol venues
cinemas, theatres and conference halls
indoor events with 500 or more attendees with some or all of the audience not normally seated
outdoor events with 4,000 or more attendees with some or all of the audience not normally seated
events where more than 10,000 people will be present regardless of whether they are seated
There will be no enforcement until 13 December to allow for the scheme to be "bedded in", the Department of Health said in a statement last week (DoH).
The department said the phased approach followed feedback from the retail, hospitality, tourism and events sectors.
It said Covid certification can "reduce the number of infected people in high risk settings" as vaccinated people are "less likely to become infected and ill than unvaccinated people".
"There is also evidence, from several studies worldwide, that even when people get infected, if they are vaccinated they are less likely to transmit it to others," it continued.
Belfast Chamber chief executive Simon Hamilton said businesses should be compensated for the "inevitable" extra costs of complying.
"Hospitality, leisure and tourism businesses have had an absolutely torrid time over the past 20 months.
"Without adequate financial support in place quickly, jobs will be in jeopardy. Indeed, many businesses are already seeing cancellations of bookings, so this, and speculation about closures and lockdowns, is already having a negative effect on trade."
The scheme has also been met with resistance from some within the executive.
Economy Minister Gordon Lyons said the scheme was "ill thought out" and unenforceable.
His party, the Democratic Unionist Party (DUP), voted against bringing in Covid passports.
Last week, he urged other parties to show "political bravery" and reverse the decision.