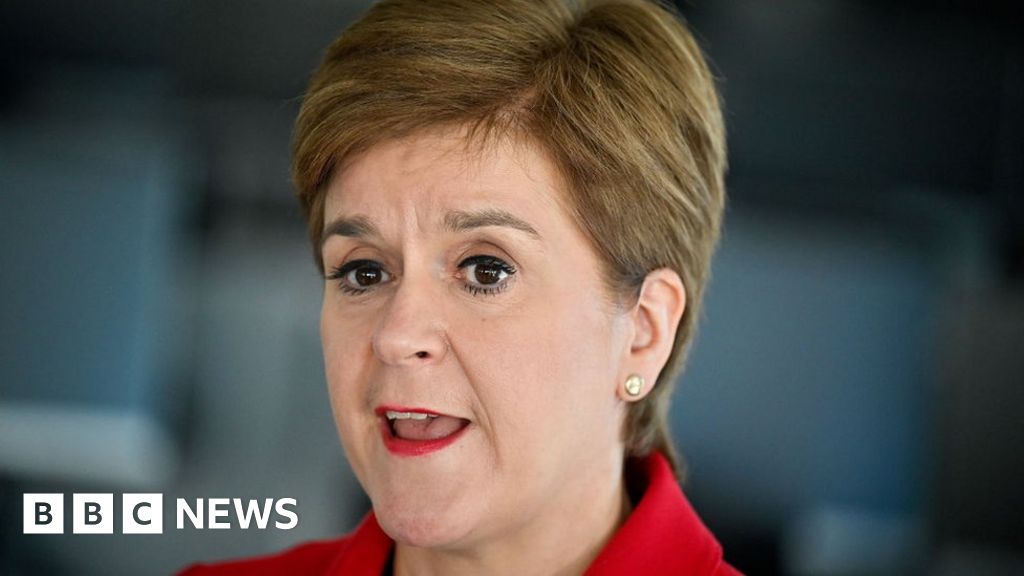 Media caption, Nicola Sturgeon: "We may have to go further on restricting travel"
Nicola Sturgeon is to urge Scots to "redouble their efforts" against Covid-19 in her speech to the SNP conference.
The first minister is to tell party delegates that the newly-discovered Omicron variant is causing "profound concern" at home and across the world.
Travel restrictions have already been tightened, but three cases of the new variant have been detected in the UK.
Ms Sturgeon has said ministers must remain open minded to imposing further curbs in order to "keep people safe".
She said the government had stepped up surveillance to detect any cases of Omicron, but said people should "behave now as if that new variant is in Scotland" already.
Ms Sturgeon's speech is to close the SNP's four-day virtual conference, but rather than party matters her appearances over the weekend have been dominated by discussion of the new Covid variant.
Omicron was first reported in South Africa, but cases have been detected in countries across the world, including Australia, Germany, Israel and Hong Kong.
Ten countries in southern Africa have been added to the travel "red list" in response, while it is expected that all overseas travellers arriving into the UK from 04:00 on Tuesday will need to take a PCR test.
Ms Sturgeon will tell her party faithful that Scotland is in "a much better position than I had dared hope for a couple of months ago", with case numbers declining slightly.
But she will warn that "there are big and very real challenges ahead over the winter months", with the Omicron variant "causing profound concern".
She will say: "We must not drop our guard. This is a time to be more vigilant, not less.
"That none of this was even contemplated just a few days ago is a reminder of how fast this virus can move and change.
"We must all of us therefore redouble our efforts to stop it in its tracks. Over these next weeks of winter, we need to pull together and look after each other."
Image source, Getty Images
Image caption, New travel restrictions have been announced in response to the new variant
On Sunday, Ms Sturgeon said she did not know how the new variant would affect her hopes to hold an independence referendum in 2023.
And in her speech to SNP members, she will stress that her government's immediate task is to tackle the virus.
She will say: "I promise that the government will do our job. Steering the country through this winter is my priority – it is my duty.
"But no government can fight a virus alone – we all need to play our part. That was true before the detection of Omicron, and it is even more so now.
"So I am asking everyone to please, take the time now to think afresh about the basic steps you can take to keep yourself, your loved ones and the country safe."
The new travel restrictions were announced as the World Health Organization designated Omicron a "variant of concern."
The UK government has tightened the rules on the wearing of face coverings in England, bringing them closer into line with those in Scotland – where there is also some use of vaccine passports for large events, and more stringent advice on home working.
Prime Minister Boris Johnson said that it appeared the new variant "spreads very rapidly and can be spread between people who are double vaccinated".
He said: "We need to slow down the spread of this variant here in the UK, because measures at the border can only ever minimise and delay the arrival of a new variant rather than stop it all together."
Ministers have, however, sought to downplay concerns about restrictions being imposed at Christmas, as happened in 2020.
Health Secretary Sajid Javid said on Sunday that "people should continue with their plans as normal for Christmas".
And Ms Sturgeon will say on Monday that people complying with existing measures "will maximise our chances not just of a more normal Christmas but of a safer Christmas too, and let's all hope a much brighter new year".