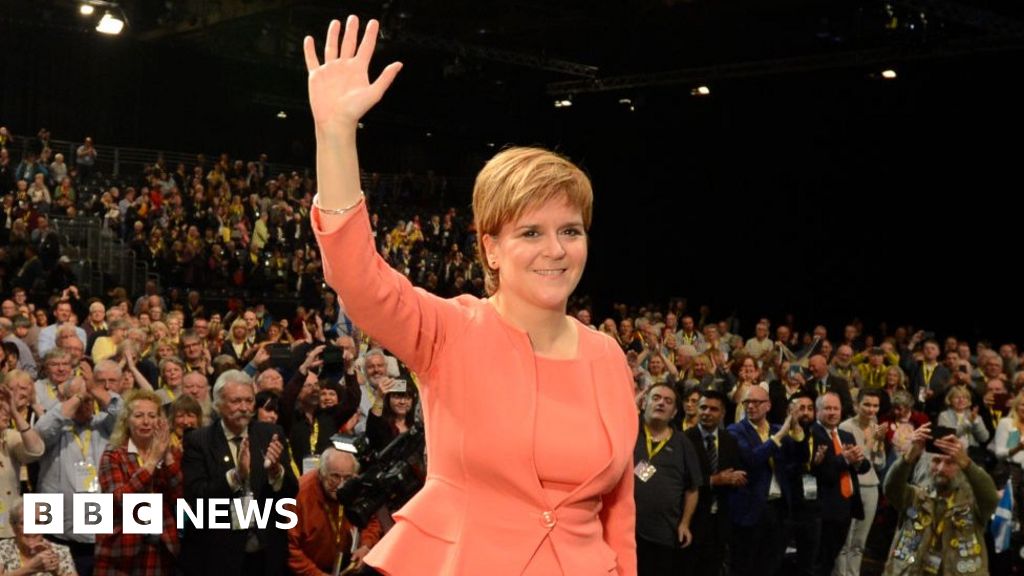 By Glenn CampbellPolitical editor, BBC Scotland
Media caption, Sturgeon: "I'm going to be around a lot longer"
It is too early to assess the career of a first minister who has made clear she intends to be around for a lot longer.
That may be why when someone asked me to do that recently, I did not have a considered answer.
The question was: "If Nicola Sturgeon quit tomorrow, what would her legacy be?"
My first thought was that she'd be remembered as the first minister who led Scotland through Covid.
She is also the first woman to hold the office. The first minister who expanded free childcare, introduced devolved benefits and minimum pricing for alcohol.
The one who asked to be judged on narrowing the attainment gap between rich and poor in education – a gap that watchdogs say "remains wide".
The one who spectacularly fell out with her predecessor, mentor and friend of nearly 30 years – Alex Salmond – when the Scottish government mishandled harassment complaints against him.
Those would certainly be among the main points to discuss if Nicola Sturgeon quit tomorrow. But that is not going to happen.
Not just because of the immediate challenge of the new Covid variant or the need for her to deliver an address to the SNP's annual conference on Monday.
Not just because she only won re-election in May and a recent Panelbase poll of more than 2,000 voters found 52% wanted her to stay for at least five years.
But also because her political project is far from complete. She has not given up on trying bring about independence.
Image source, Getty Images
Image caption, Nicola Sturgeon is about to address her 15th SNP conference as leader – although this one is virtual
As well as constitutional change, there is also the carbon-cutting agenda with which Nicola Sturgeon could yet leave a significant mark.
By taking Greens into government and giving greater priority to tackling the climate emergency, she clearly wants to be the first minister who switches Scotland towards a low carbon economy.
In pursuing that, she seems determined to end her party's decades-long love affair with oil and gas.
The SNP may have declared that "it's Scotland's oil" but under Nicola Sturgeon's leadership they want much of what's left to stay in the ground.
Image source, Getty Images
Having predicted a second oil boom for Shetland in 2014 she now wants the proposed Cambo field denied a "green light" and subjected to climate tests it would be unlikely to pass.
Having pledged enduring commitment to extracting maximum economic value from the North Sea in 2017, she now says the latest climate science has persuaded her that's unsustainable.
Nicola Sturgeon insists she wants a shift to renewable energy that creates new opportunities for oil and gas workers and avoids throwing them on the scrap heap.
She accused Alex Salmond of peddling an "oversimplified analysis" when he suggested that's where her approach might lead.
That has not silenced her critics, including some in the SNP, with the former Scottish cabinet minister Fergus Ewing warning in the Sunday Times against being seen to "denigrate and demonise" the industry.
The bigger frustration for some in the SNP is over independence and the apparent lack of progress towards another referendum, with preparations put on hold during the pandemic.
A small group of civil servants have now resumed work on independence and Nicola Sturgeon has said she'll set out a detailed prospectus – answering hard questions over borders and currency – in the next year.
There is no referendum bill in the 2021-22 programme for government but she has said the necessary legal steps will be taken in time to enable a vote before the end of 2023.
Image source, Getty Images
It remains unlikely that any proposal would be agreed by the UK government, and Holyrood-only legislation would almost certainly be challenged in court.
Breaking this logjam is the task Nicola Sturgeon has set herself and the outcome could have a big bearing on her tenure as first minister.
If she brings about another referendum and wins, I imagine she'd want to lead Scotland to independence and become the first prime minister of the new state.
If she secures the referendum and loses, I suspect that – like Alex Salmond in the same circumstances and David Cameron after the Brexit vote – she'd stand down.
There is of course another possibility that looks more realistic right now – that it just doesn't happen.
That her commitment to prioritise Covid "for as long as necessary" pushes indyref2 beyond reach.
Or that she is unable to persuade the UK government – and failing that the UK Supreme Court – to endorse a further referendum. That the independence project remains stuck.
That would presumably raise doubts about her leadership within the SNP, although many of her harshest critics have already departed for Alba.
It is, after all, five years since the Brexit vote which the first minister said made indyref2 "highly likely" and since then various target dates have come and gone.
Image source, Getty Images
Image caption, Nicola Sturgeon has been at Holyrood since 1999, and is set to become its longest-serving first minister
That said, Nicola Sturgeon is a political survivor. She is on course to become Scotland's longest serving first minister in May 2022.
By then she and the SNP will have been in government for 15 years.
If she stays until the next election, she will have been in the top job for almost as long as Conservative prime minister, Margaret Thatcher served in Downing Street.
To go on is her stated intention. "I'm going to serve a full term" she told me, without qualification, on Friday.
What she would not say is whether or not she intends to fight the next election in 2026, arguing that it is "bizarre" to even ask the question.
These two things are linked.
By committing to serve a full term, she is implying that she will seek another. Otherwise, there would be no time for a successor to establish themselves.
By declining to say that she will stand leaves open the possibility that Ms Sturgeon may not serve the full term after all.
Image source, Getty Images
Image caption, Kate Forbes and Humza Yousaf are among the contenders regularly tipped to succeed Ms Sturgeon
Not that there is an obvious successor.
The next generation candidates the first minister has publicly identified in the past are Health Secretary Humza Yousaf and Finance Secretary Kate Forbes.
Ms Forbes has let it be known that she does not want the job, considering herself too young and inexperienced and Scotland's political culture too harsh.
Mr Yousaf, by contrast, has made clear his desire to be "captain of the team" one day but his credentials are being severely tested by the challenge of managing the NHS through its current crisis.
Other potential candidates – including Constitution Secretary Angus Robertson, Westminster leader Ian Blackford and Deputy First Minister John Swinney – have been around a long time.
While some of her senior colleagues may wonder how long the Sturgeon era will last, there is no serious challenge to her leadership right now.
Her future appears to be in her own hands. As one MP put it: "Nicola's it until she decides she's not".