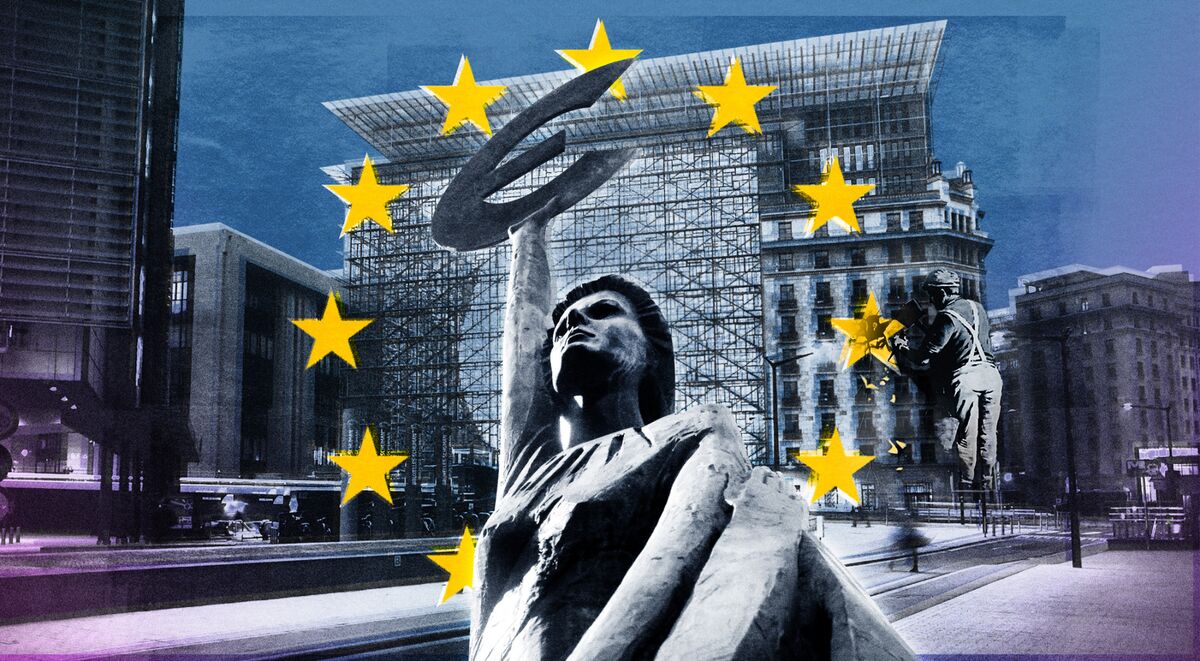 Welcome to the Brussels Edition, Bloombergs daily briefing on what matters most in the heart of the European Union.
The new omicron Covid-19 variant has governments instituting travel bans, airlines scrapping flights and the WTO postponing this weeks ministerial conference. The trade organizations move likely ends prospects for an agreement this year on waiving patent rights for vaccines. Thats a positive development for some policymakers in Brussels who argue that India and South Africas broad waiver proposal wouldnt actually help distribute more vaccines in the developing world. But the new variants emergence will only increase the urgency for nations to address the continued inequity of vaccine access. Europe is scrambling to slow the spread of the new strain, which has made its way to the region. Airlines, passengers and businesses rushed to respond to the deluge of travel restrictions announced over the weekend. Meanwhile, the WHO is working with researchers around the globe to
better understand omicron after health experts in South Africa said it appeared to cause only mild symptoms.
Kevin Whitelaw and
Bryce Baschuk
Whats Happening
Italys Patient Zero | The first Italian to test positive for the omicron variant had a negative test before his flight from Africa and
moved around Italy for days before his diagnosis. The case indicates the strain has been in Europe for at least two weeks and highlights the weakness of testing regimes designed to identify Covid cases before travelers board planes.
Locking Down | Swiss voters are
backing the government in its use of Covid certificates for entry into theaters and restaurants despite vociferous campaigning by skeptics. Lockdowns are intensifying in parts of Europe, with the Netherlands closing restaurants and bars at 5 p.m. The U.K. tightened its travel rules, but is
still resisting work-from-home guidelines.
Power Freeze | It may be
going from bad to worse in Europes energy crunch. France is particularly at risk, with power prices there the highest since 2012 as a cold blast creeps into Europes second biggest economy. Electricity prices rose to the second-highest level yet seen in Germany and hit a new record in the Nordic region.
Border Response | The EU and NATO pledged to strengthen their partnership to counter forced migration from Belarus. The EU will adapt its plans to revise the Schengen border rules to account for the hybrid attack. NATOs Jens Stoltenberg called on Russia to de-escalate the unexplained and unjustified build-up of forces along the Ukraine border.
Channel Coordination | In another attempt to shore up Europes borders, France agreed with allies to
take fresh steps to clamp down on illegal people-smuggling in the Channel, days after 27 migrants died trying to reach the U.K. French Interior Minister Gerald Darmanin met his German, Dutch and Belgian counterparts in Calais and said theyd agreed to use aircraft to monitor channel crossings from Dec. 1. 
In Case You Missed It
Socially Distant | Czech President Milos Zeman, who has Covid-19,sat behind a glass barrier in a wheelchair to swear in fiscally and socially conservative Petr Fiala as the next prime minister. The country is grappling with surging inflation and one of the worlds worst coronavirus outbreaks.
Early Signs | Emmanuel Macron
would get 25% or more of the votes in the first round of the French presidential election, if it were held today, according to a new poll. Nationalist Marine Le Pen would win 19% to 20%, depending on who else is running, while far-right commentator Eric Zemmour would come third, with 14% to 15%.
No Intervention | Theres
no need to tighten monetary policy at this time to control inflation thats being driven by temporary factors, said European Central Bank Executive Board member Fabio Panetta. Its like an illness, not all medicines are good for all illnesses.
Greener Coalition | Iceland has a new government after weeks of negotiations. The administration, which is led by Katrin Jakobsdottir, decided to stop granting oil exploration licenses and upgraded its climate target to a 50% reduction in greenhouse-gas emissions by 2030, compared with 1990. 
Chip Focus | Semiconductor production in the EU should double by 2030, with Intel set to announce details of a major investment in the region soon, Internal Market Commissioner Thierry Breton said. It should be a matter of days.
Chart of the Day
French Resilience
Economic impact of each lockdown was less severe than previous one
Source: Bank of France
As Europe braces for more potential restrictions, there are some signs that economies are becoming more resilient to lockdowns. French economic activity dropped as much as 29 percentage points during the initial March-May lockdown last year. A subsequent lockdown in October 2020 only dented activity by 4 percentage points, while restrictions starting in April had an almost negligible impact. That suggests Europe may be able to avoid new fiscal aid, and the ECB could stick to plans to shift away from crisis stimulus. 
Todays Agenda
All times CET
2:15 p.m. Eurogroup President Paschal Donohoe and French Finance Minister Bruno Le Maire hold a press conference in Paris
4:35 p.m. NATO chief Stoltenberg and Latvian President Egils Levits hold press conference in Riga.
Commission President Ursula von der Leyen and climate chief Frans Timmermans speak at European Hydrogen Week 2021
Like the Brussels Edition?
Dont keep it to yourself. Colleagues and friends can sign up here.
For even more: Subscribe to Bloomberg.com for unlimited access to trusted, data-driven journalism and gain expert analysis from exclusive subscriber-only newsletters.
How are we doing? We want to hear what you think about this newsletter.  Let our Brussels bureau chief know.
With assistance by Milda Seputyte, Aaron Eglitis, and Katharina Rosskopf