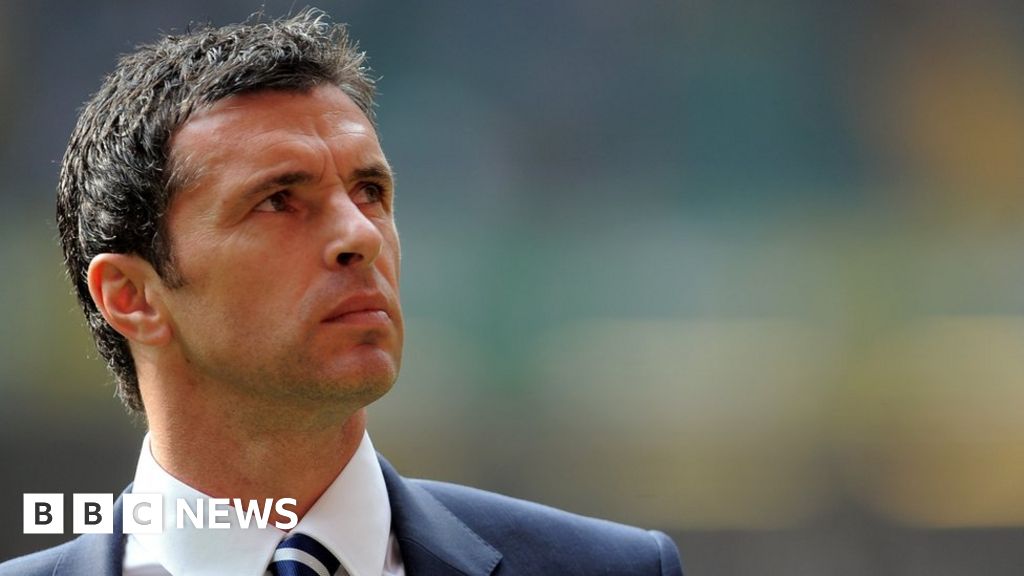 For many Wales fans, the journey to the World Cup in Qatar didn't start in qualifying or even with the current group of players.
It was almost 50 years ago, on playing fields in Flintshire, that the ethos and everything around this side began to take shape.
It is 11 years ago today that former player, captain and manager Gary Speed left us.
Yet, he will live forever in the eyes of Wales' football fans.
"He started it all, started the ball rolling. He wanted us to play like he did, 'give me the ball'," said Stuart Smith, 42, from Blackwood, Caerphilly.
"He didn't want us to just scrape by any more, he wanted us to play, how we do now. He gave us confidence in our football and shaped our game as it is today."
Describing him as "a proper Welsh hero", Mr Smith added: "He changed the mindset of Welsh football."
A minute's silence was held at Wales' training ground on Sunday in Speed's memory – and he is not far from fans' thoughts as they support the team in Qatar.
Arwel Williams, 48, from Eglwys Bach, Conwy, perhaps spoke for most Welsh people when he said he remembers the moment, and exactly where he was, when he heard of Speed's death.
"I was playing golf in Abergele, I couldn't believe it. But he's here with us in spirit," he added.
Dawn Williams, 47, agreed, saying the fans will never forget, singing about him at games to this day, while Tony Hughes, 55, from Narberth, Pembrokeshire, said: "We would still be in the dark ages if it wasn't for him."
As manager between 2010 and 2011, he mentored players such as Aaron Ramsey, paving the way for Chris Coleman to lead the side to Euro 2016.
Speed, who was 42 when he took his own life, won 85 caps and suffered World Cup heartbreak himself as part of the side that narrowly lost out on qualification for USA 1994.
"He would be so proud of the boys, whether he was part of this squad now or not, he was a proper Welshman," said Simon Brown, 55, from Monmouth.
He added: "Not a lot of people outside the country knew where Wales was, they may know Gareth Bale, or say it's in the UK or even in London.
Image caption, Welsh fans Simon Brown, Stuart Smith, Mykel Brown and Glyn Smith have paid tribute to Speed
"But it's on the map now, and he has played a big part in that."
In their official song for Euro 2016, the Manic Street Preachers sang: "Let's not forget Gary Speed, he wore his heart on his sleeve.
"And if he is looking down, then our love is all around."
It may be another six years on from that tournament, and on fields far more distant from those in Speed's native Hawarden in Flintshire, but time cannot diminish his memory.
An emotional Ian Sullivan, 58, from Merthyr Tydfil, said: "It's everything, isn't it?
Image source, Getty Images
Image caption, A minute's silence was held at Wales' training ground in tribute to Gary Speed on Sunday
"This occasion, being here goes back 10, 11, 12 years and to him, building up to this.
"Speed is looked at as an idol, not just in terms of being Welsh manager, but by players.
"He was totally respected by fellow professionals, which got us a lot of recognition at the time."
Mr Sullivan added that even though he may not be in Qatar, "he is here with us".
Lee Ellis, 51, from Beddau, Rhondda Cynon Taf, said that Speed was so loved because of the man he was as much, if not more, than anything he achieved in football.
He was at his final game as manager against Bulgaria away in 2011 and spoke to him while in a box at Cardiff City shortly before his death.
"He came in and just chatted to everyone. He was so approachable and didn't look down on anyone," he added.
Image caption, "Speed is looked at as an idol," says Ian Sullivan (right)
When the National Anthem plays before games at the World Cup "your mind naturally turns to him", said Andy Phillips, 50, from Llansteffan, Carmarthenshire.
He added that when he came in as manager, the set-up was unprofessional and disorganised, but he completely changed it.
"When he came in, Wales became almost like a club side," he said.
"The organisation and resources increased tenfold. He is massively responsible for where we are now."
Speaking about his death, he added: "If it did anything, it shed a spotlight on mental health and we must check in to make sure people are alright."
The sense of loss among Wales football fans is still evident 11 years on and yet, even thousands of miles away from home, Gary Speed is still very much with them.