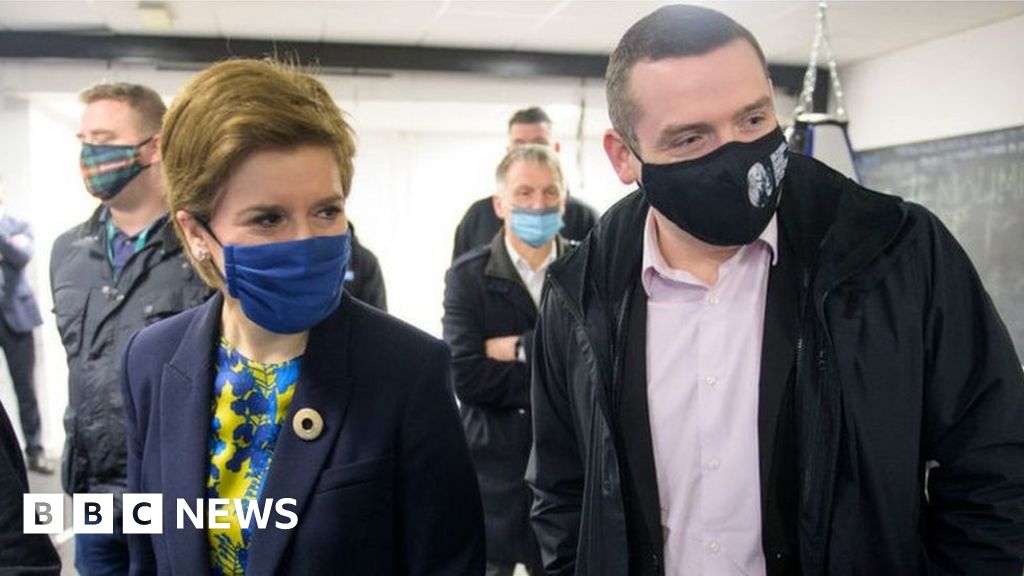 Image source, Getty Images
Image caption, Nicola Sturgeon and Douglas Ross visited the Bluevale Community Club in Glasgow
Nicola Sturgeon and Douglas Ross have held a joint visit to a drugs recovery group in a "united effort" to tackle Scotland's substance abuse death toll.
The SNP and Tory leaders agreed to "put politics aside" for their visit to the Bluevale Community Club in Glasgow.
Mr Ross said he would not "stand in the way" if ministers look to trial drug consumption rooms in Scotland.
And Ms Sturgeon said she is "absolutely open minded" about backing a Tory bid to put a "right to recovery" in law.
Drug-related deaths in Scotland hit a new record high of 1,339 in 2020, with the country suffering by far the highest fatality rate of any country in Europe.
The joint visit came about after the first minister challenged Mr Ross to join her in a working-class community, after he accused her of being "out of touch" – with the Tory leader responding with an invitation of his own to a drugs recovery group.
The Bluevale Community Club in Glasgow's Haghill area is a facility which helps people with addictions, as well as seeking to divert young people away from drugs.
The club's founder Kenny Trainer said he hoped it was not a "one-off photo op" by the politicians, but "a turning point" which could bring about change.
Ms Sturgeon said her government had committed "significant additional investment" into tackling the "shameful" level of drug-related deaths in Scotland.
However she said she would "readily acknowledge there is much more that we need to do to turn around what is an unacceptable toll that drugs are taking on communities".
She said: "That is about faster access to treatment, it's about extending rehabilitation, both residential and non-residential, it's about supporting facilities focused on recovery and making sure we are seeing all these services in an integrated and joined-up way.
"Because behind all the discussion and terminology we are talking about human brings, real people and real families that are being torn apart by drugs."
Ms Sturgeon said she was open minded to a Tory proposal to enshrine a "right to recovery" in law, although she said she would need to see the detail of any proposed legislation.
Meanwhile Mr Ross said he would back ministers in setting up safe consumption rooms, where people can take drugs in a clean and supervised environment.
Previous proposals to set up such facilities have failed to progress, with the UK government – which controls key drugs legislation – opposed to them.
In August, Prime Minister Boris Johnson said he is "instinctively" opposed to anything which could "encourage people to take more drugs".
However, Scotland's new Lord Advocate Dorothy Bain told MSPs that she could give "fresh consideration" to the legality of a "precise" and "specific" proposal.
Mr Ross said: "I still have serious reservations about drug consumption rooms, the legality of them and how you police them. There are serious practical problems, but I also believe that when four people every day in Scotland are dying as a result of drug misuse we have to look at all the options.
"If the Scottish government bring forward plans to have a pilot scheme in Scotland, I won't stand in the way because I want to look at all the evidence surrounding this."
The Tory leader said no party had a monopoly on the right answers to the drug deaths crisis, saying it was important to "show there is a united effort to deal with this national scandal".
He added: "On issues like this I'm sure people will expect us to leave our party politics to the side and actually work to deal with the situation in front of us."