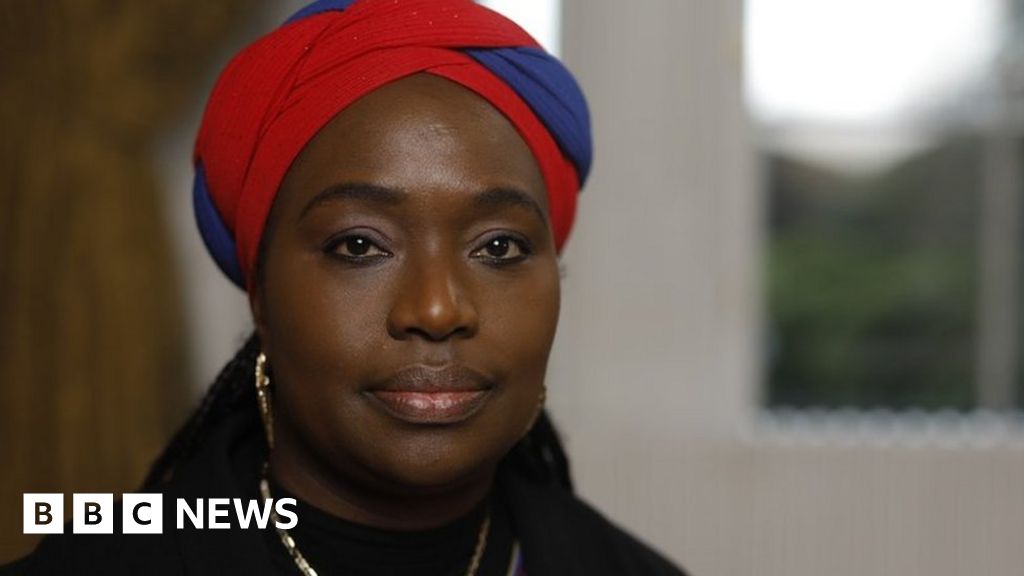 The sister of a black man who died in police custody received racist and abusive messages during the public inquiry into his death, a new BBC programme can reveal.
Kadi Johnson encountered the abuse after she told the inquiry into the death of her brother, Sheku Bayoh, that she no longer felt safe in Scotland.
Mr Bayoh died after being restrained on the ground by six police officers.
The inquiry is investigating the circumstances of his death in 2015.
It is also examining whether race was a factor in the way police handled the incident in Kirkcaldy, Fife.
The inquiry, chaired by Lord Bracadale, will begin its second phase of evidence on Tuesday.
This summer, the police officers involved in the restraint of Sheku Bayoh gave their account in public for the first time.
A new BBC Disclosure programme – How Did Sheku Bayoh Die? – analyses what the inquiry has heard.
Image caption, Kadi Johnson said the messages had been very upsetting
In May, Kadi Johnson told the inquiry that she felt differently about living in Scotland since her brother's death, and no longer felt safe.
She has shown the BBC several abusive messages she received as a result of her statement.
One said her brother "deserved everything that happened." Another accused her of "playing the race card", and said that if she "dint (sic) like it then leave".
A third said that she was the one who was racist, and added: "If you don't feel safe, please go. We'll gladly open the door as you leave."
Ms Johnson said: "It's very upsetting to hear that, very upsetting, when I saw those messages.
"How could people think like that? My brother has passed away, in the hands of people who are supposed to look after him.
"And people could still turn around and say I am racist or all of these things they are saying."
Image caption, Aamer Anwar is the lawyer for the Bayoh family
Police Scotland said it had not received a complaint, but added: "We have spoken to the family's lawyer to establish if they wish to pursue this matter so that any criminality can be thoroughly investigated."
The Bayoh family lawyer, Aamer Anwar, told the programme he had also faced racist abuse, including a death threat, since the inquiry began.
A letter delivered to his office used a racial slur and threatened to "blow your brains out".
He said: "You wonder is my life at threat? Somebody can put it in writing like that when they come to your front door.
"Will they come up to me in the street the next time I'm down [in Kirkcaldy]?"
Sheku Bayoh was born in Sierra Leone and moved to the UK when he was 12. He was training to be a gas engineer, had a partner, and was father to two boys.
Image source, Bayoh family
Image caption, Sheku Bayoh with his two children
On the day he died, he had been at a friend's house. He had taken the drugs MDMA and flakka, a stimulant. Witnesses said this seemed dramatically to alter his behaviour.
He went back to his home in Kirkcaldy, where he picked up a kitchen knife. He was next seen wandering the streets with the knife, apparently disorientated and behaving erratically.
Police arrived and following a violent altercation he was restrained by six officers.
The inquiry heard he may have been held in the face down, or prone, position by officers for up to four minutes before he fell unconscious and an ambulance was called for him.
He was pronounced dead at hospital shortly after. He had multiple injuries including head wounds and a broken rib.
Mr Bayoh's mother, Aminata Bayoh, told the programme her son had "died the hard way".
She added: "So we really need justice. We need justice for the boy. We are praying for that."
Image caption, Aminata Bayoh said the family were praying for justice
Part of the inquiry's remit is to establish exactly what happened that morning, and some of the facts are in dispute.
The inquiry heard that Mr Bayoh no longer had a knife and was not being aggressive towards the officers when they arrived.
But he ignored their commands to get down on the ground.
Three officers used their incapacitant sprays within 35 seconds of arriving at the scene.
DC Ashley Tomlinson said this was because Mr Bayoh had refused to obey commands and kept walking.
Evidence heard by the inquiry suggests Mr Bayoh then moved towards former PC Nicole Short and punched her to the back of the head, and she went down.
Image caption, DC Ashley Tomlinson said he thought the use of deadly force was justified
However, it's what happens next which is one of the most contested issues the inquiry faces.
PC Craig Walker and DC Tomlinson told the inquiry that Mr Bayoh carried out a violent stamping attack on Ms Short while she was on the ground.
DC Tomlinson said: "I thought he'd killed her."
The officer said he then struck Mr Bayoh a number of times to the head with his baton – in what was described as level 5, or deadly force – in order to stop him stamping on Ms Short.
When questioned, he said he thought the use of deadly force had been justified.
Image caption, PC Nicole Short told the inquiry she had been diagnosed with PTSD following the incident
PC Short told the inquiry she had felt an "almighty blow to the back of the head," and ended up on the ground.
She said she feared she was going to be killed and had been bracing herself for "further blows similar to the punch I got".
She did not remember being stamped on or being knocked unconscious but had been told about it afterwards by her colleagues in the canteen.
Last year, on BBC Panorama, Kevin Nelson, who watched the incident from his window, said the officers' accounts about the stamp were false.
In May, he repeated his claims to the inquiry. He said that as soon as Mr Bayoh had punched Ms Short he changed direction and moved away from her, before being tackled by officers.
Asked if it the stamp could have happened, he said: "I don't think it's possible, no."
Image caption, Kevin Nelson gave evidence at the public inquiry into Mr Bayoh's death
Ms Short was seen by Dr Katherine Mitchell in hospital following the incident.
Dr Mitchell told the inquiry she had treated Ms Short for a head injury and found no injuries to her back or torso. She also discounted the possibility Ms Short was knocked unconscious because of her ability to recall the incident.
Another three doctors who gave testimony about Ms Short said they had found no evidence of injuries consistent with a violent stamping attack.
Ms Short retired from the force on grounds of ill health, and told the inquiry she had been diagnosed with PTSD following the incident.
In March 2020, before the terms of reference for the inquiry were set up, the Scottish Police Federation, the body which represents rank and file officers, strongly objected to the possibility that Mr Bayoh's race might have had an impact on how officers handled the incident.
The SPF wrote to the then Justice Secretary Humza Yousaf, saying: "All information we are aware of makes clear that race and diversity played no part in the incident his death is directly related to the consumption of proscribed drugs."
Later that year, the inquiry's terms of reference were set, and included establishing whether Mr Bayoh's race, or perceived race, affected the actions of the officers involved.
In the first phase of hearings this year officers were asked whether they were aware of racial stereotypes about black men, specifically in relation to their perceived size and strength, and whether they were more likely to be viewed as potential terrorists.
Some officers, including PC Kayleigh Good, who attended the scene, had given statements saying they had been thinking of the Lee Rigby murder on the way to the incident. Fusilier Rigby had been murdered by two black Islamist terrorists two years earlier.
PC Good had said this was because the UK's terror threat at the time was "severe" and denied it was because Mr Bayoh was black.
Image caption, Mobile phone footage of police restraining Sheku Bayoh was obtained by the BBC
Officers were also asked whether they had ever heard an inappropriate racist comment in Kirkcaldy police station.
They all said they had not, and that they would challenge it if they did hear a racist comment.
PC Brian Geddes was working in the custody suite on the day of the incident. The inquiry saw CCTV footage in which one of his colleagues made a derogatory remark about a Middle Eastern man.
The colleague had stated "Isis in the station today," even though there was no suggestion the prisoner had any relation to terrorism.
PC Geddes acknowledged the comment could be seen as derogatory, and said he did not know why he had failed to challenge it.
Last month, an interim report by Baroness Casey into culture and standards at the Metropolitan Police found the force had failed to properly deal with racism within the ranks.
This follows a number of recent police racism scandals at the Met, and other forces around England.
Almost 25 years ago, the MacPherson report declared the investigation into the racist killing of Stephen Lawrence in 1993 had been hampered by "institutional racism".
Imran Khan KC, lawyer for the Lawrence family, told the Disclosure programme that the Bayoh inquiry "has to be Scotland's MacPherson".
Image caption, Stephen Lawrence was murdered in London in 1993
He said there were similarities between the two cases and suggested lessons still needed to be learned from MacPherson.
"The starting point should be, does police racism exist?
"We know it exists. So this inquiry has got to build upon that."
And he added: "There's a huge responsibility on the inquiry. And I always feel terribly sad about the fact that it takes a death of somebody to achieve change."
The inquiry is expected to last until 2024. The next phase of evidence is expected to hear from experts on the use of force.
BBC Disclosure: How Did Sheku Bayoh Die? will be broadcast on BBC1 Scotland at 22:40 on Monday 21 November.
Additional reporting by Mona McAlinden.