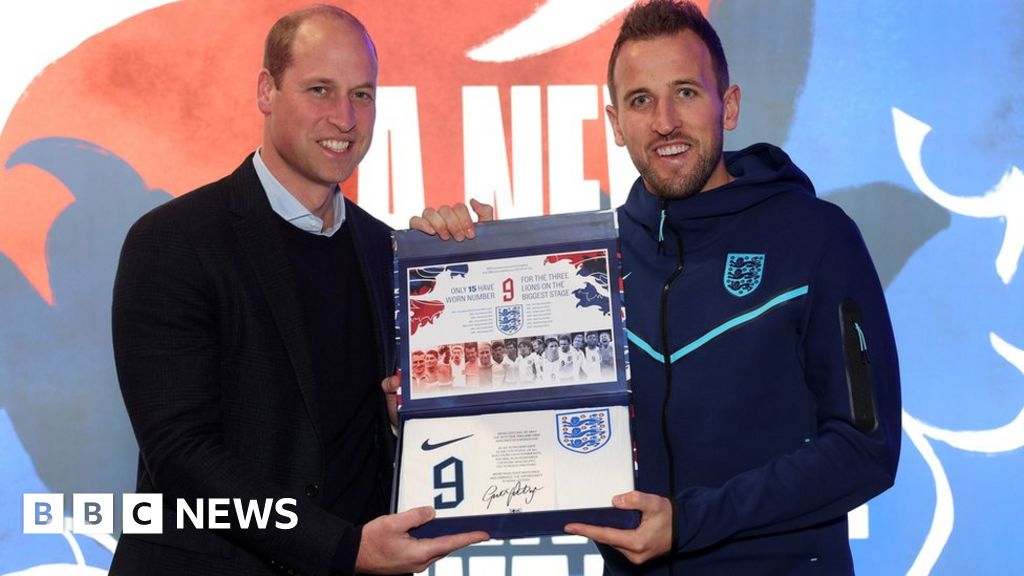 The Prince of Wales has said he will cheer on England and Wales at the World Cup after his visit to Gareth Southgate's team caused a stir.
William addressed the controversy on his first visit to the Welsh Parliament since he inherited the title.
Welsh actor Michael Sheen tweeted that it was "inappropriate" for William to present England with their shirts.
The Prince admitted he had supported England since he was a boy, but was "telling everyone I'm supporting both".
He said it would not be right to "suddenly drop England", as his association with the Three Lions was longstanding.
England and Wales have been drawn in the same group for the tournament in Qatar, which begins on Sunday.
"I'm telling everyone I'm supporting both, definitely. I can't lose," Prince William said.
"I've supported England since I've been quite small, but I support Welsh rugby and that's my kind of way of doing it. I happily support Wales over England in the rugby.
"I've got to be able to play carefully with my affiliations because I worry otherwise if I suddenly drop England to support Wales then that doesn't look right for the sport either. So I can't do that."
Image source, The FA/PA Wire
Image caption, Prince William presented the England players with their shirt numbers the night before their departure to Qatar
His remarks came as William said he has no plans for an investiture – a formal ceremony naming him as Prince of Wales – on his first visit to the Welsh parliament.
William's appointment as Prince of Wales triggered a debate about whether or not there should be a repeat of Charles' 1969 investiture in Caernarfon.
While there was support for that event at the time, it also faced protests.
In September, the Prince and Princess of Wales made their first visit to the nation since they were given the titles, visiting Anglesey, where they lived for three years after getting married, and Swansea.