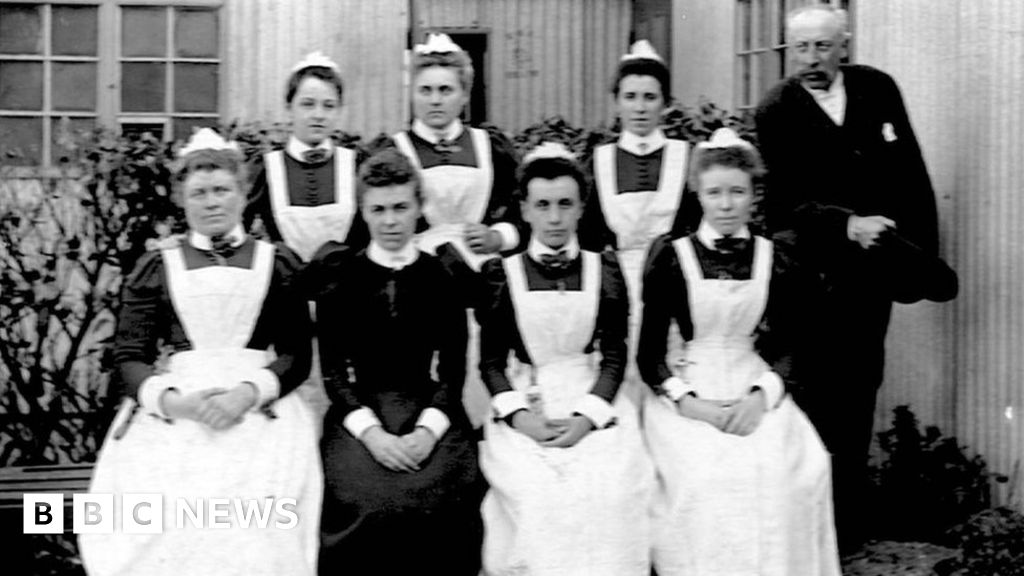 By Nicola BryanBBC News
Image source, North Wales Hospital Historical Society
Image caption, North Wales Counties Lunatic Asylum in Denbigh opened in 1848
The long and dark history of Wales' first psychiatric hospital has been uncovered by a man who worked there for more than three decades.
North Wales Counties Lunatic Asylum in Denbigh opened in 1848 to provide care for Welsh speaking people with mental illnesses.
In reality, up to 1,500 patients, including children with learning disabilities, dementia patients, people with addictions and many with epilepsy lived at the sprawling facility alongside others with acute mental illness.
It would be almost 80 years before the introduction of even rudimentary mental health treatments.
Overcrowding and staff shortages made conditions there "really tough", says Clwyd Wynne, who has written a book on the the history of the asylum.
"They did used to think people were possessed, there's no doubt about that… they hadn't got a clue really what was going on.
"There was no form of treatment for mental illness up until the 1930s, really, so for the first 78 years or so of the hospital, the only treatments were employment and recreation."
Image source, North Wales Hospital Historical Society
Image caption, Dr Lloyd Williams was a driving force behind the building of the hospital
He said patients were routinely put to work in the hospital's gardens, laundry or kitchens: "In the laundry alone, there were about 25 to 30 patients working there and only two staff."
The hospital received an annual inspection from the then-Commissioners in Lunacy: "There were times when they were very critical and there were times when they praised the hospital," he said.
"There are reports in the the hospital's annual minutes of staff being dismissed for hitting patients or abusing them in some way or another.
"I think the majority of staff were very good people and did their best in very trying and difficult circumstances."
His research showed the youngest child in the hospital was a six-year-old with a learning disability.
"You had people that were called idiots and imbeciles who were people with what we now call learning disability," he said.
"Those descriptions are obviously totally unacceptable now, but in the parlance of the time that was how they described people."
He said about 20% of patients had epilepsy at one point: "Now you would never see somebody with epilepsy being admitted to a psychiatric hospital because now they know it's a neurological condition," he said.
Image source, North Wales Hospital Historical Society
Image caption, Officers and female staff at the hospital in 1884
He said many World War One soldiers became patients and about 50 remained there by the 1950s: "They had been damaged by what had happened to them in the armed forces… there was no treatment for them then."
Other soldiers became patients after getting syphilis: "They ended up as what we called GPI – general paralysis of the insane… they ended up being in the hospital for many, many years."
When he began working at the hospital, by then renamed North Wales Hospital for Nervous and Mental Disorders, at age 19 in 1965, most treatments involved medication and electroconvulsive therapy (ECT) was carried out only with anaesthetic – but not always.
"When they first started giving ECT in 1942 the patients were conscious," he said.
"It was quite crude really, it was a bit like when they first started doing amputations, and they'd just give somebody a swig of whiskey and then chop their leg off.
"ECT was a bit like that in that they didn't give them anaesthetic or muscle relaxant and they'd give them the shock and then they would shake violently, sometimes they'd dislocate their joints or break bones, even."
The use of lobotomies was also on the way out: "I was just the at the end of the period where they had been doing prefrontal leucotomy and so I only saw two or three people who have actually had that operation."
In 1961, Enoch Powell, the health secretary, announced the closure of Britain's Victorian mental hospitals but it was not until 1986 that the first asylum was actually closed.
North Wales Hospital shut in 1995.
Image source, Mandy Jones
Image caption, Clwyd Wynne began working at the hospital in 1965 when he was 19
When it became clear the hospital's days were numbered, Mr Wynne, then a nursing manager, and several colleague decided to ask staff to look for old documents and people in the area to come forward with photographs.
The minutes of the hospital's annual meetings dating back to its opening were found as well as case notes and old photographs dating back to the 1800s.
After decades of research, Mr Wynne has written Victorian Asylum, the first of three volumes covering the history of the hospital.
Since the last patient left 26 years ago, the abandoned Grade II listed building has had several owners and fallen into a serious state of disrepair.
Image source, North Wales Hospital Historical Society
Image caption,
In 2013, the council's planning committee voted in favour of a compulsory purchase order and in September plans to turn it into up to 300 homes were approved.
The derelict building has captured the imagination of many.
Last weekend North Wales Police issued a dispersal order for the site, fearing an increase in anti-social behaviour over Halloween "given its history and continued fascination with ghost hunters and urban explorers".
In 2008, TV programme Most Haunted broadcast a live ghost investigation from the dilapidated building, something Mr Wynne said was "a big mistake".
"Obviously it's been a target for the ghost hunters. It was a load of rubbish to be honest but there were people members of staff who said they'd seen something.
"A lot of them called it the Grey Lady – I never saw anything."
Image source, North Wales Hospital Historical Society
Image caption, A photo of Matron Pugh was one of more than 1,000 discovered by Mr Wynne and hospital staff
He said the hospital evoked different emotions from people in Denbigh: "People whose family worked there have lots of warm feelings about the place and there are others who would not go anywhere near it for fear, not knowing about what happened there."
He hopes his book will finally provide those answers.