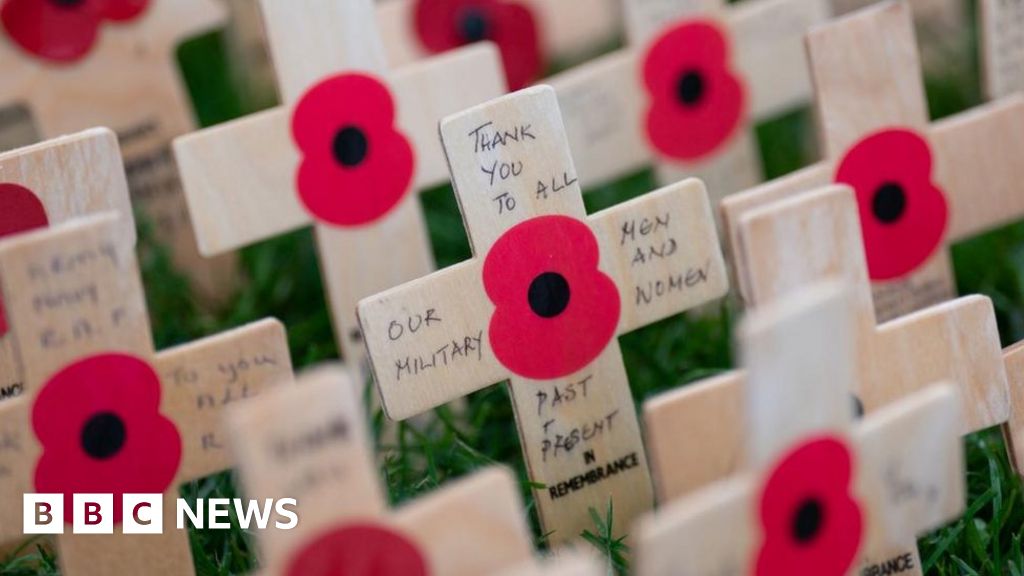 The UK will mark Armistice Day with a two-minute silence on Friday.
This year's commemorations to remember the war dead will include the recently restored Big Ben striking 11 times.
The silence is held every year at 11:00 GMT on 11 November to mark the end of World War One in 1918.
Remembrance Day services will be held on Sunday, including one attended by the Royal Family at the Cenotaph – the first since the death of the Queen.
During the service, which the Prince and Princess of Wales will also attend, King Charles will lay a poppy wreath incorporating a ribbon of his racing colours of scarlet, purple and gold.
Royal racing colours were also incorporated into the wreaths of the late Queen, George V and George VI.
A wreath will also be laid on behalf of Queen Consort for the first time, while she watches from the balcony of the Foreign, Commonwealth and Development Office building.
Prince William will lay a wreath previously laid by his father, featuring the white Prince of Wales feathers and a new ribbon in Welsh red.
Big Ben will strike 11 times at 11:00 GMT on Friday and also on Remembrance Sunday to mark the beginning of the two minutes silence.
The bell has been largely silent for five years after it was dismantled and repaired in a renovation project.
During her 70-year reign the late Queen, who lived through World War Two, only missed seven Remembrance services – including in 2021 due to a back sprain.
The Royal Family will also attend the annual Royal British Legion Festival of Remembrance at the Royal Albert Hall on Saturday evening.
Image source, Getty Images
Image caption, King Charles (then Prince of Wales) at the National Service of Remembrance in 2021