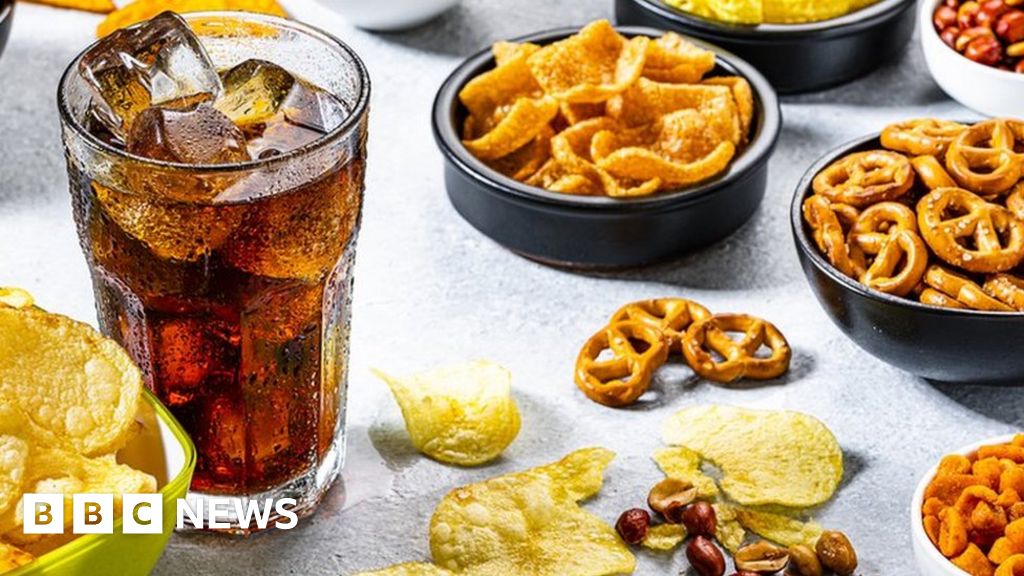 Image source, Getty Images
Image caption, Prices of crisps, cola and snacks are among those rising fastest
Food prices are rising at their fastest pace since August 2020, figures from data firm Kantar suggest, as supply chain disruption continues.
Grocery inflation rose to 2.1% in October – the highest rate since last year, when retailers were cutting promotions amid the Covid pandemic.
Last week, the Bank of England confounded market expectations by holding interest rates.
But with overall inflation heading for about 5%, a rate rise is expected soon.
Supply chains have been under pressure from factors including the pandemic and a shortage of lorry drivers.
Kantar said that the fastest rising food prices included savoury snacks, canned colas and crisps.
However, prices fell for products such as fresh bacon, vegetables and cat and dog treats.
"Grocery prices are rising and this month inflation hit its highest rate since August 2020, when retailers were still cutting promotions to maintain stock on the shelves," said Fraser McKevitt, head of retail and consumer insight at Kantar.
"As prices increase in certain categories, we can expect shoppers to continue to visit several supermarkets and shop around to find the best deals."
Official figures showed overall UK inflation dipped slightly in September, with the rate falling to 3.1% in the year to September, down from 3.2% in October.
However, Shore Capital research analyst Clive Black said that some people were "struggling to believe" the inflation numbers from the Office for National Statistics.
He said the figures were "increasingly treated not with scepticism but incredulity as prices from fuel, energy, food, and building materials rise, offset by what?"
Fuel and oil prices have risen rapidly as economies start to pick up after being battered by the coronavirus pandemic, and as the Opec oil producers' cartel gradually increases output.
Shortages and bottlenecks in goods including building materials and computer chips have also pushed up prices.
Businesses are having difficulties recruiting workers to drive lorries, pick and process food and to staff bars, hotels and restaurants.
This is partly to do with the pandemic but is being compounded by Brexit, according to international policy forum the OECD.
Several retailers have reported that customers are planning ahead for Christmas and shopping early amid concerns over shortages of stock.
Kantar data supported this, with the firm saying that 4.7 million households bought mince pies this month.
Frozen poultry sales are 27% higher compared with last year, with people spending an additional £6.1m in the past four weeks.
In addition, 1.6 million households bought their Christmas pudding in October as well, which is 400,000 more than last year, Kantar said.