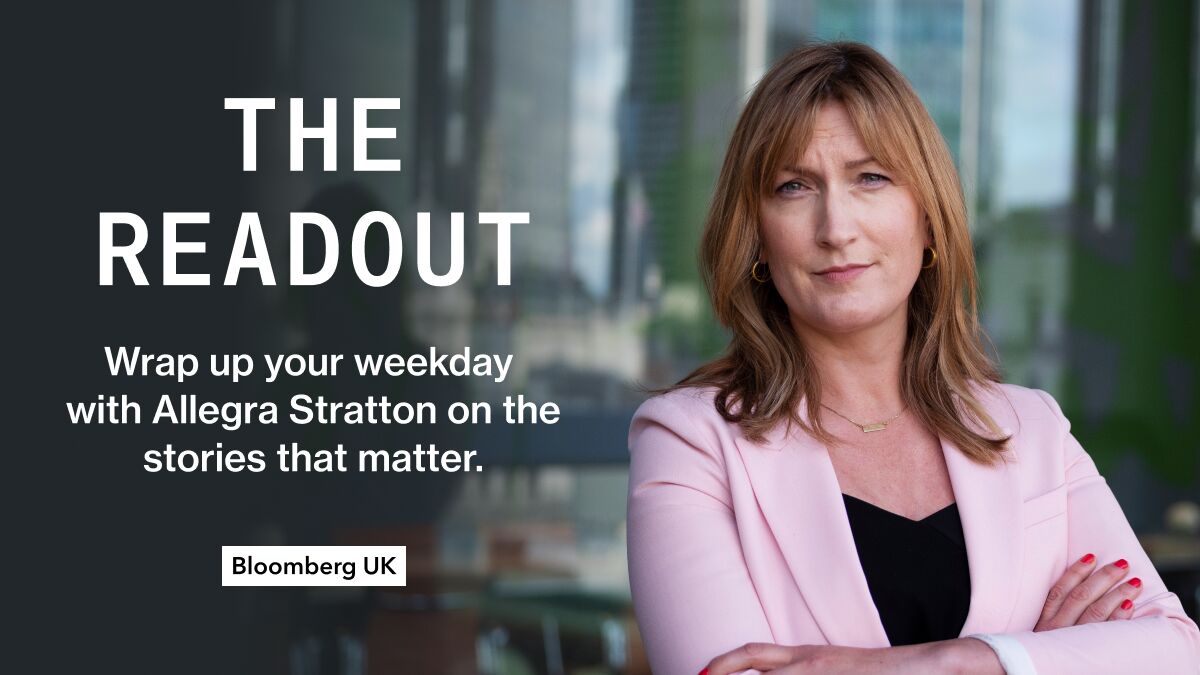 Welcome to The Readout with Allegra Stratton.Welcome to The Readout with Allegra Stratton.Welcome to The Readout with Allegra Stratton.Sign up here to get it in your inbox daily.Sign up here to get it in your inbox daily.Sign up here to get it in your inbox daily.
If there isnt already a flight tracker for the plane bringing Boris Johnson back early from his holiday in the Dominican Republic, why not? As the Readout leaves Bloomberg HQ, the main question for readers and wannabee prime ministers alike is: will BJ or wont he? The short answer is we dont know.
Even though the first round of voting in the Tory leadership contest is less than 72 hours away, at the time of writing we have had just one candidate declare their intention to run: Penny Mordaunt, who came third last time.
You can read a great profile of her here, and a
good take on her prospects from Therese Raphael of Bloomberg Opinion.
Candidates have until 2 p.m. on Monday to harvest their 100 backers and get into the race.
Other than Mordaunt's launch, Westminster is comparatively calm. No one has been sacked or resigned and the pound is pootling along in its already historically depressed state (
this survey points to a continued decline in sterling no matter who comes next.)
Some
are worried the emergency budget wont now arrive on Oct. 31 (if a new PM wants a bit more time to think it over) but the 30-year gilts that sparked the political crisis
have stabilized. The only sign that something big is underway is an uptick in two year borrowing costs, suggesting markets are anxious about the prospect of a Johnson return.
Even so, below the surface, a white hot criss-crossing of texts, Slacks, Signals and WhatsApps will be targeting the pool of potential MP backers. A frantic weekend of lobbying is getting underway, as Bloombergs Emily Ashton put it.
So far the most interesting event to come out of that process has been Defense Secretary Ben Wallace ruling himself out and hinting he was leaning towards backing Johnson on national security grounds. Code for who will give me 3% of GDP on defense spending?
A
tally being run by Bloombergs team puts Rishi Sunak on 70 backers, and indicates it will be a race between Mordaunt, Sunak and probably  Boris Johnson. 
Race for 100 Backers
Tory leadership hopefuls are vying for enough nominations
Source: Bloomberg
What just happened
The stories you need to know about this evening
Bond markets, meet Boris Johnson
Two big question marks surround Johnsons potential boomerang back into power: Can he get the backing of 100 MPs? And does he really want the job anyway?
The Tory party is already tearing itself to pieces at just the prospect of Boris Johnsons return. MP Tim Loughton
lashed out at Business Secretary Jacob Rees-Mogg on Twitter for using the campaign slogan Boris or Bust, asking how on Earth it is remotely helpful to the Party given the strong possibility that the next PM will not be Boris? Meanwhile, MP Andrew Bridgen said that while he wont back Johnson, he has run the numbers and thinks the ex-PM will net 100.
Boris Johnson left office on Sept. 2.
George Eustice, the environment secretary who backed Johnson to the end, told The Times he didnt think there is any way back for BJ. His point, as for so many, is that Johnson isnt just a PM returning from sabbatical but one over whom hangs the possibility of censure by the parliamentary privileges committee. They may even decide to suspend him. How will the bond market respond to that?
Which leads me to the second question. As this piece by Bloombergs Joe Easton makes clear, whoever inherits the top job will also inherit an economic mess. Interestingly, JP Morgans UK Economist Allan Monks says the question of
whether Jeremy Hunt remains as chancellor is more relevant for the markets than who becomes PM. 
But back to Boris. As one friend of the Readout put it: Boris is a bull market PM and we are in a bear market. Or to put it another way: the politics of cake-ism are tricky when Liz Truss burnt the cake.
Can he credibly run on the 2019 manifesto and rule out a return to austerity? How will the bond markets respond to that? While investors in Joes piece also make the point that too much fiscal prudence could also be a negative (reducing public spending will put more pressure on consumers) they are unlikely to want it to swing too far in the other direction.
All in all, a lot for the former PM to mull on his very long flight. The prospect of sitting this one out may be appealing.
What you need to know this weekend
Get ahead of the curve
Stark warning. The Dalai Lama speaks with Emma Barnett about the critical threat of global warming.
Change at Apple. Apples head of hardware design, Evans Hankey, is leaving the company three years after succeeding Jony Ive.
Tick, tock. Credit Suisse has days to answer a multibillion dollar question.
Relic relaunched. The propeller is making a comeback  as an emblem of aviations greener future.
Cheers to that. If our oceans were healthy, they could produce a billion fish meals a day forever, actor Ted Danson tells Bloomberg Green.
Start your engines. Formula One is coming to the City of London this autumn, in the form of a shiny, neon-lit simulated driving venue.
What they said
I dont see why he couldnt sail along the coast from Cannes to Saint-Tropez when hes in his secondary home.
Cryptos $2 trillion wipeout comes for the C-suite
One key story, every weekday
The convulsions that set the cryptocurrency market tumbling earlier this year and delivered shock waves through the industry have subsided. Now comes the shakeup in the C-suite.
More than two dozen high-ranking executives have vacated their posts in the past two months alone. While an assortment of idiosyncratic reasons has been given for the exodus, its clear the turbulence that shook the market starting in the spring has taken a toll.  
Read The Big Take.  
Please send thoughts, tips and feedback to [email protected] You can 
follow Allegra on Twitter.