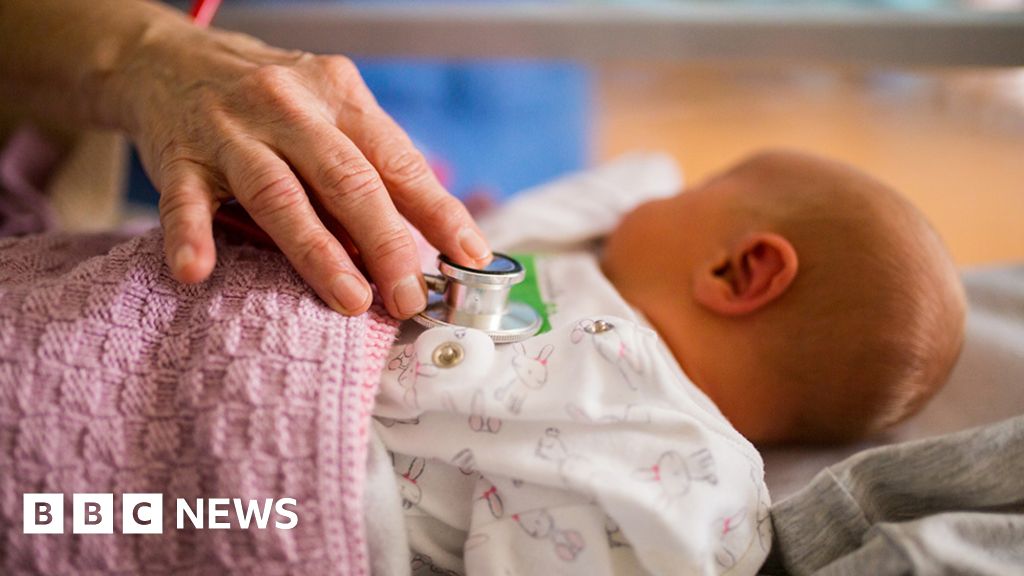 Image source, Getty Images
Hospitals across Scotland are dealing with thousands more pre-school patients than before the Covid pandemic, figures have revealed.
Although the cause is unclear, it coincides with an unseasonal surge in respiratory syncytial virus (RSV).
A Public Health Scotland report found a "high" level of RSV detections and said most were children under five.
Typically case numbers peak in winter, but week-on-week rises have been recorded since the summer.
The Herald newspaper reported that 14,012 children under-five attended emergency departments, over a four-week period, up to 26 September.
That compares with a pre-pandemic average of just under 10,000 for the same period in 2018 and 2019. As a result A&E attendance levels for the under-fives are 41% higher than normal.
RSV is a very common virus and almost all children are infected with it by the time they are two years old.
In older children and adults it may cause a cough or cold, but in young children it can cause bronchiolitis as their airways are less developed.
Parents should contact their GP or call NHS24 if their child:
Has taken less than half their usual amount during the past two or three feeds
Has had a dry nappy for 12 hours or more
Has a persistent temperature of 37.8C or above
Seems very tired or irritable
They should dial 999 for an ambulance if:
The child is having difficult breathing
The child's tongue or lips are blue
There are long pauses in the child's breathing
The latest PHS respiratory surveillance report notes 305 cases of RSV were confirmed by laboratory testing, during the week beginning 27 September.
It states: "The large majority of RSV detections thus far have been in those aged under five years. The typical RSV season usually peaks between week 49 and week 52 (weeks beginning 6 December and 27 December).
"However, in 2020/21, week on week increases in laboratory-confirmed diagnoses for RSV have been reported since week 23 (beginning 7 June) 2021."
The figures buck the overall trend which shows patient numbers remain at around 10 to 14% below pre-Covid levels.
In July Public Health England warned parents to look out for the signs of a common childhood respiratory illness.
It is thought lockdowns and social distancing kept the winter virus at bay earlier this year but that means young children have not been exposed and developed immunity.
The BBC is not responsible for the content of external sites.