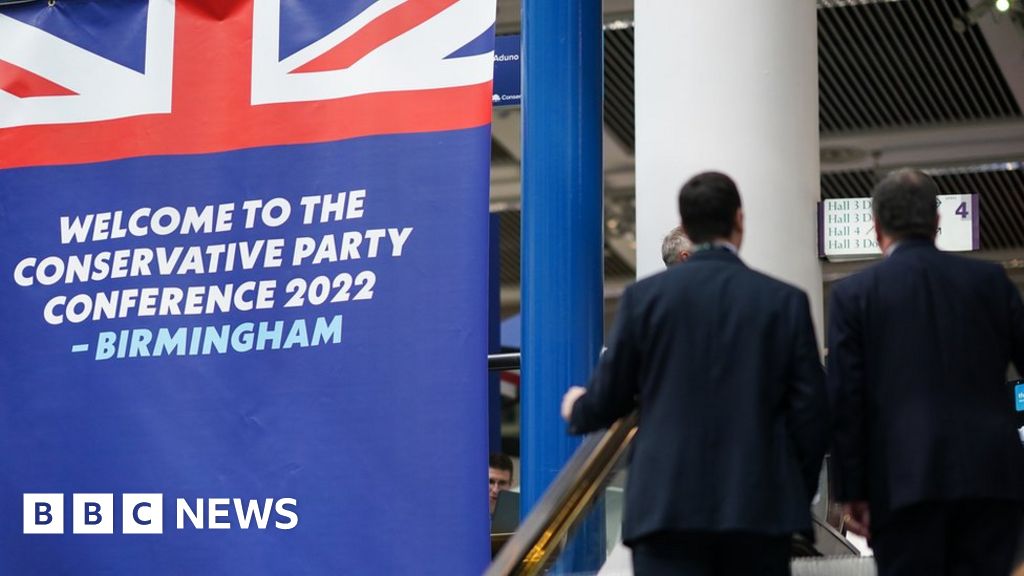 Several businesses have told the BBC they were left disappointed by a Tory conference dinner, amid claims some ministers were late or did not show up.
One company attending said some firms were "dismayed" after paying thousands to secure their place at the event on Monday.
Labour has written to those who attended, offering them places to its equivalent event.
The Conservative Party said that the event ran to its scheduled time.
The spokesperson said it was "as always well attended", adding: "This conference saw a record number of business attendees."
When asked if the dinner had been a success, a No 10 spokesperson said they couldn't comment on a "specific dinner" – but added: "What we've heard from businesses has been very positive."
Tickets for the conference Business Day cost £2,990, plus an extra £400 per head for the ticketed dinner in the evening.
A representative of one multibillion dollar business at the dinner told the BBC the dinner was "abruptly" brought to an end after two hours, guests had dessert plates and coffee cups taken away from them, and were told to exchange business cards outside.
Another person present said Foreign Secretary James Cleverly went on stage and told people to leave – meaning they all had to get out by about 9.15pm.
The business representative said a minister who was meant to be on their table turned up late, and said those on other tables didn't show up at all, or left early.
They added that Chancellor Kwasi Kwarteng did turn up and said a few words, and spoke to every table.
The source also said that "most people's reflections" were that the reception after the equivalent business event at last week's Labour conference was very positive, whereas businesses said they did not "feel the love" at this one and the organisation felt "complacent."
Another source present said the evening was cut short, and they didn't get their dessert or coffee courses.
A representative of one tech company said the dinner finished early, and we "didn't get our mango sorbet", adding that some ministers did not turn up.
The dinner menu featured a baked goats cheese starter, followed by a beef and potato dish for the main course, with wine on the table, one attendee said.
Labour has said it has heard from "countless business leaders who were left desperately disappointed".
In a letter to businesses, the party said: "Unfortunately, we can't make them [the Conservatives] give you your money back. And we can't make them treat business with respect.
"But we can show you that Labour takes our partnership with business seriously.
"That's why we've allocated 25 tickets to our Business Day in December to any attendees of the Tory business day who felt short changed on Monday."