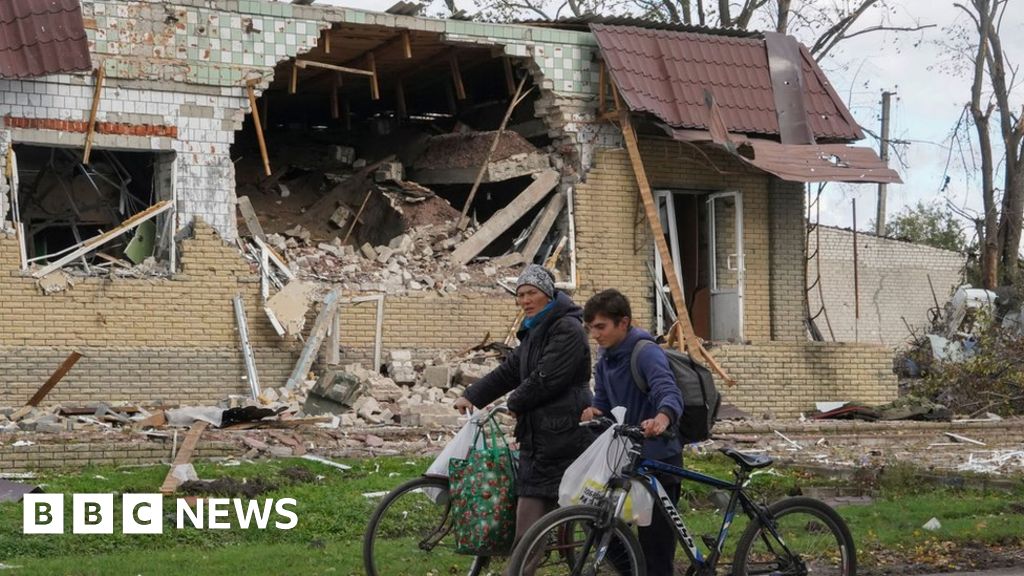 Media caption, Liz Truss on Ukraine: "We did not stand up to Russia early enough."
The West was "complacent" and "did not stand up to Russia early enough", the PM has said in her conference speech.
Liz Truss criticised western countries for allowing themselves to become "dependant" on authoritarian regimes for cheap energy.
She expressed confidence Ukraine would be victorious in the war telling party members: "Ukraine can win, Ukraine must win, and Ukraine will win."
This was met with applause and a standing ovation from the audience.
It comes as Ukraine says its forces have advanced four regions: Kherson, Kharkiv, Luhansk and Donetsk
Russia has insisted it will recapture areas of annexed territory that fell to the Ukrainian advance.
Speaking in Birmingham, Ms Truss used a section of her conference address to praise the Ukrainians fighting against Russia, describing them as "brave people" who "aren't just fighting for their security but for all our security".
"This is a fight for freedom and democracy around the world," she said adding: "We will stand with our Ukrainian friends however long it takes."
The prime minister also criticised the western countries whose failure to challenge Russia sooner, she said, had led to the current "global crisis".
"We became complacent, we did not spend enough on defence, we became too dependent on authoritarian regimes for cheap goods and energy.
"And we did not stand up to Russia early enough – we will make sure this never happens again."
She told her party conference she was taking "decisive action to reinforce our energy security" by opening gas fields in the North Sea and delivering more renewables and nuclear energy.
Earlier in the week, Foreign Secretary James Cleverly also praised the Ukrainian people saying both the professional army but also volunteers including students, musicians, artists and sports stars were "taking up arms and defending their country against this illegal, unprovoked act of aggression by Vladimir Putin".
He said Ukraine would succeed and promised that "when that fantastic, glorious day comes" the UK would help rebuild the country.
Also speaking at a party conference event, Ukraine's ambassador to the UK Vadym Prystaiko thanked Britons for housing Ukrainians fleeing their war saying: "We'll never forget this, this act, this kindness."
He also asked the UK government for "more hospitality, more generosity, more patience" when it came to letting Ukrainians into the country.