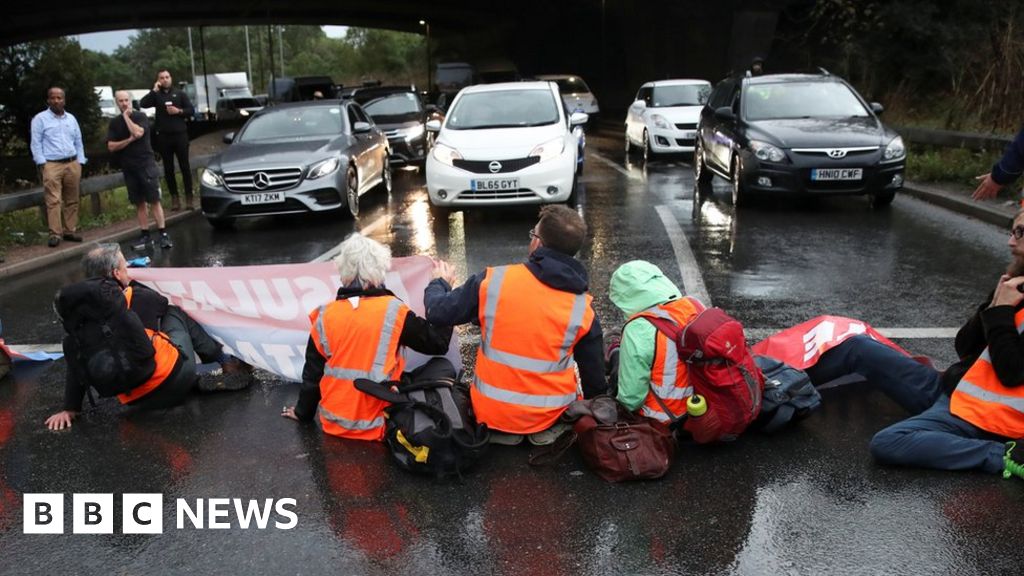 The home secretary will promise tougher powers to tackle demonstrators blocking motorways, after a string of protests by climate activists.
At the Tory party conference this week, Priti Patel will announce plans for longer sentences and new powers for police to seize protesters' equipment.
It comes after climate group Insulate Britain blocked the M1, M4 and M25 in protests over the last three weeks.
Their campaign has already led to hundreds of arrests.
On Sunday, the government took out a fresh injunction aimed at preventing activists obstructing traffic on motorways and main roads around London.
It is the third such court order taken out by the National Highways agency in a bid to stop demonstrations on major roads in south-east England.
Anyone breaking the injunction faces imprisonment or an unlimited fine. However, previous injunctions have failed to stop the protests continuing.
Ms Patel said the government would not "tolerate guerrilla tactics that obstruct people going about their day-to-day business".
Boris Johnson told the Mail on Sunday that although the right to protest was "sacrosanct", there is "no right to inflict chaos and misery on people trying to go about their lives".
"This government will always stand on the side of the law-abiding majority, and ensure the toughest penalties possible for criminals who deliberately bring major roads to a standstill.
"We will give the police the powers they need to stop their reckless and selfish behaviour."
Image caption, Insulate Britain's protests have included occupying roundabouts on the M25
Home Office sources said the government would seek to introduce the new powers by amending the Police, Crime, Sentencing and Courts Bill.
The wide-ranging legislation, which already includes new police powers over protests, is currently making its way through Parliament.
Ministers want to make obstructing a highway punishable by an unlimited fine, six months imprisonment, or both. It currently carries a maximum fine of £1,000.
They also want to hand the police new powers to stop and search protesters suspected of carrying so-called "lock-on" equipment – such as glue or bike locks – used to secure themselves to protest sites.
This would add to existing police powers to stop and search individuals for offensive weapons and items intended for committing theft, burglary or damage to property.
Insulate Britain's campaign, which has been going for more than three weeks, has seen more than 300 arrests.
The group, an offshoot of Extinction Rebellion, has previously vowed to continue their campaign despite arrests and injunctions.
In an open latter to Ms Patel last week they said: "You can throw as many injunctions at us as you like, but we are going nowhere."
The campaigners are calling on the government to insulate all homes across the UK by 2030 to help cut carbon emissions.
The government said it was investing £1.3bn to support people to install energy efficiency measures.