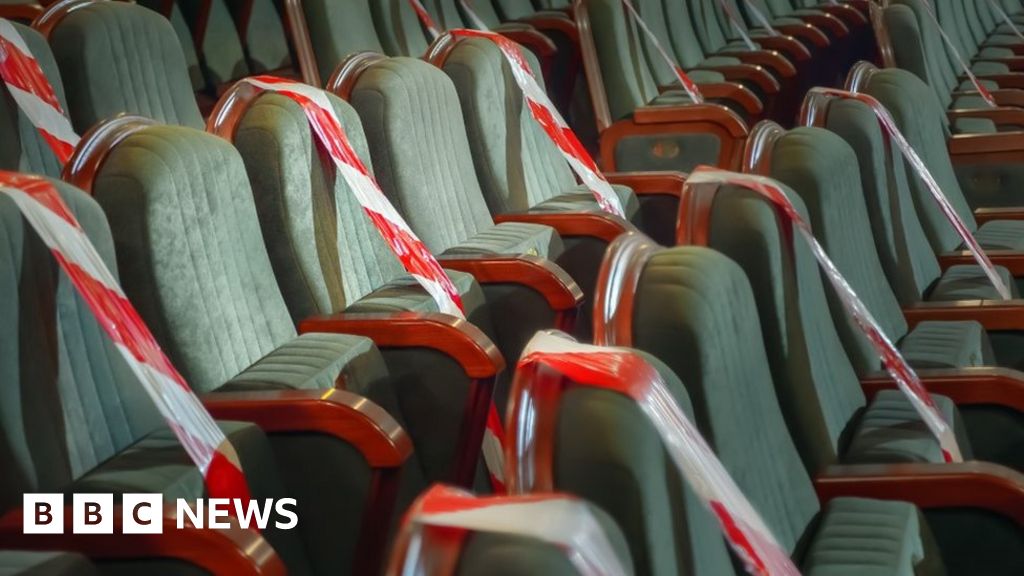 By Enda McClaffertyBBC News NI political editor
image captionTheatres say they are at breaking point because of the 1m social distancing rule
Ministers are to consider ending social distancing in theatres and other indoor venues, but the move will come with mitigations, the BBC understands.
It is thought venues will be asked to limit entry to those who have a double vaccination or a negative lateral flow test.
Those who can show they tested positive for Covid-19 in the past six months will also be allowed.
But this will be advice and not legally enforceable.
According to one Stormont source, it will be an "opt in" system for venue operators.
Social distancing of at least 1m (3ft) is still a legal requirement in many indoor premises in Northern Ireland.
The rule currently applies to indoor shops, restaurants, pubs, cafes, hotels and entertainment venues like cinemas, theatres and visitor attractions.
The people who run venues hosting concerts, conferences and theatres here say they are at breaking point because of the rule.
They argue it has led to cancelled shows and a sector which says it cannot go on much longer if the rules are not changed.
image captionHospitality businesses like pubs and cafes have to serve fewer customers because of social distancing rules
Business groups have asked for the law to be relaxed as it is affecting trade.
Hospitality businesses are having to serve fewer customers in order to adhere to social distancing rules and venues cannot operate to their full capacity, meaning a drop in revenue from ticket sales.
But ministers are not expected to consider extending the move to hospitality at Monday evening's executive meeting.
For weeks, Northern Ireland's First Minister Paul Givan has been urging his executive colleagues to relax the rules, previously saying that he wanted to see all Covid-19 restrictions lifted by the end of September.
His party colleague, Economy Minister Gordon Lyons said on Monday that he "wanted to see movement" on social distancing rules "as soon as we can".
"I have been contacted by a number of people who work in that industry who are concerned about the impact that these restrictions continue to have on the viability of their events and on their businesses as well," he added.
However, Deputy First Minister Michelle O'Neill has previously argued for a more "cautious approach", expressing concern about infection rates and the knock-on effect on hospitals.
Last week, the executive held its first face-to-face meeting in almost a year and afterwards, the Executive Office released a statement announcing further talks about social distancing.
image source, Luis Alvarez
image captionEngland, Scotland and Wales have already lifted a number of social distancing requirements
England abolished its mandatory social distancing measures on 19 July, with a small number of exceptions for settings like hospitals, care homes and border control posts.
Wales lifted its legal requirements on social distancing on 7 August, leaving it to individual businesses to decide their own rules after risk assessments.
Scotland dropped its social distancing requirements on 9 August, but a 2m (6ft) rule remains in place for Scottish healthcare settings such as hospitals, doctors' surgeries and dentists.
The business group Hospitality Ulster has been a vocal critic of Stormont's social distancing rules.
After last Thursday's executive meeting, Hospitality Ulster chief executive Colin Neill said he was "hugely disappointed by the lack of movement" on Covid-19 restrictions.
image captionThe EU's Digital Covid Certificate is being rolled out across EU member states this month
Meanwhile, Infrastructure Minister Nichola Mallon has called for the immediate introduction of Covid passports for the hospitality sector.
She also warned her executive colleagues against further "dithering and delay".
"The evidence is clear and health advice is crystal clear, we protect our health service and we reduce the transmission through getting more people vaccinated and the introduction of Covid passports is vital in this battle," she said.
Sinn Féin has said it would support a proposal for vaccine passports to gain access to pubs and restaurants in Northern Ireland if it was recommended by Stormont health officials.