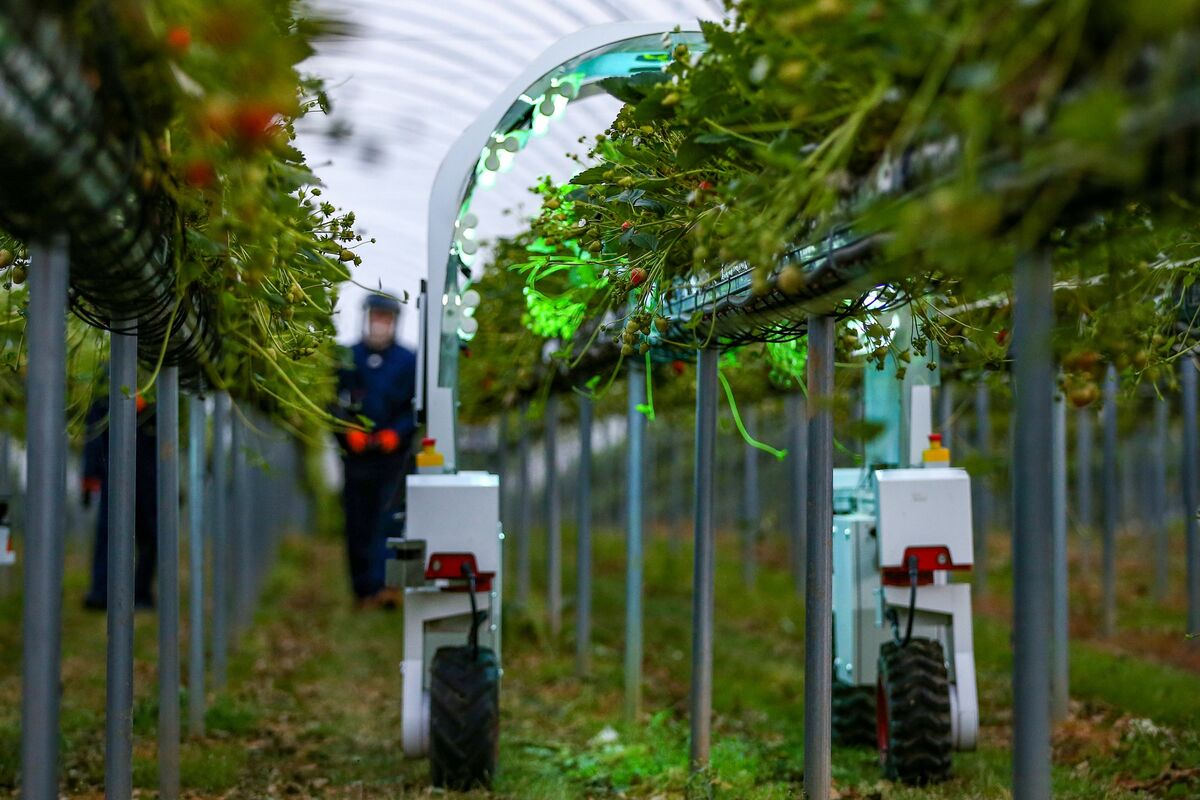 Fake meat and insects are among the promising diet alternatives to help the world to fix its fragile food system, but for now investors are curbing their enthusiasm for funding technologies needed to produce it all.
A total $12.7 billion of venture capital money went into foodtech startups in the first six months of the year, accounting for just a third of last years amount, Pitchbook data show. Investment in agritech  from robots on farms to fertilizer alternatives  is cooling this year too.  
Thats happening at a time when food supplies are threatened by climate change, war and supply-chain disruptions, while hunger and obesity are on the rise. So technology is increasingly being viewed as a panacea.
Theres no shortage of solutions.
At the World Agri-Tech Innovation Summit and the Future Food-Tech conference in London this week, startups vied for investor attention. Pivot Bio deploys microbes that capture nitrogen in the air to nourish crops instead of conventional fertilizers. Cropin collects agricultural data to help farmers make better decisions. In the world of alternative proteins, more startups are working on ingredients and services aimed at making meat substitutes taste and feel better  from fats to scaffolds for stacking up meat cells. Precision fermentation, where dairy substitutes are produced in brewery-style tanks, is gaining traction.
Yet, the challenges are huge: Scaling up is absolutely key, as is winning over consumers, and more money is needed. Funding hasnt dried up, but investors are asking more questions, Niccolo Manzoni, managing partner at Five Season Ventures, said at the food-tech conference. The market is still full of capital and the best companies, we think, will continue to raise money, he said.
More Food for Thought
Wheat prices have been increasingly at the mercy of remarks from Russian President Vladimir Putin in recent weeks, and this week they reached a two-month high amid an escalation of the countrys war efforts in Ukraine. Meanwhile, the grain is piling up in Russia as the nation struggles to export large volumes.
Agnieszka de Sousa in London
Charted Territory
Argentina Farmers Offload Soybeans
Trickle of trades becomes a flood after currency devaluation
Source: Argentine Agriculture Secretariat
Argentina devalued its peso earlier this month to spur soy exports, and  its helped. China, the worlds top buyer of the crop, booked as much as 3 million tons in the past two weeks, almost as much as the roughly 3.75 million tons it imported from Argentina all of last year, according to people familiar with the matter. But that risks eroding demand for the US harvest just as American farmers are starting to gather their crop. 
Todays Must Reads
Going veggie | US shoppers are avoiding items including steak and chicken with higher costs for groceries battering household budgets.

Soy dependence | China is redoubling its efforts to bolster food security by trying to cut the amount of soybeans that get turned into animal feed.

Green shopping | Shoppers have become less concerned about the environment as they battle against a global cost-of-living crisis, research suggests.

Sustainable chains | The worlds top meat company, JBS, is hiring its first-ever global chief sustainability officer amid a greater scrutiny of meat companies by ESG investors.
Canola selfies | The bright yellow fields of blooming canola across Australias western grain belt are attracting selfie-obsessed tourists, sparking fears of plants getting trampled and diseases spreading.  On the Bloomberg Terminal

Fertilizer watch | US nitrogen-fertilizer prices rose last week, fueled by a rash of ammonia-plant outages in Europe due to surging natural gas costs, Bloomberg Intelligence analysis shows. 

Corn gains | The propensity for corn to outperform WTI crude oil may be gaining impetus, notably if Russian military aggression in the Ukraine restricts grain supplies, according to Bloomberg Intelligence.

Use the AHOY function to track global commodities trade flows.
Click HERE for automated stories about supply chains.
See BNEF for BloombergNEFs analysis of clean energy, advanced transport, digital industry, innovative materials, and commodities.
Click VRUS on the terminal for news and data on the coronavirus and here for maps and charts.

Like Supply Lines?

Dont keep it to yourself. Colleagues and friends can sign up here. We also publish the

New Economy Daily, a briefing on the latest in global economics.

For even more: Follow @economics on Twitter and subscribe to Bloomberg.com for unlimited access to trusted, data-driven journalism and gain expert analysis from exclusive subscriber-only newsletters.

How are we doing? We want to hear what you think about this newsletter. Let our trade tsar know.