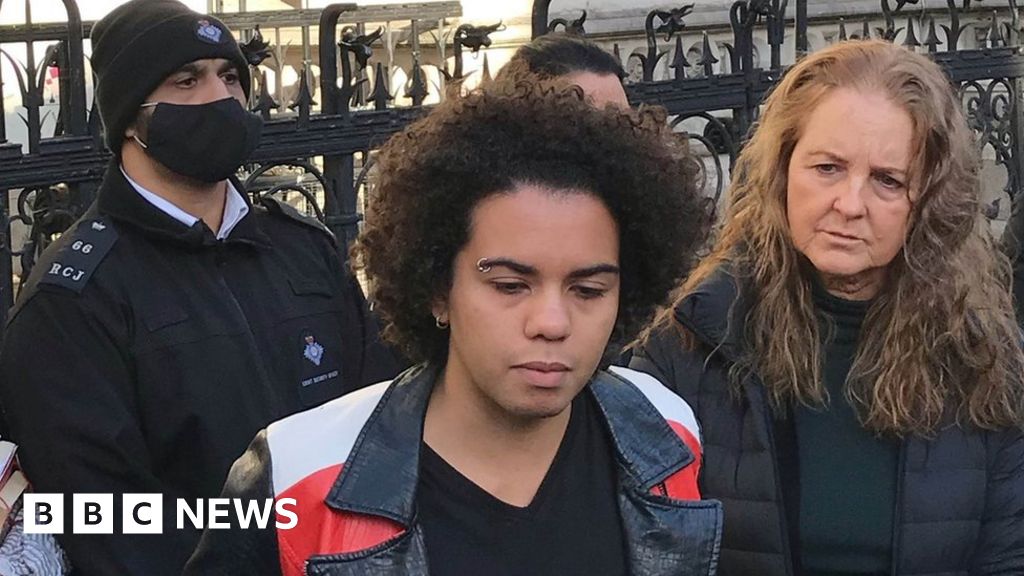 image captionKeira Bell (centre) said she should have been challenged more over her transition
Doctors can decide whether to prescribe puberty blockers to under-16s, the Court of Appeal has ruled.
The appeal was brought by the Tavistock Trust, which runs the UK's only youth gender identity clinic.
It reverses a 2020 ruling that under-16s lacked capacity to give informed consent to the medical treatment, which delays the onset of puberty.
The original case was brought by Keira Bell, who says the clinic should have challenged her more over transitioning.
Court of Appeal judges said they recognised "the difficulties and complexities" of the issue, but that "it is for the clinicians to exercise their judgement knowing how important it is that consent is properly obtained according to the particular individual circumstances."
Puberty blockers are drugs used to "pause" puberty by suppressing the release of hormones.
They are prescribed to some children who are experiencing gender dysphoria, which the NHS describes as "a sense of unease that a person may have because of a mismatch between their biological sex and their gender identity".
The Tavistock's Gender Identity Development Service (Gids) says hormone treatment "allows young person time to consider their options and to continue to explore their developing gender identity before making decisions about irreversible forms of treatment".
But in December 2020, the High Court ruled under-13s were "highly unlikely" to be able to give informed consent to what it described as "experimental" treatment and it was "very doubtful" those aged 14 and 15 would have the sufficient understanding.
Keira Bell, one of the claimants in the case, started taking puberty blockers at the age of 16 after being referred to Gids.
She told the BBC she felt there wasn't enough investigation or therapy before she reached that stage, and that the clinic should have questioned her decision more.
In March, a separate judgement from the court's Family Division ruled parents could give consent for under-16s to access puberty blockers, with other safeguarding measures considered.
The Tavistock temporarily paused new referrals to its endocrinology service following the December ruling.
Eligible under-16s who had already been referred for treatment, and have parental consent, are having their cases reviewed by Gids, with decisions overseen by an independent NHS England review group.