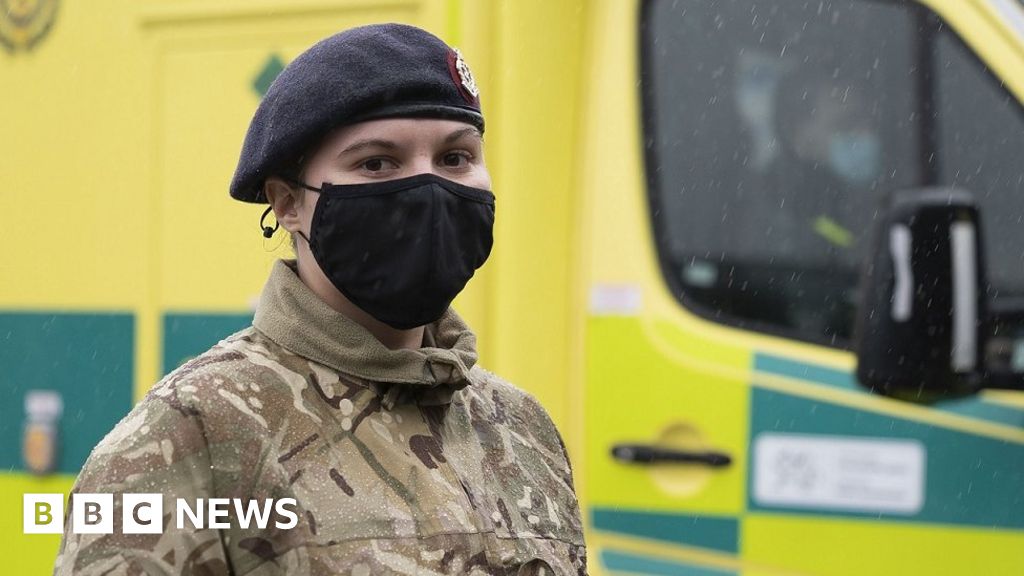 By Mary McCoolBBC Scotland news
image source, Getty Images
image captionThe military has helped health services across the UK over the course of the pandemic
The military has again been brought in to bolster the NHS front line in the battle against Covid – this time to help tackle what many are calling a "crisis" in the Scottish Ambulance Service.
Stories have emerged of patients with serious health issues waiting hours, sometimes days, for an ambulance – with emergency crews said to be under unprecedented pressure.
But shortages of doctors and nurses, high demand and growing hospital admissions means there is a bigger picture developing across the health service.
On Thursday, First Minister Nicola Sturgeon told the Scottish Parliament that the ambulance service was already "operating at its highest level of escalation".
Emergency call handlers in Scotland have been receiving about 10,000 calls a month more this summer than they were last year.
Crews are not getting to all of those additional patients because there are simply not enough ambulances on the road.
Some paramedics, for example, have been providing assistance for vaccination and testing centres.
image source, Getty Images
image captionA paramedic vaccinates a woman on a mobile vaccination unit in the south side of Glasgow in June 2021
Meanwhile many A&E departments are already at capacity, resulting in ambulance crews being held up for hours outside hospitals waiting for their patients to be admitted.
For some the result has been severe.
The Herald newspaper reported that a pensioner, who was found collapsed at his home in Glasgow, died following a 40-hour wait for an ambulance.
Another case raised with the first minister was that of Lillian Briggs, 86, who had to wait eight hours after falling and breaking her hip at home.
BBC Scotland's health correspondent Lisa Summers recently spent time with paramedics in Edinburgh on a Friday night – and told the Podlitical podcast the crew was under "constant pressure" and were diverted away several times from people who had suffered falls.
A BBC Radio Scotland phone-in also heard from the father of an emergency call handler who said staff often receive abuse and are "reduced to tears" when prioritising cases.
Although the number of people in hospital with Covid has been rising – currently over 1,000 – the figure is still half what it was in the January peak.
And health experts have told BBC Scotland that the virus is only partly to blame for the problems across the NHS.
Professor Michael Griffin, president of the Royal College of Surgeons of Edinburgh, said Scotland had "a real workforce problem in the NHS and in social care", which was now causing a "vicious circle" impacting all parts of the health service.
He added: "It's not just Covid – it has a significant contribution, but there are other multiple factors involved and it's quite a complex situation.
"We have staff absences from illness, recruitment and isolation, such that we're not able to staff certain areas.
"There's a real problem with getting patients out of hospitals at the moment and into social care, because there is a care home workforce crisis which is causing issues and bed blocking."
Another factor is that patients are often being admitted to hospital for longer than in the past – sometimes due to delayed treatment, other times because they have delayed seeking medical help themselves.
Beds are therefore difficult to find and patients have had to wait hours to be admitted to other departments, even after arriving at A&E.
A number of health boards have cancelled non-emergency procedures in order to cope.
Some patients have also been turning to their GPs, who are already overwhelmed with calls – leading them to phone 999 as a last resort.
This means the ambulance service and emergency departments, which are open 24 hours a day, are feeling the brunt of the problem.
The Ministry of Defence has deployed the military to help out the NHS in all four UK nations over the last year.
They began assisting Scotland's vaccination programme earlier this year, while in August nearly 100 members of the military were sent out across four health trusts in England to take patients to appointments, maintain ambulances and work alongside paramedics.
This time military personnel are being drafted in to drive Scotland's ambulances as well as to support paramedics and technicians.
Ms Sturgeon has said that a range of other other plans were also being looked at.
image captionA soldier from 2 Scots Royal Regiment of Scotland working at a Covid-19 testing centre at Glasgow Airport in April 2020
One suggestion has been to reopen the NHS Louisa Jordan at the Scottish Event Campus in Glasgow.
Temporary admissions wards would also help ambulances offload patients when there is no room in emergency departments.
Another possibility is to have military personnel relieve paramedics of their duties at vaccination and testing sites
The question overall is this – with winter approaching and concern that other respiratory viruses such as flu could make a return, can the pressure on the NHS be eased enough to avoid tougher Covid restrictions having to be re-imposed.