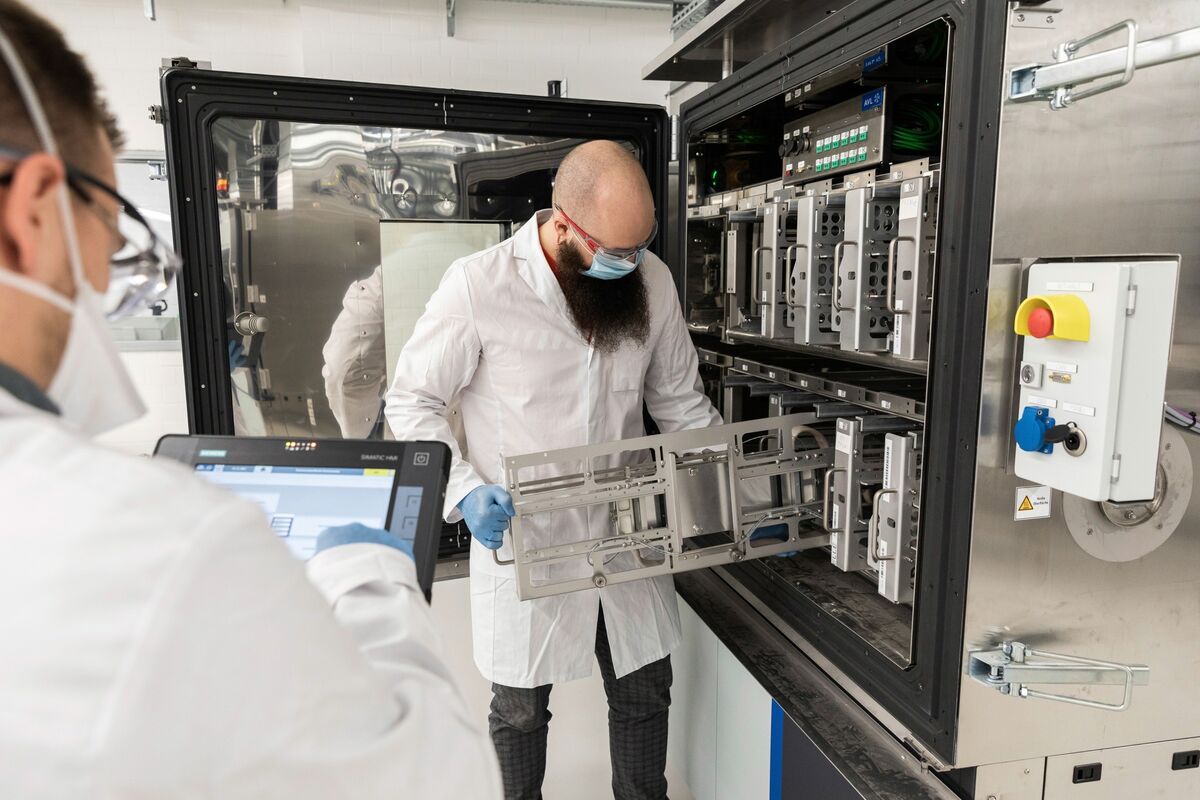 Expert insight into the future of carsGet Bloomberg.com's automotive industry newsletter
Welcome to the Hyperdrive daily briefing, decoding the revolution reshaping the auto world, from EVs to self-driving cars and beyond.
News Briefs
Europes uninspiring

car sales turn ugly amid chip crunch.

GM tells Bolt owners to park

50 feet away from other cars.

Walmart, Ford and Argo team up for driverless delivery service.
Getting Plugged In
In 1950, Salzgitter was at the crossroads. Allied forces had ordered that the German citys industrial plants be destroyed as part of a push to demilitarize the country after World War II. But Salzgitters steel workers, desperate for jobs, rose up and occupied the blast furnaces. Their protests put a stop to the industrial dismantling, which city dwellers still remember as a sort of second birthday.
Today, Salzgitters industry is at a crucial junction once again. The city is home to Volkswagens
main motor factory, which employs around 7,000 people and for the past five decades has been making millions of gasoline and diesel engines products the company has vowed to phase out. VW is now trying to remake the plant for the electric age.
On Monday, I went to Salzgitter to see for myself how thats going. The occasion was VW
opening a $80 million facility to research, develop and test EV batteries. Workers in white lab coats were taking apart batteries, examining them under electron microscopes and exposing them to extreme conditions like heat, cold and shaking. The goals are to gain expertise in new technology, reduce dependence on suppliers and cut the cost of batteries by as much as 50%. VW already operates a battery pilot line and recycling facility in Salzgitter and plans to erect a full-scale factory to produce cells there starting in 2025. By the end of next year, VW says more than 1,000 people will work on EV technologies at the site.
Volkswagens new battery lab in Salzgitter.
After years of trailing Tesla and the bruising experience of the diesel-emissions cheating scandal, the sprawling behemoth that is VW is reorganizing from the ground up. The company boasts the industrys
most comprehensive EV push, with intentions to add about 50 purely battery-powered vehicles to its lineup by 2030. It will set up six battery factories just in Europe with a total capacity of 240 gigawatt-hours by the end of the decade.
Batteries are the most expensive component of an EV and are key to its performance, so mastering the technology is crucial. General Motors $1.8 billion Bolt recall over the risk their batteries can catch fire drives home that point. GM recently 
extended the downtime at its factory in Lake Orion, Michigan, as it tries to get to the bottom of the defect. The issues have opened a
rift between the carmaker and its main battery partner, LG Energy Solution, over who will pay for the recall, complicating the South Korean companys IPO plans.
All this trouble aside, investment in battery-related projects are mushrooming as EV sales take off, and prices for the metals needed to make them
are rising. Just this week, my colleagues have reported that a company created by a Tesla co-founder
is planning to build a massive battery-materials factory in the U.S.; a Taiwanese battery-swapping startup
is in talks to go public via a SPAC deal; and battery giant CATL is investing $2.1 billion to build a new plant in Chinas Jiangxi province amid
rising orders from the likes of BMW and
Tesla.
VW is working with Chinas Gotion High-Tech and Swedens Northvolt on setting up the first of its European factories and was an early backer of QuantumScape, the U.S.-listed firm working on solid-state batteries, a potential alternative to widely used lithium-ion technology. In Salzgitter, VWs focus will be on producing batteries for its volume segment, and maybe just as importantly making its staff fit for an electric future.
Our guide on the battery pilot line in Salzgitter was Dennis Dudzik, who has been with VW for more than two decades. After helping to build car radiators for most of those years, hes now optimizing processes at the pilot facility, soaking up as much about batteries as he can.
Im transforming myself, he said with a smile.
Before You Go
A Nikola Tre battery-electric truck in Ulm, Germany, on Sept. 15, 2021.
Some 300 miles south of Salzgitter in Ulm, Nikola on Wednesday offered the public a first look at the production line thats going to build its electric big rigs. The U.S. company showed off the German facility where its partner Iveco is preparing to start series production of Nikola Tre heavy-duty trucks by year-end. The first battery-electric models will be delivered to customers in the U.S. early next year, with a fuel cell version slated to follow by the end of 2023, Elisabeth Behrmann
writes. Nikola is looking to turn the page after its founder Trevor Milton was charged with securities fraud.