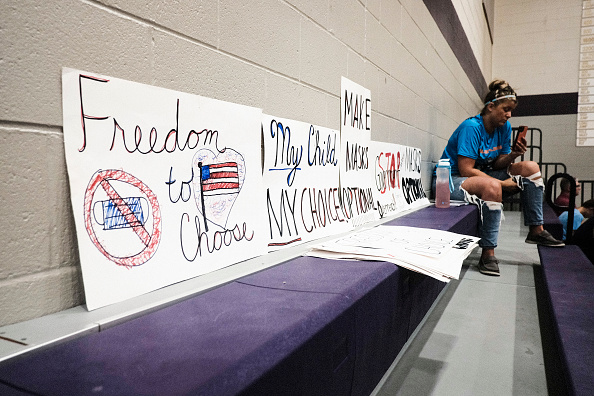 A video posted to social media showed parents cheering on a crowd of maskless kids and encouraging them to enter a school in Manchester, Michigan, where a mask mandate is in effect.
The video began with one father asking a police officer outside the school about what happens if the students don't want to wear masks inside the building.
"If you don't want to go in, you don't have to," the officer responded in the video. "I'm not going to force anybody—I'm not putting masks on anybody. That's not my job."
"This is a county health department order and an order of the school," the officer added. "Anybody that goes in, they've got to have a mask on… I'm not arguing with you."
After the officer seems to refuse to engage with the parent filming the video, the parent turns around and yells to the large group of maskless students, "They can go in, guys."
Other parents are heard echoing him, telling their kids, "They can't enforce it!" and "Go on in guys!"
When an administrator wearing a mask appears at the door of the school, the father is heard saying, "You guys, they can't touch you. Just go ahead and go in."
The administrator and the maskless students appeared to be in a standoff for a few moments before the crowd pushed past the school official and dozens of maskless students walked into the school. The parents in the video are heard clapping and cheering as their children enter the building.
Newsweek reached out to the Washtenaw County Sheriff's Office for comment but did not hear back before publication.
Students at a school in Manchester, MI, instigated by parents, refuse to comply with the mask mandate and enter school. This is the next phase – school boards can enact policies, but someone also has to enforce them. pic.twitter.com/KLhqgUP8or
— Ron Filipkowski (@RonFilipkowski) September 8, 2021
Last week, the Centers for Disease Control and Prevention flagged Washtenaw County, where Manchester is located, to be at a high level of community spread for COVID-19.
In response to the virus threat, the Health Department of Washtenaw County issued a mask order over the weekend requiring all persons in a pre K-12 educational institution beginning on Tuesday.
The Health Department of Washtenaw County issued a mask order effective Tuesday, requiring all persons in a preK-12 educational institution. An attendee sits next to anti-vaccine mandate signs at a special Board of Education Meeting on mask mandates for students and staff in Kalamazoo County Schools at the Schoolcraft High School Gymnasium on August 23, 2021 in Schoolcraft, Michigan. Matthew Hatcher/Stringer
Last month, parents spoke out against a potential mandate during a school board meeting, with some threatening to leave the district if masks were required while others said their kids would ignore the policy and continue to attend school without a face covering.
Washtenaw County is one of 74 Michigan counties to have reached a "high" level of community spread.
Ahead of the mandate, Health Department spokeswoman Susan Ringler-Cerniglia warned, "We had said in our school plans that once we reached a 'high' level of transmission that we would consider an order."
While a majority of public schools in Washtenaw County had already implemented mask requirements under the guidance of the health department, some, including Manchester Community Schools, had not.
Ringler-Cerniglia said while she's heard both sides of the debate, she doesn't see "a lot of legitimate reasons at this point to be protesting masks," citing the rising number of cases due to the Delta variant and an increase in breakthrough cases.
"It's come to this and we need to move forward,"she said last week. "Of course that requires more coordination and legal review and making sure we're doing the right thing."