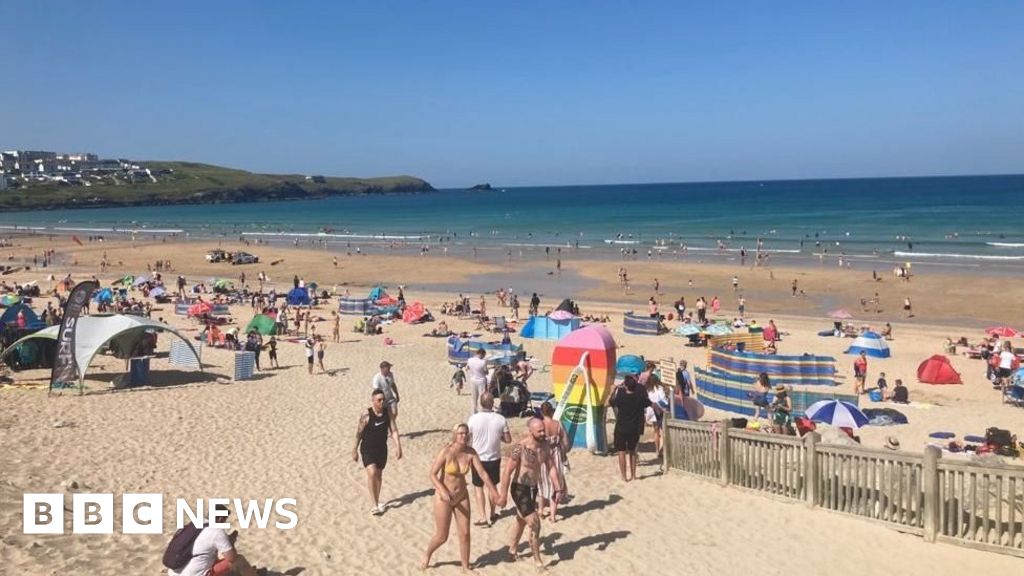 image captionVisitors are also being encouraged to take lateral flow tests if they visit Cornwall
Tourists are being asked to stay away from Cornwall unless they have pre-booked their trip, the region's tourist board has warned.
The South West has seen a recent spike in Covid-19 cases across Devon and Cornwall.
The latest figures show Cornwall and the Isles of Scilly have 717 cases per 100,000 people.
Malcolm Bell, head of Visit Cornwall, is calling on visitors to help keep the region safe.
The number of Covid cases per 100,000 people in Cornwall and the Isles of Scilly jumped from 383 to 717 in the seven days up to and including 19 August.
Mr Bell said: "We are asking people not to come unless they have booked ahead and request they take a lateral flow test before, during and after their stay so that people can be safe and help us to manage the current spike."
He said the county had witnessed "too many occurrences of overcrowding in honey pots" and urged visitors to consider visiting less popular parts of Cornwall.
"We have over 300 beaches and lovely parts that can cope with visitors," he said.
image captionNewquay's beaches have attracted tourists and surfers to the region
Three parts of Newquay now have the three highest Covid infection rates in England for the seven days up to 18 August.
The town's mayor, Lewis Gardner, said they had been working tirelessly "all summer" to keep Covid rates down.
"We've done vaccination pop-up centres, we've been handing out lateral flow tests, we've given advice to businesses," he told the BBC.
"And it just seems that everything we do, no matter what we do, the rates keep creeping up."
Cornwall Council said 4,700 cases may be linked to the Boardmasters festival held in Newquay between 11 and 15 August.
About 800 of those positive cases are people who live in Cornwall.
Follow BBC Spotlight on Twitter and Facebook. Send your story ideas to [email protected]
The BBC is not responsible for the content of external sites.