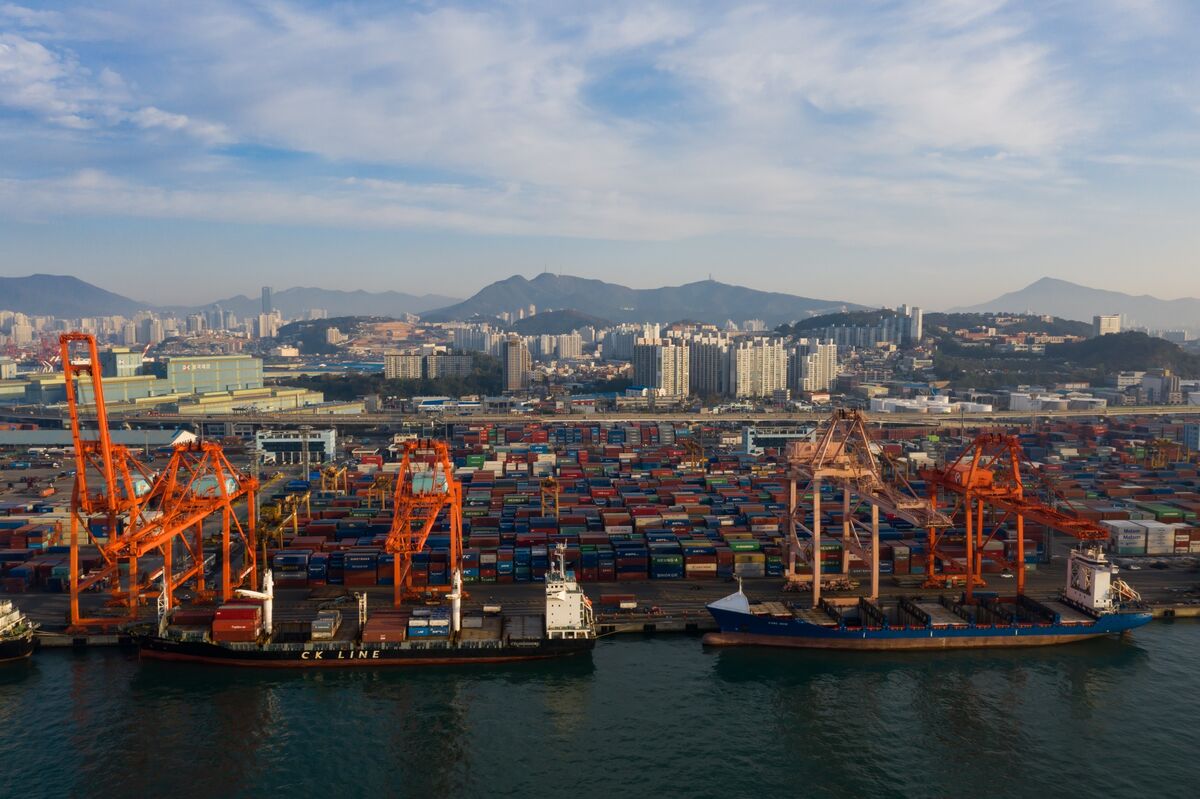 South Koreas surging exports signal global trade held up through most of August, although a drumbeat of bad news on the coronavirus suggests the delta variant may soon surpass chip shortages as the worlds biggest production bottleneck.
An early trade report on Monday showed South Koreas
exports climbed 41% in the first 20 days of the month, compared with last years depressed level, with semiconductors shipments rising by almost the same amount. Exports to China were surprisingly strong.
Those sunny numbers, however, stack up against a growing list of data points signaling a less upbeat outlook. Those include a shutdown at a key Chinese seaport, near-record shipping
delays off Los Angeles and Long Beach, and more shut factories across Asia all due to the spread of the more contagious virus variant.
In Vietnam, where the government is sticking with a zero-Covid strategy and vaccination rates are among the lowest in Asia,
lockdowns could crimp manufacturing for smartphones, clothing and footwear, economists at Citigroup wrote late last week.
Toyotas Troubles
Vietnams problems ricocheted around the Pacific to Japan, where Toyota on Thursday said shortages of
key parts will force it to shut 14 domestic plants. That followed closures of manufacturing bases in Thailand. 
Earlier this year, savvy inventory management and stockpiling of key components had helped the automaker navigate the global chip crunch with relative aplomb; its having less success dodging the hit from delta.
Honda and Nissan, Japans other top carmakers, have yet to signal any more Covid-caused production cuts, but a sell-off in their shares at the end of last week suggests investors see the damage spreading.
Separate data from Japan on Monday indicated a seventh month of growth for the countrys factory sector, but there were signs of
cracks in the armor. Purchasing managers reported the slowest growth in new orders since January. They also said severe supply chain snarls were squeezing production inputs.
Fear of those same disruptions could actually have caused South Koreas trade numbers to look better than the reality, according to economist Angela Hsieh at Barclays. In a report to clients, she said she suspects some China-bound shipments may have been the result of front-loading to try to get ahead of port closures and reduced capacity at Chinese airports.
Sam Kim in Seoul and 
Toru Fujioka in Tokyo
Charted Territory
Choke on the Water
Bottlenecks at key West Coast ports have lingered since November
Source: Marine Exchange of Southern California & Vessel Traffic Service L.A./Long Beach
The number of container ships anchored outside the ports of Los Angeles and Long Beach, California, rose to 40 on Friday, tying the pandemic record high set in February. The average wait for vessels rose to 7.1 days, up from 6.2 days a week ago, according to L.A.s port. The delays along key transpacific trade
routes may be exacerbated by recent Covid outbreaks at Asian ports.
Todays Must Reads
Supply mission | U.S. Vice President Kamala Harris and Singapore Prime Minister Lee Hsien Loong announced initiatives including a high-level supply chain dialogue and agreements on cybersecurity and climate, all aimed at bolstering the economic and security relationship.
Chips are down | Volkswagen plants are set for a bumpy restart after the traditional summer break as the car industry remains in the grip of a chip shortage that most recently engulfed Toyota.
Deere prudence | Shares of farm-equipment maker Deere fell amid concerns that rising costs and supply chain snags will intensify going into next year.
Auto trading | Mexico is seeking formal consultations with the U.S. over rules for cars shipped across regional borders under a year-old trade agreement as it seeks de-escalate a conflict that emerged last month. 
Competing with China | German exporters are facing increasing pressure in their home market from Chinese exports to the EU, according to a study by the Cologne Institute for Economic Research.
Pressuring the baht | Thailand is heading for a rare current account deficit this year with the country missing out on the billions of dollars earned from tourism, likely piling more pressure on the nations already battered currency.

Lumber ruling | The U.S. Court of International Trade has eliminated a rule that allowed foreign companies such as Canadian lumber producers to have individual tariff rates lowered.
On the Bloomberg Terminal
Liner notes | Port congestion is up around the globe and we think more disruptions are likely until the delta variant is controlled, especially given China's zero-tolerance policy for Covid-19. This will provide support for liner rates, according to Bloomberg Intelligence.

Car exports | South Koreas auto shipments may face a slow, stumbling slog to recovery after July's 14% plunge, as the global chip shortage and a spike in new Covid-19 cases across Asia may stir up persistent supply-chain disruptions and sales headwinds, Bloomberg Intelligence says.
Use the AHOY function to track global commodities trade flows.
Click HERE for automated stories about supply chains.
See BNEF for BloombergNEFs analysis of clean energy, advanced transport, digital industry, innovative materials, and commodities.
Click VRUS on the terminal for news and data on the coronavirus and here for maps and charts.
Like Supply Lines?
Dont keep it to yourself. Colleagues and friends can sign up here. We also publish the
New Economy Daily, a briefing on the latest in global economics.
For even more: Follow @economics on Twitter and subscribe to Bloomberg.com for unlimited access to trusted, data-driven journalism and gain expert analysis from exclusive subscriber-only newsletters.
How are we doing? We want to hear what you think about this newsletter. Let our trade tsar know.