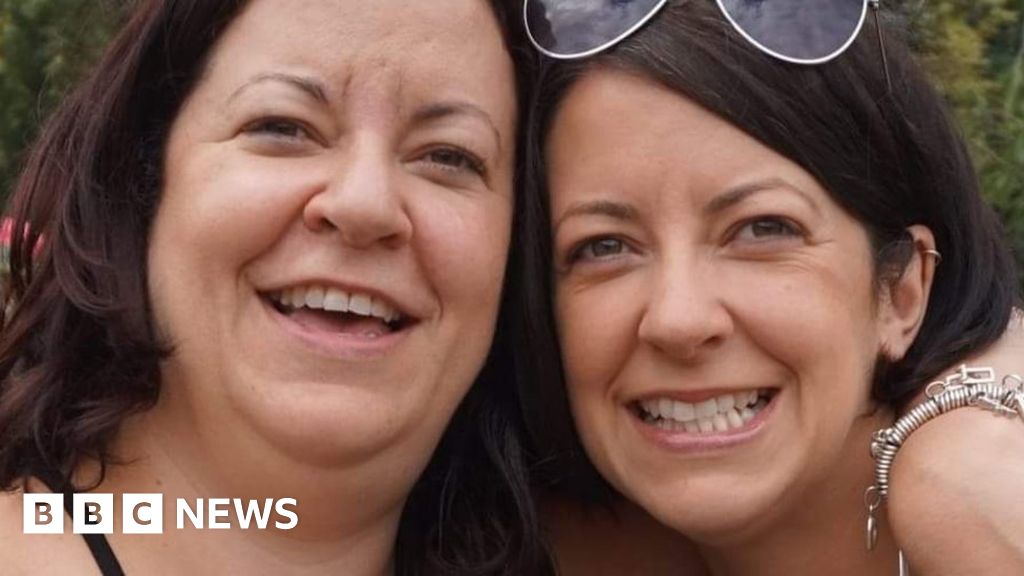 By Ben WeiszPolitical Reporter, BBC Radio Sussex
The twin sister of a woman shot dead along with her two daughters by the girls' father says stricter gun checks could have prevented their deaths.
Kelly Fitzgibbons, 40, and Ava and Lexi Needham, aged four and two, were killed by Robert Needham, 42, at their home in Woodmancote on 29 March 2020.
Ms Fitzgibbons' sister Emma Ambler told the BBC she was "shocked" at how easy it was to get a gun licence.
A new foundation will press for extra controls and help victims' families.
In her first broadcast interview, Ms Ambler said the foundation would be a fitting tribute to her "wonderful, special" sister and her "gentle, gorgeous little girls".
Image source, Emma Ambler
Image caption, Ms Fitzgibbons was devoted to her daughters Ava, four (right) and Lexi, two (left)
In January 2020, Ms Ambler celebrated her 40th birthday with her twin sister.
"Drinking prosecco, dancing and laughing. She had such a contagious laugh," Ms Ambler said.
"She had so many friends. She absolutely doted on those two girls."
But in March, during the first weekend of coronavirus lockdown, Needham shot her dead at their home along with their two daughters, before turning the gun on himself.
Image caption, Rob Needham was a builder who had been with Ms Fitzgibbons for 14 years
In a delayed inquest in July, the coroner ruled Kelly, Ava and Lexi had been unlawfully killed, and that Needham had died by suicide.
Though he legally owned the gun, evidence emerged at the inquest that he had lied when applying for the licence.
The family now say applicants who lie should be banned from re-applying.
"If Rob hadn't had access to such a deadly weapon, there's a chance that Kelly, Ava and Lexi could still be here," Ms Ambler told the BBC.
"This could have been prevented if gun licensing guidance was tougher."
The family also want licences to be reviewed more frequently, for closer working to be forged between GPs and police, and for people with recurring depression to be barred from getting a licence.
A Home Office spokesperson told the BBC they were "committed to giving police the tools they need to protect the public," such as new licensing guidance last year.
"Last month we launched a new digital marker for doctors to use that will flag to police if the license holder develops a new relevant medical condition.
"We will continue to review and strengthen these measures as needed."
Sussex Police said it had "significantly changed and improved" its licensing processes since 2020, and that the force's thoughts remained with the families involved.
Image caption, Emma Ambler said she would 'always cherish' memories of her twin sister Kelly
Meanwhile, Ms Ambler wants to help others cope with the bewildering experience of losing someone to violence.
"You have police investigations and coroners' inquests. You're not really equipped to know how to deal with these things and nobody really talks you through what's involved.
"The emotional impact that has on your family is huge."
Her family has now set up the Kelly Fitzgibbons Foundation, which offers advice, support and grants towards funeral costs and counselling.
"To know that we've prevented this happening to one other family would help me to feel that Kelly's left a legacy. And I know that's what she'd want me to do."
If you are affected by this story, you can find help and support from BBC Action Line.
Follow BBC South East on Facebook, on Twitter, and on Instagram. Send your story ideas to [email protected]
The BBC is not responsible for the content of external sites.