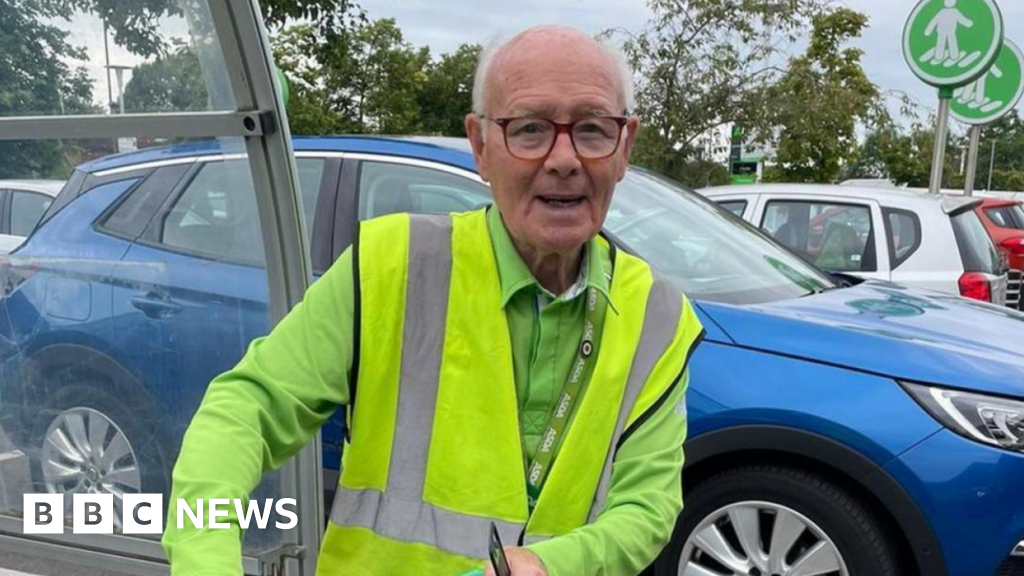 An 89-year-old supermarket worker who is Asda's oldest employee said he loved his job and had no plans to retire.
John Bumford is a porter at the store in Shrewsbury, Shropshire and said he loved hearing customers' stories.
The retired RAF radio technician started working there in 2000, when it was a Safeway, believing he was was "getting under his wife's feet a bit".
Mr Bumford said people were often "shocked" by his age and that he regularly helped carry shopping.
"One lady wanted some stones lifting into her car," he said, adding she asked for someone younger when he offered to help.
"She said I wouldn't be able to do it and I said 'can't I?' and then proved her wrong," he said.
"The customers and I get on really well and I know most of them."
Image caption, Mr Bumford said: "I was getting under my wife's feet a bit when I retired so I thought I'd better get another job"
Mr Bumford, who has been been married to wife Betty for 64 years, said he took the job at the supermarket after he retired.
He was a television engineer for 40 years and spent 10 years in the Royal Air Force as a radio technician, teaching at the No. 1 Radio School based at RAF Locking in Weston-super-Mare.
"I wasn't sure whether I'd like the job when I first started but they said just give it a go for a month or two and see how you get on," he said.
More than 20 years later, he is still there and said he had no plans to give up any time soon.
Store manager Kester Williams said: "Customers love him and he always has a smile on his face.
"He is always here, rain or shine, helping customers and other colleagues."
Follow BBC West Midlands on Facebook, Twitter and Instagram. Send your story ideas to: [email protected]
The BBC is not responsible for the content of external sites.