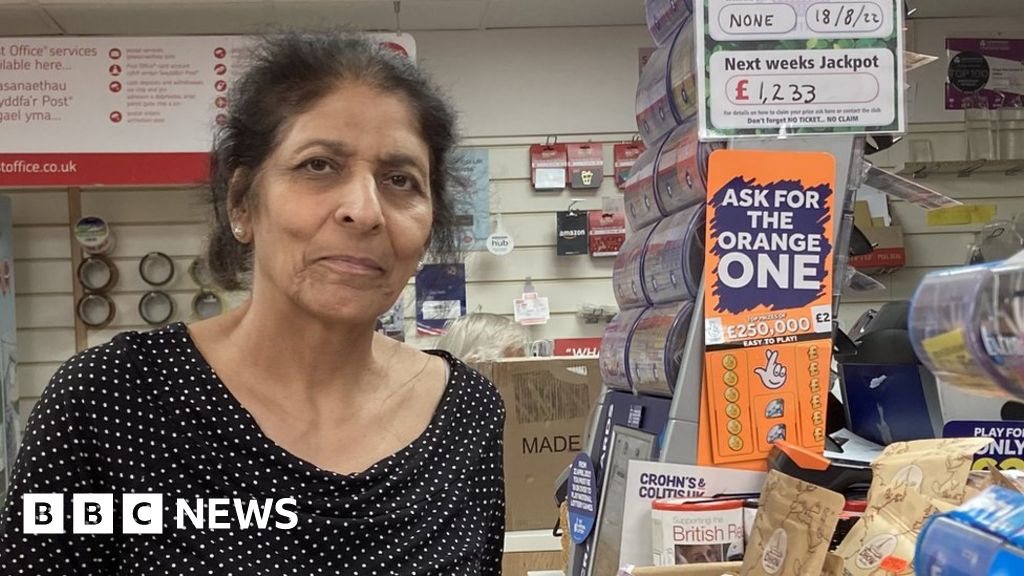 By Sarah DickinsBBC Wales economics correspondent
Small shops are struggling to survive as the cost of living squeezes them tighter.
Shopkeeper Ramesh Samani said he was paying about 20% more for goods and was having to pass that on to shoppers.
Mr Samani, originally from Tanzania, said supermarkets can sell more cheaply than he can buy stock.
It comes ahead of latest inflation figures on Wednesday, which are expected to show another increase.
Mr Samani and wife Gita have run a Spar on Kings Fee, part of Wonastow, a working class part of Monmouth, since 1987 and have survived several recessions.
Image caption, He and wife Gita run a Spar in Monmouth
"It's going to get even harder by next year because the way the recession is going to come, and it will affect local people, especially working class people," said Mr Samani, a father-of-three.
He called the rising costs "unbelievable".
In July Office for National Statistics figures showed inflation was rising at its fastest rate in more than 40 years.
New figures to be published on Wednesday are expected to show things are now even worse.
Mr Samani believed he had no option but to put up prices.
"I have to or I won't survive, I've got overheads to pay, bills to pay, rates to pay, it's so much now that we can't afford not to do that," he said.
Mr Samani's shop, which employs six, had to "compete with the big boys".
Small businesses, he said, were struggling against the supermarkets.
"The supermarkets can sell cheaper than what I can buy," he said.
Businesses are under similar pressures as households.
The shop's electricity bill has risen from £479 a month to £750 a month in the space of a year.
Image caption, The shop's electricity bill has risen from £479 a month to £750 a month in the space of a year
It was leased from Monmouthshire County Council in 2014 so the business has no rent bill.
But National Insurance for his staff has risen, as have rates.
After 35 years Mr Samani, who arrived in the UK when he was 20, knows his customers.
"I know whole generations of families, from the grandparents to the parents, to the kids and the kids' kids.
"They always talk about (costs going up), especially now with the electricity prices, the gas prices, petrol prices."
Shoppers were living day-to-day.
"They buy what they require, what they need on a daily basis," Mr Samani said.