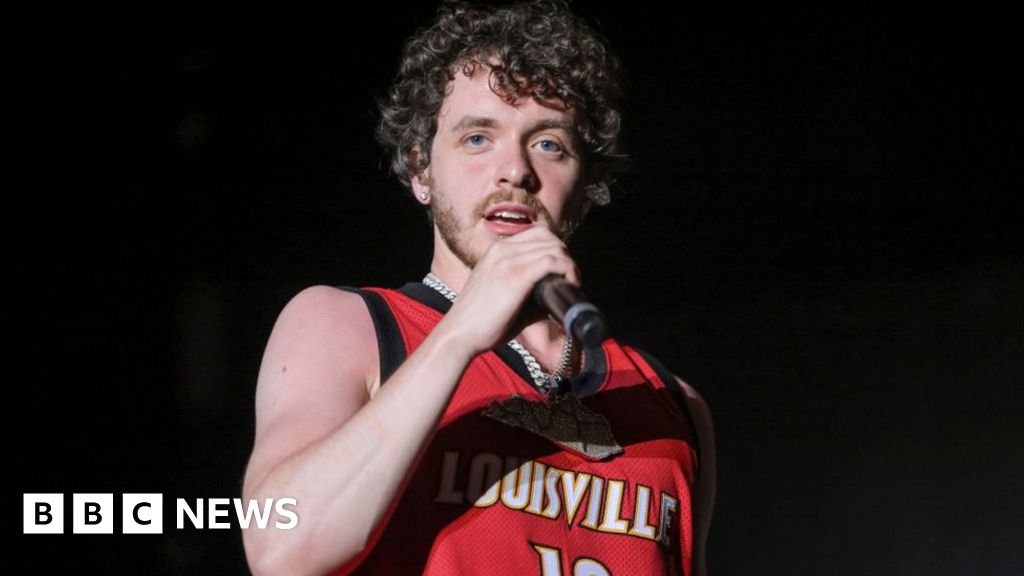 Music fans say they are angry that Eurovision winners Måneskin and US rapper Jack Harlow have pulled out of Reading and Leeds festivals.
Organisers said they were "saddened to hear" the artists had pulled out of performing this year.
Harriet Langsbury was looking forward to seeing the 2021 Eurovision winners, with six tickets for the Sunday.
The 28-year-old told Radio 1 Newsbeat the situation had been "handled so badly".
Måneskin and Jack Harlow will instead be performing at the MTV Video Music Awards – which are on the same weekend.
It comes after Rage Against The Machine, another act Harriet was looking forward to, already pulled out due to a medical issue involving their frontman.
Jack Harlow was due to perform at Leeds Festival's final day while Måneskin were due to be at Reading's last day.
"We're in a tricky situation and don't know what to do anymore," Harriet says.
She says refunds are not being issued and the resale and transfer of tickets have not been possible.
"They should do better and can do better. I don't know if we'll be going or not."
Image source, Harriet Langsbury
Image caption, Harriet and her friend at Glastonbury
Italian band Måneskin announced earlier this month that they were pulling out due to "scheduling conflicts".
"We love and miss the UK and all of our beloved UK fans and we're absolutely gutted to no longer be able to play these shows," they said.
Jack Harlow has not said anything publicly about not performing at Reading and Leeds.
But festival organisers said: "We are saddened to hear that Jack Harlow and Måneskin have decided to perform at an award show the same weekend they were confirmed to play Reading and Leeds,"
They said they were "working on some exciting replacements" and The 1975 have already been announced as replacements for Rage Against The Machine.
Image source, Getty Images
Image caption, The Italian band said they would "hopefully be back in the UK soon"
Fans of Rage Against The Machine have already called for their money back, with one saying the "replacement was nowhere close to the same music genre".
And the latest withdrawals has led to more angry would-be festival-goers on social media asking about refunds.
One fan tweeted that the decisions by Jack Harlow and Måneskin were "rude, especially leaving it last minute".
Another said "the two bands I went to see are no longer there", calling it "massively unfair".
Is there a way that fans can get a refund from reading & leeds?Because fans who paid deserve a refund
— Feriel (@8Osmercuryrog) August 15, 2022
The BBC is not responsible for the content of external sites.View original tweet on Twitter
@TicketmasterCS hello I would like to speak to you regarding reading and leeds. I would like a refund because I bought a day ticket to see Rage against the Machine and they have pulled out and replaced by a band in a different genre, please can you give me a full refund thank you
— Dave (@Rob30235710) August 15, 2022
The BBC is not responsible for the content of external sites.View original tweet on Twitter
Ticketmaster have not yet responded to Newsbeat's request for comment on refunds.
But in tweets responding to people asking about refunds, they said "changes to the line-up of a multi-performer event such as a festival don't make a booking eligible for a refund".
Jack Harlow has been nominated for seven awards at the VMAs alongside Kendrick Lamar and Lil Nas X.
Måneskin have been nominated for one award for Best New Artist.
Follow Newsbeat on Instagram, Facebook, Twitter and YouTube.
Listen to Newsbeat live at 12:45 and 17:45 weekdays – or listen back here.