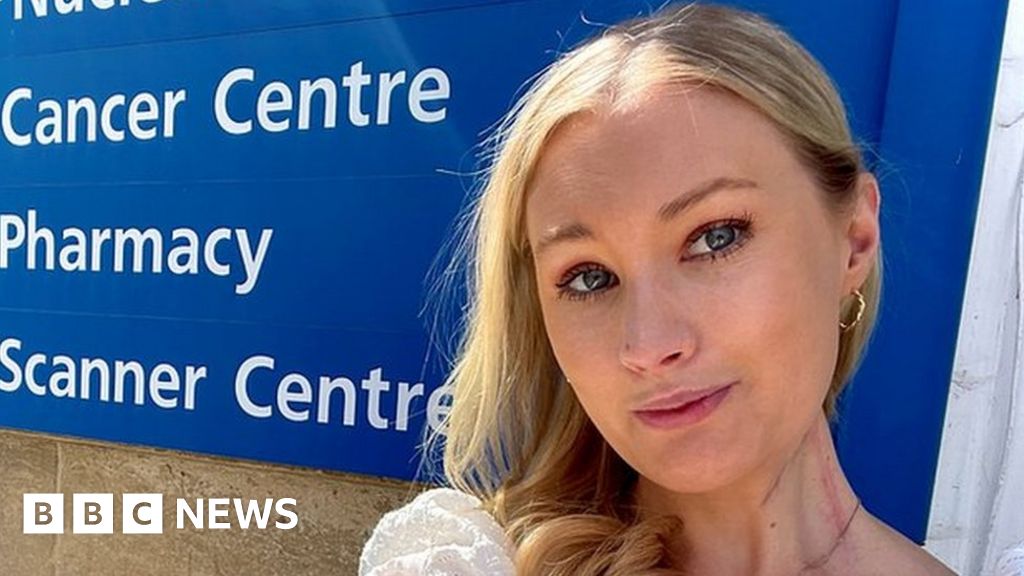 By Sarah LeeBBC News
BBC journalist Sarah Lee was diagnosed with stage three malignant melanoma in January, five months after three different doctors had dismissed her concerns about a new mole on her scalp.
By the time it was spotted, the cancer had spread. The 29-year-old is now recovering after surgery to remove 24 lymph nodes. She is encouraging others to talk to a doctor if they're worried about their skin and to take care not to get sunburn.
One of the major causes of skin cancer is a high UV index – experts recommend taking precautions for anything over level 3. According to the Met Office, over the next few days levels are about to go up to 7.
Last summer, I took a photograph of my scalp to see if I needed highlights; the scarcity of hairdressing appointments during the pandemic had almost turned me into a brunette.
That's when I saw it – a pea-sized black mole lurking among my fine blonde hair. I was certain it hadn't been there before.
The next day I called my GP who referred me to a dermatologist.
After looking at my mole with a dermatoscope, the skin specialist told me three things: it didn't look unusual, I was too young to have skin cancer, and that it was almost impossible to get melanoma on the scalp, as the hair acts as a barrier to the sun's ultraviolet (UV) radiation.
Little did I know that all three of these statements were wrong and would soon put my life in danger.
Image caption, The mole quickly grew and multiplied
Five months later, the mole had grown and multiplied.
So back to the GP I went – who was adamant the growing blue-black lesion on my head was a fungus that would go away on its own.
Frustrated with being fobbed off, I pushed to see a different doctor. I knew something wasn't right.
In December, a dermatologist finally ordered the urgent removal of the moles for a biopsy.
"I'm glad you came," she told me. "I'm really concerned about these spots on your head." A week later the mole was gone, replaced with a rather large scar.
After a Christmas and new year of high anxiety, the results came in.
I had stage three malignant nodular melanoma – the most aggressive form of skin cancer. It had spread all the way down my skull.
When the nurse told me the news over the phone, I was so shocked I almost collapsed. I wasn't a sunbed user, I used factor 30 sun cream and I grew up in Wales, where it almost always rains.
Image caption, I am being treated at Mount Vernon Hospital in Northwood, north-west London
I had so many questions.
What did this mean for me? How much time did I have left? Would I lose my hair?
But most importantly, why had I been told by three different doctors that I had nothing to worry about?
After CT, MRI and PET scans, I soon learned the cancer had spread to a lymph node in my neck and that I needed a radical dissection – an invasive surgery to remove all of the lymph nodes and tissue in the left side of my neck.
When I heard the word "dissection", I instantly thought about the sad-looking fish I had to cut up in Year 11 biology.
On 11 March, it was my turn to be the fish.
Image caption, Twenty-four lymph nodes were removed from the left side of my neck during an eight-hour operation. One lymph node was found to be positive for melanoma
Image caption, Two drains were placed in the wound to ensure lymph fluid and blood did not collect under the skin
After an eight-hour operation at the Royal Free Hospital in Hampstead, a lengthy recovery that involved carrying around my own blood in a drain for two weeks, and a few claustrophobic scans, it was confirmed I no longer had any signs of cancer in my body.
But, sadly, my journey didn't stop there.
Not the most common or only type of skin cancer, but one of the most serious. Left untreated, it can spread to other organs in the body
About 16,700 people a year are diagnosed with it
Caused by abnormal skin cells that grow out of control due to DNA damage. Intense exposure to UV can trigger this damage
Dr Bav Shergill, of the British Association of Dermatologists, said: "While melanoma is much more common in older people, it does occur in young people. In fact, skin cancer is one of the most common forms of cancer for teenagers and young adults to be diagnosed with"
If you are concerned by a mole or changes to your skin, you should contact your doctor immediately. If moles are itchy or bleed or have irregular shapes, these are warning signs
Most melanomas appear in places you can see, however some can occur in your nose, mouth, anus, and vagina (mucosal melanoma), while others can appear in your eye (uveal melanoma)
Source: NHS
I am currently undergoing a gruelling 12-month treatment plan of dabrafenib and trametinib – types of targeted cancer growth-blocker drugs – to prevent the melanoma from coming back.
The side-effects of the medication include nausea, vomiting, fever, severe fatigue and rashes – to name a few – but by taking it, there is a 75% chance my cancer won't return.
If it does, I know the amazing team at Mount Vernon Cancer Centre in Northwood in north-west London will sort me out.
Image caption, Due to nerve damage, I could not feel the left side of my face for a few months after surgery
What people don't necessarily see is the toll the diagnosis, numerous surgeries, scans and appointments have had on my mental health.
From someone who loved the sun, I now shy away from it. From someone who was so trusting of doctors, I'm now afraid to take their word on anything.
I am terrified of the cancer coming back and I'm angry it could have been spotted sooner.
But what I can say is that I have gained a tremendous amount of strength. The large scar on my neck is a visible sign of that.
A source of energy released naturally by the sun and artificially from sunbeds
In the UK almost 9 in 10 cases of melanoma could be prevented by staying safe in the sun and avoiding sunbeds
Getting sunburn just once every two years can triple your risk of melanoma skin cancer, compared with never being burned
Up to 80% of UV light is able to penetrate clouds, meaning it can cause sunburn even on overcast days
Source: Cancer Research
Having cancer at the age of 29 has been a terrifying surprise, but it has taught me to laugh harder, to live happier and to love bigger.
It's also taught me never to underestimate sun damage. It's rarely a case of "just cutting out a mole". As I keep saying, it's not just skin cancer and it can happen to anyone, anywhere – even on your scalp.
The skin is our biggest organ – please look after it. Wear a hat, slather on that factor 50, stay in the shade, get your moles checked.
And push for a second, third or fourth opinion if you must.
Follow BBC London on Facebook, Twitter and Instagram. Send your story ideas to [email protected]
The BBC is not responsible for the content of external sites.