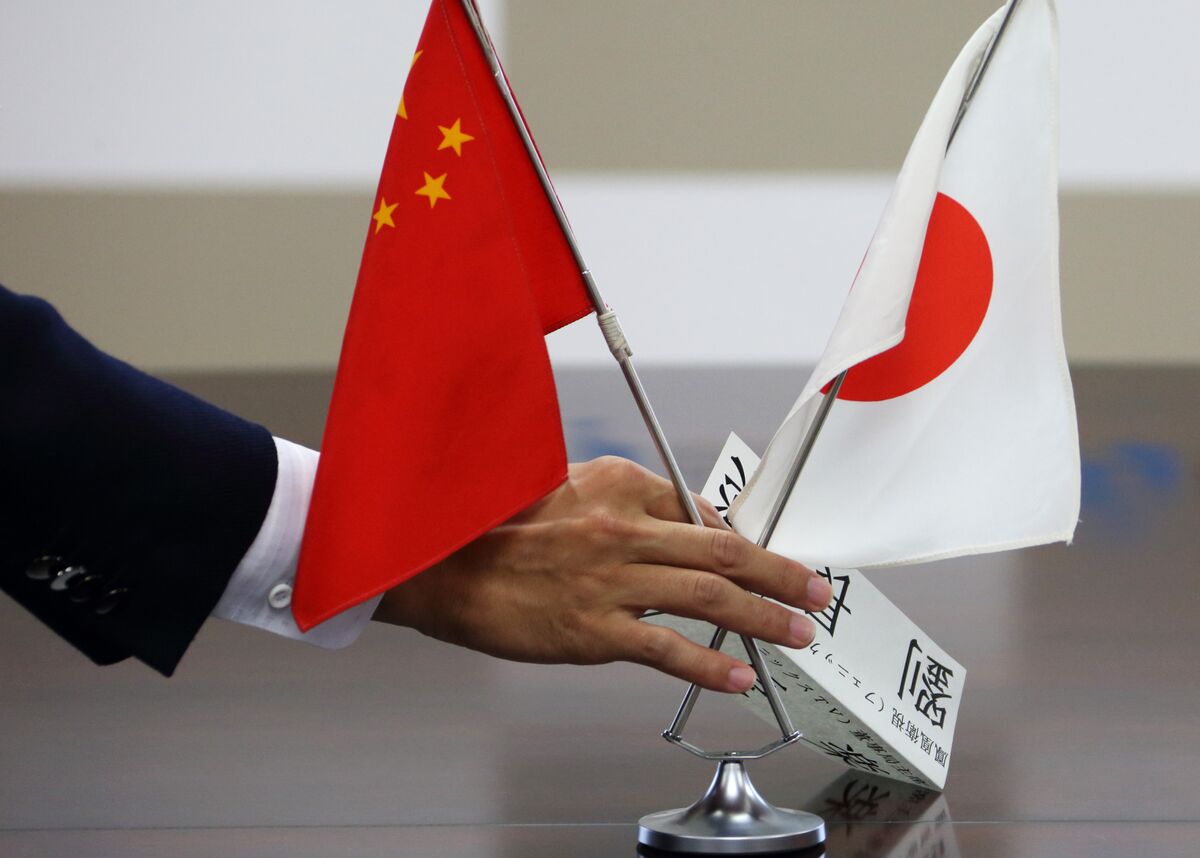 You're reading the New Economy Daily newsletter. You're reading the New Economy Daily newsletter. You're reading the New Economy Daily newsletter. Sign up here to get it in your inbox daily.Sign up here to get it in your inbox daily.Sign up here to get it in your inbox daily.
Hello. Today we look at the Chinese economys similarities to 1980s Japan, the latest round of Latin-American interest-rate hikes, and what history shows about data when a US recession strikes.
1980s Redux?
Nine years ago, economists at JPMorgan Chase economists compared and contrasted Chinas swelling
credit risks with what happened in Japan in the 1980s, on the eve of the bursting of that nations epic bubble.
The conclusion: China was more like Japan in the 1970s, with low household debt and plenty of scope still for
urbanization and capacity for decent 6% to 7% growth. (It has averaged a little over 6% since that report.)
Fast forward to this week, and the JPMorgan team did another check-in.
This time, things arent looking quite so rosy.
The worrisome news is that China has become increasingly similar to Japan in the late 1980s, economists led by Zhu Haibin wrote in a note Thursday. 
Among reasons for concern:
Chinas household debt surged to 62% of GDP last year from 28% a decade before. That compares with Japan's experience of climbing to over 60% in 1989 from about 26% in 1971
China's corporate debt has remained high, at around 160% of GDP  above the 145% peak in Japan in the mid-1990s
Chinas

demographics are changing even faster than Japans, with population growth stepping down and an ageing problem thats bigger than Japans at a similar development stage
There remain some big differences, however. Beijing has much greater oversight of the housing market through
administrative controls than Tokyo did. Its financial system remains dominated by the state sector. And its capital account is largely closed, leaving Chinese households with fewer options than Japanese ones had.
JPMorgans outlook doesnt include any forecast for a crisis. But the team warns that Beijing will need to carefully manage the real-estate downturn to limit spillovers, through measures such as boosting the
public housing and rental market.
Rosealea Yao, a China property market specialist at Gavekal, isnt so confident the administrators are providing a bottom for the downturn.
The problems constraining both the supply and demand of housing in China are not getting resolved, Yao wrote in a note Thursday. In the longer term, even if property sales stabilize, the downward adjustment from the peak will still mean a lower level of construction activity and materials demand in coming years.
Chris Anstey
The Economic Scene
Benchmark Interest Rates in Latin America
Source: Central banks, Bloomberg economist surveys
In the fight against pandemic inflation, Latin America led the world into a new age of tight money. Eighteen months later, theres not much sign that being first in will help the region to become first out,
Maria Eloisa Capurro writes
here. 
On Thursday, the central banks of Mexico and Peru announced what were respectively their 10th and 13th consecutive interest-rate increases. Forecaster dont think either of them is done yet. In Brazil, one of the worlds first hikers back in March 2021, theres some prospect of a halt. Still, policy makers said this week they expect to keep rates in significantly contractionary territory for a sufficiently extended period.
Inflation resilience reflects the delay between the rate hikes and their effect on the economy. Those effects are hindered by two other factors: the adverse external scenario, that weakens emerging currencies and pushes tradable prices up; also, the fiscal measures adopted by some Latin economies fuel the very inflation whose effects they intend to soothe.
Adriana Dupita, economist at Bloomberg Economics
Todays Must Reads
Russia in reverse | President Vladimir Putins invasion of Ukraine set Russias economy back four years in the first full quarter after the attack, putting it on track for one of the longest downturns on record.

Hong Kong woes | Hong Kongs economy will struggle to expand at all this year, the latest Bloomberg survey of economists shows, as the city grapples with Covid restrictions, a trade slump and global headwinds. 

Tough job | Heres a look at who may end up as next UK Chancellor of the Exchequer and their challenges in taking charge of an economy that shrank

in the second quarter for the first time since the pandemic.
Getting a raise | People who switched jobs saw their wages jump by a record 6.7% on average in the 12 months through July, according to calculations by the Federal Reserve Bank of Atlanta.

Recovery doubts | China will likely report a further recovery in its economy in July although the strength and longevity of that rebound is far from certain as Covid outbreaks spread and a property slump persists.

Price surge | Swedens underlying inflation surged to a new three-decade high, keeping pressure on the central bank to ramp up policy tightening next month despite the threat of a recession.

Too shallow | The Rhine River on Friday is set to shrivel to a crucial level that could upend the trade of fuels throughout Europe. 
Need-to-Know Research
US policy makers have taken heart that the fundamentals of the economy remain solid, with strong job growth and consumers
hanging in there. But Goldman Sachs research suggests not getting too comfortable: history shows that indicators at what turns out later to be the start of a recession tend to be revised weaker.
Revisions to payroll and household-employment gains are on the order of about -30,000, Goldman economist Manuel Abecasis wrote in a note Thursday. More meaningfully, the average change to three-month annualized,
inflation-adjusted personal spending is about a 1 percentage-point downgrade, he wrote.
Our findings suggest that policy makers should interpret real-time
data with a bit of caution, Abecasis wrote. For the moment, though, the data supports our view that the economy is experiencing a healthy deceleration, not a recession.
On #EconTwitter
To the tune of the Tina Turner hit:
Read more reactions on Twitter
Enjoy reading the New Economy Daily?