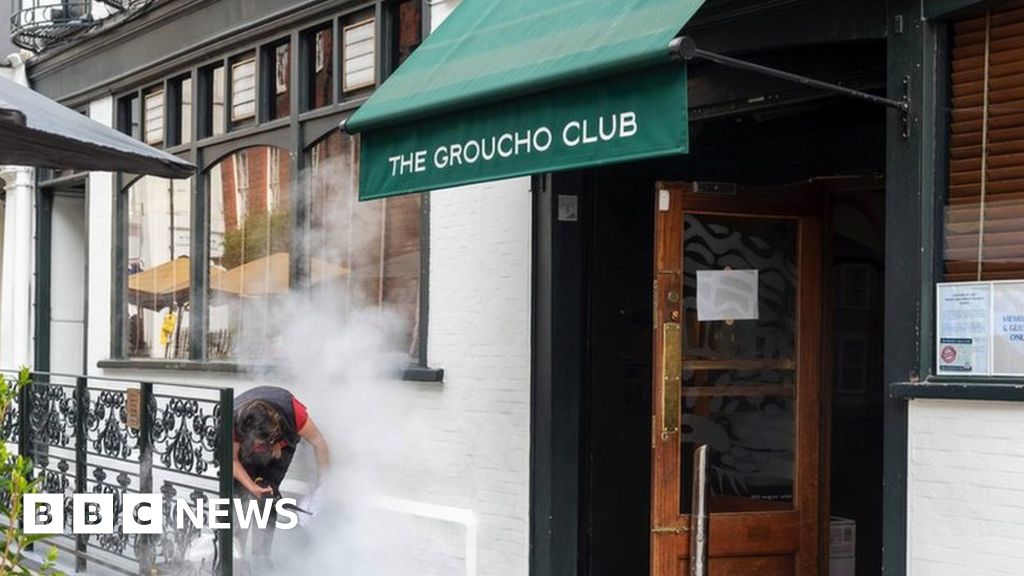 One of London's most famous private members' clubs has new owners.
The Groucho Club in Soho has been bought by hospitality business Artfarm in a deal reported to be worth £40m.
The Groucho has boasted many A-list celebrities among its members, including Noel Gallagher, Melvyn Bragg, Rachel Weisz, Lily Allen and Stephen Fry.
It is the third time the Dean Street club has changed hands since it was founded in 1985.
Artfarm said it had bought the club from a group of investors including Alcuin Capital Partners, a buyout firm that owns coffee chain Caffè Nero.
The Groucho has long been popular with musicians, writers, media figures and artists, with Damien Hirst famously putting his £20,000 Turner Prize winnings behind the bar in 1992.
Image source, Getty Images
Image caption, The Groucho was a popular place for paparazzi to lurk outside – actress Keira Knightley is seen here leaving the club
The club is also noted for its collection of about 150 works of art, by artists including Francis Bacon, Tracey Emin and Gavin Turk.
Artfarm – a six-year-old business run by the founders of art gallery Hauser & Wirth – said it planned to respect the history and traditions of the club while welcoming new members.
Boss Ewan Venters headed luxury department store Fortnum & Mason for eight years and is himself a member of the Groucho.
Image source, Getty Images
Image caption, Restaurant de Paris and Gennaro's Rendezvous, on Dean Street in Soho, 1947. Gennaro's would become the site of the Groucho
Mr Venters said: "As a member for some time myself, I understand the special place the Groucho occupies in London's cultural landscape.
"Under Artfarm's ownership, the future of the club is assured.
"We will respect the history and traditions of the club, and we look forward to engaging with its membership to create a long-term future for the Groucho that builds on its eclectic appeal and maverick ethos."
The founders of the Groucho were the publishers Carmen Callil, Liz Calder and Ed Victor, and literary agent Michael Sissons.
They wanted somewhere they could meet, work and socialise that felt like a café, a bar, a restaurant, an office and a sitting room. Their club was also to welcome woman as equals.
The BBC is not responsible for the content of external sites.