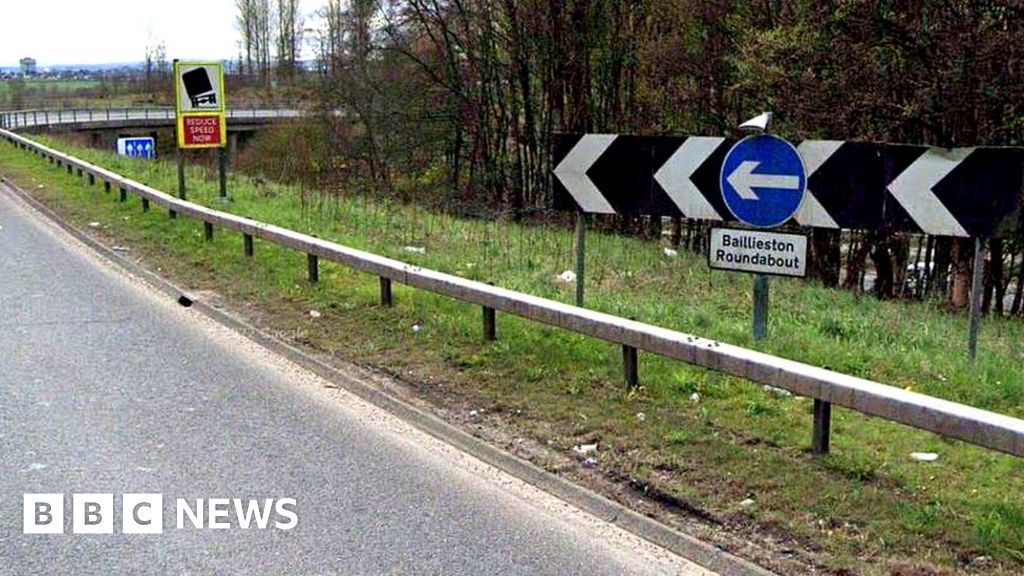 A driver who killed a grandfather after ploughing into his motorbike has been spared jail.
Peter Dunnachie admitted causing death by careless driving after hitting Iain Wyatt at a roundabout, near Baillieston, in May 2020.
Mr Wyatt, a 43-year-old police forensic nurse, suffered a bleed to the brain and a fractured spine.
Dunnachie, 45, of Rutherglen, South Lanarkshire, was banned from driving for two years and three months.
He was also ordered to carry out 210 hours of unpaid work and will be tagged for six months, keeping him indoors overnight.
Glasgow Sheriff Court heard Mr Wyatt had attempted to avoid the almost head-on collision by leaning on his side and had left scuff marks from his trainers on the road.
Witnesses saw him "wobble" before a loud bang was heard.
The granddad-of-three died at the scene.
Sheriff Joseph Pratt said: "Mr Wyatt lost his life and all that offered him, he had a rich life and that ended with an action that was difficult to explain.
"The family's statements say that they have suffered and no sentence passed can be appropriate for what they have suffered."
The court heard Mr Wyatt was on a Honda motorbike at the roundabout, near the M73, when Dunnachie entered from a slip road.
Prosecutor Lauren Staunton said: "Mr Wyatt reacted to the presence of the motor vehicle emerging from the junction, causing him to brake heavily, creating locked wheel tyre marks on the road.
"The motorbike then collided with the front offside of the motor vehicle resulting in scuff and tyre marks.
"The motorbike slid on its offside across the road surface trailed by Mr Wyatt, creating various scratches and gouge marks on the road."
Mr Wyatt was tended to at the scene by a first aider who reported he was "struggling to breathe."
A post mortem stated that the cause of death was "multiple injuries".
As well as the brain bleed he suffered fractures to ribs, spine, pelvis, collapsed lungs as well as wounds to the spleen and liver.
Dunnachie was "in shock not making much sense" before identifying himself as the driver to police.
Ms Staunton said: "Collision investigators state that Dunnachie failed to look properly.
"He entered the roundabout when it was unsafe to do so directly into the path of the motorbike.
"The inattention of Dunnachie has resulted in the death of Mr Wyatt."
Brian Cooney, defending, told the sentencing that it was an "extremely tragic accident."
The lawyer added: "It has been extremely unfortunate to where the motorbike is struck as to what then happened.
"The consequences of this are extremely unimaginable."