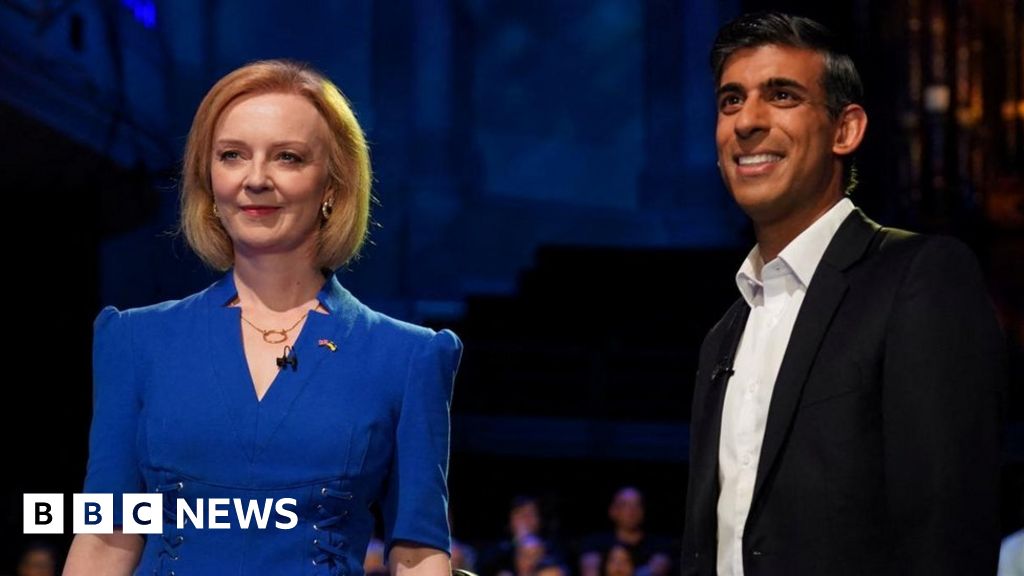 By Tim DonovanPolitical Editor, BBC London
Since emerging as the remaining two candidates, Liz Truss and Rishi Sunak have been battling it out to be picked by Conservative members as the party's new leader.
Midway through the contest to select the next prime minister, what can we glean so far about who's winning the race in London, and what the candidates know and feel about the capital?
And who's best-placed to reverse Tory fortunes in London, which are at their lowest ebb for decades?
No clear favourite has emerged in London, but Conservative members will be looking for someone who can lead the recovery in the capital after two successive mayoral defeats and the loss of the flagship councils of Barnet, Wandsworth and Westminster.
Tory MPs will make their minds up over a number of things ranging from belief and ideology to self-interest and hope of preferment.
The minister for London is Paul Scully, the Sutton and Cheam MP, and he is supporting Truss. She's got the support too of former party leader Sir Iain Duncan Smith, who represents Chingford and Woodford Green, and Chris Philp, a junior minister whose seat is Croydon South.
Image caption, Since 2015 Rishi Sunak has been the Conservative MP for Richmond in North Yorkshire
However, business minister Greg Hands – Chelsea and Fulham – backs Sunak and is not averse to some to blue-on-blue street-fighting. He criticised Truss supporter Nadine Dorries over an image showing Sunak stabbing Boris Johnson in the back and called on Truss to disown it.
Next door, Cities of London and Westminster MP Nickie Aiken is also backing Sunak.
Geography and demographics provide little help in picking the winner. Among the constituencies of Bromley and Bexley – the safest Tory territory in the capital – Sir Bob Neill, Bob Stewart and Louie French are all Sunak fans.
Gareth Bacon backs Truss and for the moment Sir David Evenett is keeping his own counsel.
Image caption, Liz Truss visited the Onside Future Youth Zone in east London as part of her campaign
Across the capital Conservative associations seem only too delighted to welcome the candidates.
Sunak got a warm reception in Croydon at an association event attended by newly elected mayor Jason Perry (although there was no sign of Truss-backing Philp).
Sources suggest in neighbouring Sutton, the 18 Conservative councillors are breaking 60:40 in Truss's favour.
And then there's Boris Johnson. The MP for Uxbridge & South Ruislip (a position which could become vacant soon) is not saying publicly who he's backing, but it's obviously Truss!
For Tory MPs perched nervously with slender majorities, the choice they make could be particularly important. All the predictions are of economic turmoil ahead and their futures are precarious.
In the capital's most marginal seat, Kensington, with a 150 majority, Felicity Buchan is backing Truss.
But in Wimbledon former minister Stephen Hammond (majority 628) says Sunak is best for the task ahead.
Image caption, Rishi Sunak gained support from more MPs as the final two candidates were picked in the leadership campaign
Elected in 2019, Elliott Colburn won't yet say who he thinks is the one who can help him preserve his 629 majority in Carshalton & Wallington, but he backed Penny Mordaunt originally and she's now fallen in behind Truss.
However, he'll be more than aware of the dangers of alienating a significant population of Indian voters.
Former Northern Ireland secretary Theresa Villiers is also keeping her thoughts to herself for the moment. She goes into the next election defending a majority of 1,212 in Chipping Barnet, which looks more vulnerable than ever now the local council has been won by Labour for the first time.
Not much is the honest answer, but that could change, and the London hustings isn't until the end of the month.
This week Liz Truss wrote in the Evening Standard that "levelling up" would not be at the expense of the capital. Her assertion that "when London does well, Britain does well" is what we once used to hear a lot from Boris Johnson when he was mayor, that is.
Image caption, Liz Truss has been foreign secretary since last year
The tone has been just a little different since then and the leadership contest has been more focused on appealing to the so called "Red Wall" than London and the Greater South East.
Rishi Sunak's talk – in that video in Tunbridge Wells – of adjusting spending formulas could come to have significance. He said he wanted to syphon money away from "deprived urban areas" to smaller towns and rural areas.
London might, it was surmised, suffer from this approach, and supporters like MP Richard Holden took to the airwaves saying parts of the capital were no longer as deprived as they once were.
In her major campaign misstep, Truss launched then promptly retracted a policy of lower regional pay for public service workers outside London.
Dave Hill from news website OnLondon, believes the leadership campaign has "exposed both the vacuity of the so-called levelling-up agenda and the inadequacy of the debate about it".
Rishi Sunak spent the noughties in the City of London as an analyst, first with an investment bank and then with two hedge funds.
And what with time spent in the US, where he got his green card, he's left little mark on public life in the capital.
His previous work meant he watched the financial crash of 2008 from inside the industry. A Conservative-led government then lured him into doing analysis for a think tank and he offered himself up as a governor of a new free school in east London.
He'll be known for the help he gave to London's hospitality trade during Covid, though as a teetotaller only partially partakes of what the capital has to offer.
Image caption, Rishi Sunak became chancellor in February 2020
Liz Truss lived for a long time in south-east London and was a Greenwich councillor between 2006 and 2010, having twice previously failed to get elected.
Few seem to have strong memories of her during that time, which may be explained by absences on maternity leave after the birth of both her daughters and attention shifting elsewhere once she had been selected for the parliamentary seat of South West Norfolk.
On several occasions during the five hustings of Conservative members, she has referenced her time on the council planning committee as "hours I won't get back".
She says the experience has shaped her aversion to "top-down diktat from Whitehall" for not allowing local people to make decisions for themselves.
Image caption, Liz Truss became an MP in 2010, ending her time as a Greenwich councillor
Figures around at this time say it is more likely that she was frustrated by being an opposition councillor in a very solidly Labour council.
Alex Grant, who chaired the planning board when Truss was a member, wrote recently that she made very little impression.
He said: "I have no memory of any maiden speech, any hard-fought campaigns to expose Labour incompetence, or for that matter any gaffes or scandals. Some Labour councillors felt that Truss was entitled and petulant, but I always found her friendly and polite. If she was running late for meetings of the planning committee that I chaired, she would reliably send me her apologies by text message.
"It was hard to dislike Truss. But it was equally hard to see her as a future MP, let alone as a credible minister or prime minister. She always seemed to be a bit bored in Greenwich, impatient to become a Tory MP for a safe seat in Middle England, and keen to put the fruitless work of being a Tory councillor in a safely Labour London borough behind her."
Follow BBC London on Facebook, Twitter and Instagram. Send your story ideas to [email protected]