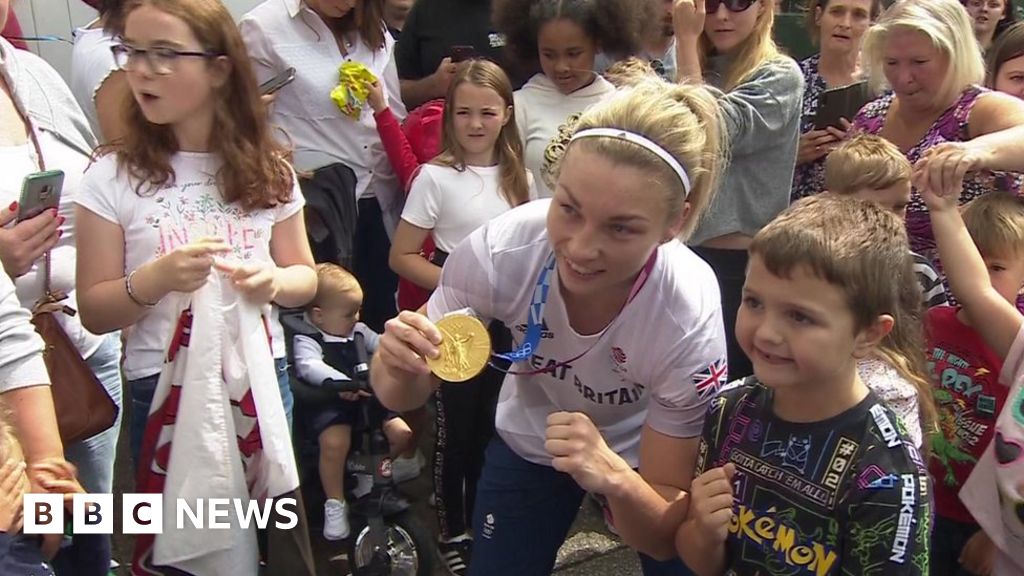 image caption"She's top tier now – it's mad," Lauren Price's niece Shayleigh says
Hundreds of people have lined the streets as Olympic gold medallist Lauren Price returned to her hometown.
The middleweight boxing champion was given a hero's welcome on her return to Ystrad Mynach, Caerphilly county, where she was raised by grandparents Linda and Derek.
Price said the public support had been "insane" after her success in the Tokyo games.
"I honestly didn't imagine coming home to this," an emotional Price said.
She added: "I didn't expect this many people."
Price, who won four kickboxing world titles as a teenager and played football for Wales before taking up boxing, said: "Even though I'm [with team] GB, I'm always representing Wales and the support has just been unreal.
"Thank you so much for coming out to see me and supporting me – it means the world."
Price also paid tribute to the role her grandparents played in her life after an emotional reunion with her grandmother.
image captionLauren Price and her grandmother (centre) hugged after a long six weeks apart
"She was ringing me on the way home and she got me filling up then," Price said.
"I've been away from her for six weeks so to come back home to her has been amazing.
"If it wasn't for her I wouldn't have achieved my dream.
"Her and my grandad have supported me since I was three days old, and I can't thank them enough."
Price's grandfather Derek died in November 2020.
image captionThere were plenty of youngsters waiting to get a photo with the Olympic gold medalist
It wasn't your usual lunchtime in Ystrad Mynach and the Olympic Champion was clearly overwhelmed.
It wasn't a planned homecoming event – it spread by word of mouth on social media.
By the time Lauren got home, hundreds were out lining the streets, cheering on the local girl who achieved her dream of Olympic gold.
There were flags, balloons and children cheering – everyone wanted a picture with their hero.
She stayed to speak to anyone who was waiting.
The real emotion came when Lauren saw her nan, Linda, for the first time in weeks – the family ran to the car and hugged.
An incredible end to a crazy few weeks for Lauren Price.