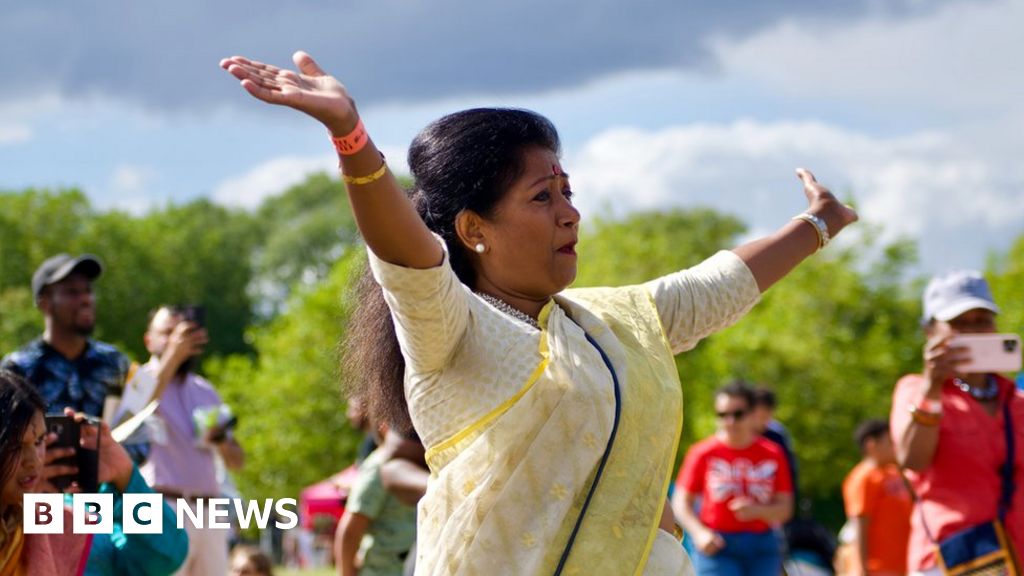 By John BrayBBC News, West Midlands
Since 1888 Handsworth Park has provided residents in one of Birmingham's most multi-cultural communities with a place to meet, relax and exercise.
This weekend, the park – just three miles from the Commonwealth Games athletics venue at Alexander Stadium in Perry Barr – was home to a Birmingham 2022 Neighbourhood Festival on Friday and Saturday.
The park is one of seven sites across the city where events have been held for residents while the sporting action takes place in front of a giant global TV audience.
Image caption, A mural at Handsworth Park celebrates Birmingham's rich black music history
At the entrance to the park, a vibrant mural has been created to celebrate an important part of the neighbourhood's cultural history.
"We wanted to look at how artwork can have a positive impact on the rest of our community in Handsworth and Birmingham and beyond," said Canaan Brown, of Black Heritage Walks.
"This was an example of one of those works, focusing on what we've called reggae royalty, looking at Birmingham's history of reggae – the successful artists that have come through Birmingham and its cultural scene."
Image caption, Games mascot Perry raised the energy levels with a disco dance session
Image caption, The disco was enthusiastically received, with S Club 7's Reach a particular favourite
Image caption, Perry had a helping hand encouraging youngsters to take place in his disco workout
Image caption, Dozens of festivalgoers queued to have a photo with the Commonwealth Games mascot
Image caption, Muha, a four-piece Ukrainian band, provided a flavour of Eastern European music
Born in Jamaica in 1951, celebrated photographer Vanley Burke moved to Birmingham in 1965 armed with a camera given to him by his grandmother for his 10th birthday.
He started photographing daily life in the community around him in 1967 and has continued to the present day.
Image caption, Portraits by Handsworth photographer Vanley Burke, taken for his Back Home project, were on display
"We were looking at home, and what home means to people," Mr Burke said.
"This is a continuation of that. What does back home mean for an individual? For some it's overseas, for others West Brom or Dudley.
"I'm very pleased with the presentation of the work. I like the intimacy of it and I like the way it's been framed."
Mr Burke described Handsworth Park as the "garden and front room of the community".
Image caption, Youngsters were introduced to hockey by local club Barford Tigers
Image caption, Players and coaches from Barford Hockey club, including Charn Gill (second right), and Inderjit Sathi (right), have been on hand throughout the festival to encourage new players
Aside from art and cultural events at the park, visitors were also invited to take part in sport, with local hockey club Barford Tigers, which was established in 1966 and runs seven teams, looking to inspire a new generation of players.
Vice chairman Inderjit Sathi said: "We've had a lot of interest. Some of the kids here have been playing for an hour or so."
Hockey at the Commonwealth Games has been based at the University of Birmingham, but Mr Sathi said he would have liked to have seen more focus on the sport in other areas of Birmingham this summer.
Captain Charn Gill said: "Today's great. We've had hundreds of children come through who pretty much all have never tried the sport before.
"They've seen it on the TV and said 'oh hockey, I want to give it a go'. We've taught them a couple of basic skills and then let them get into a game.
"They seem to be loving it and want to know more."
Image caption, The most colourful addition to the festival was the Mansha Dance School, who performed for the first time
The Handsworth Park festival also offered performers the opportunity to showcase their work in public.
"We didn't want to miss this opportunity and we're feeling really privileged to be here," said Rupa Nathwani-Patel, from Mansha Dance School.
"We're all mums so it's been quite tough balancing everything as you can imagine, but with lots of support from friends and family, we really wanted to come together and perform as a group for the first time."
The final neighbourhood festival takes place in Ward End Park on Sunday and Monday.
Follow BBC West Midlands on Facebook, Twitter and Instagram. Send your story ideas to: [email protected]