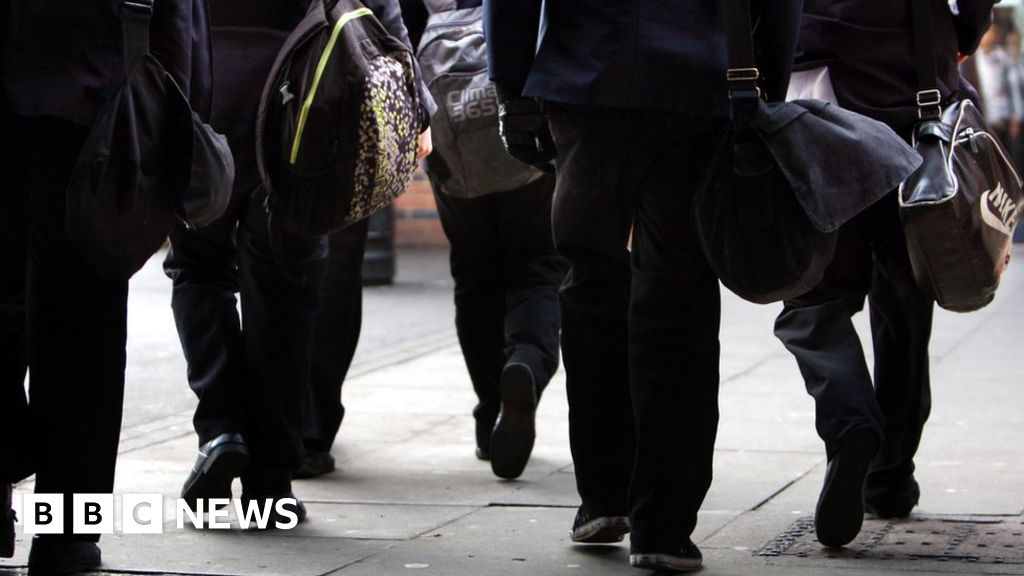 Families should be given more choice over where to buy children's school uniforms, a campaigner has said.
Some schools require pupils to wear uniforms with branding which means generic items that may be less expensive cannot be used.
Ex-teacher and uniform campaigner Deirdre McCausland said uniforms can often only be found at a single supplier.
The Department of Education is reviewing criteria for uniform grants.
It previously spoke of a "huge discrepancy" between the grant available to NI families and other parts of the UK.
Some organisations have called for a cap on the maximum price for a school uniform and PE kit.
The cost of uniforms is under scrutiny this year due to the cost-of-living crisis.
Northern Ireland's commissioner for children and young people has also described school sportswear prices as "scandalous".
Ms McCausland, who previously taught in England, said the uniform situation in Northern Ireland was unique in the UK.
She has a son in primary school and a daughter in secondary school.
"You can get a generic uniform and get the emblem sewn on [in England] but over here everything is very specific," she said.
She said uniform options in Northern Ireland were often attached to a sports label.
"There's not an awful lot of competition in a lot of places which means they can set the bar very high," she said.
"During the pandemic my son's PE top went from £5 to £17.99 overnight because it has a sports logo on it, I don't agree with that.
"I don't think it makes children perform any better. The schools need to strip everything back."
Ms McCausland said specific colours and certain materials for uniforms, particularly in grammar school, could create an added cost.
A recent survey carried out by the Irish League of Credit Unions, in which 564 parents of school children across Northern Ireland were surveyed, found that the cost of living crisis had an impact on funding back to school costs.
In this survey, there was an increase in parents saying they will deny their children extra-curricular activities because they can't afford them.
This doubled from 38% to 74% this year.
Half of the people surveyed, 49%, said they would sacrifice the family holiday to help cover the costs of back to school, up from 33% in 2021.
Parents can apply for the uniform grant in Northern Ireland if they are in receipt of means tested benefits such as universal credit.
The school uniform grant was increased recently by the education minister by 20%.
The uniform grant available to primary school children is £42.90.
The grant for children under 15 is £61.20 for a uniform and £26.40 towards a PE kit.
Those over 15 can receive £67.20 towards a uniform and £26.40 towards a PE kit.
Image source, Ben Birchall
Stephanie Hill, is a single mother working full time and her two children are in primary school.
She is not eligible to receive the uniform grant because she is just over the threshold.
Last year, her children's primary school introduced branded uniform jumpers and cardigans.
She said the cost of one cardigan now equates to a three pack of generic cardigans she was able to purchase previously.
For each of her children's uniforms, she would spend around £100 each.
She said she has had to make sacrifices because of the cost.
"Over the summer, I really had to budget in the extra money to be able to provide their uniforms and maybe it has sort of taken away like a day out with them over the summer so I could get the uniform in and especially when they are off school you don't want to take that away from them.
"You are not getting any other support, and with £200 out of my budget, that is already extremely tight on money."
Ms Hill said the uniform grant should be either available to all families regardless of their household earnings or the criteria should be widened so more people could access it.
Image source, Omagh Uniform Exchange
Image caption, Omagh uniform exchange helps reduce the cost of the school return
Uniform exchanges are helping some parents to keep costs down.
Omagh Uniform Exchange has helped around 2,000 families over the last three years.
Founder Cathy McNamee said she was expecting "huge demand" for the service ahead of their opening on Monday.
"The cost of living crisis seems to have no regard for class whatsoever," she said.
"We have had people who have owned their own business and lost their business and been in a situation where they have not been able to get their children ready for going back to school.
"But equally so, we do get a lot of people who are recycling, they are using that 1950s spirit of mend and make do and it's helping everyone's budget."
A Department of Education spokesperson said the education minister understood the challenges families were having in relation to the cost of living, including the pressures associated with school uniform costs.
They said a review was under way on free school meals and uniform grants in Northern Ireland.
The review will consider the rates of uniform grants available, the criteria determining who can access the grants and the potential role of legislation in relation to the costs of uniforms.