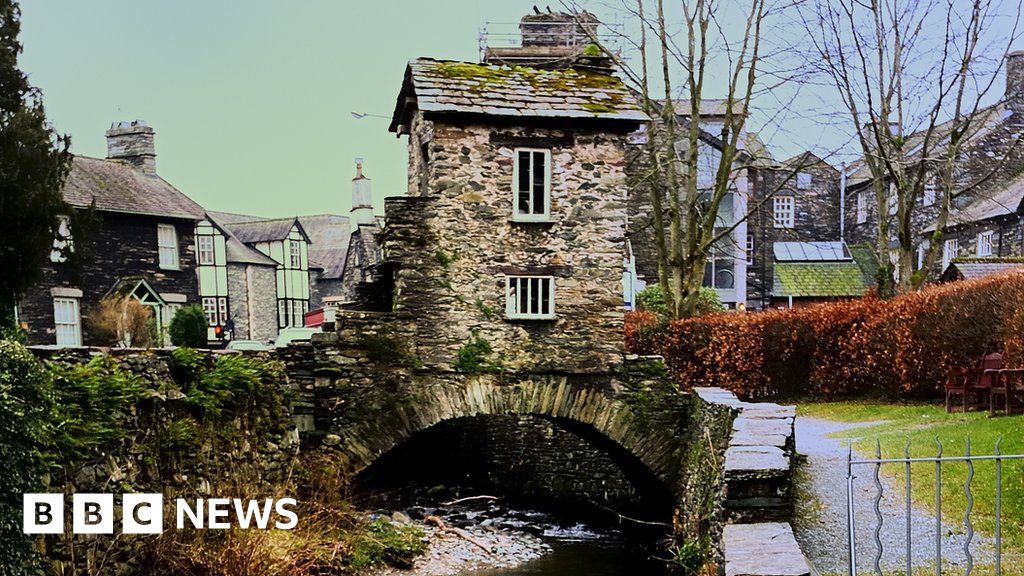 An "iconic" building in the Lake District has reopened to visitors for the first time since 2019.
A photographers' favourite, Bridge House in Ambleside closed for the season in October 2019 and remained shut due to Covid.
The tiny house reopened on Friday as part of a new partnership between The Armitt venue and The National Trust.
Armitt manager and curator Faye Morrissey, said they were "thrilled" to be sharing the "special place" again.
Image source, The Armitt Trust
Image caption, The tiny house on the bridge has been used as an apple store, a cobbler's and at one time was home to a family of eight
Originally built over Stock Beck in the late 1600s or early 1700s by the Braithwaite family, it is believed to have been used as an apple store for their home, Ambleside Hall. It is the only surviving building from the estate.
Over the years, Bridge House has provided inspiration for many artists, writers, and photographers including Harriet Martineau, Edward Lear and Kurt Schwitters, whose defining painting of the quirky house is now part of The Armitt's collection.
Image source, The Armitt Trust
Image caption, Writers, artists – such as Kurt Schwitters, above, – and photographers have paid homage to the house
National Trust Central and East Lakes general manager Laura Ruxton, said: "By working in partnership with The Armitt, we hope to further share the fascinating history of the Lake District with everyone, and to preserve and conserve buildings like Bridge House for the future.
"Bridge House was purchased by the local community in 1926 and given to the National Trust and we're delighted to be working with The Armitt so visitors can enjoy learning more about this little building which holds such a big place in so many people's hearts."
Bridge House will be open every Thursday to Saturday for ticketed tours during August.
Follow BBC North East & Cumbria on Twitter, Facebook and Instagram. Send your story ideas to [email protected]
The BBC is not responsible for the content of external sites.