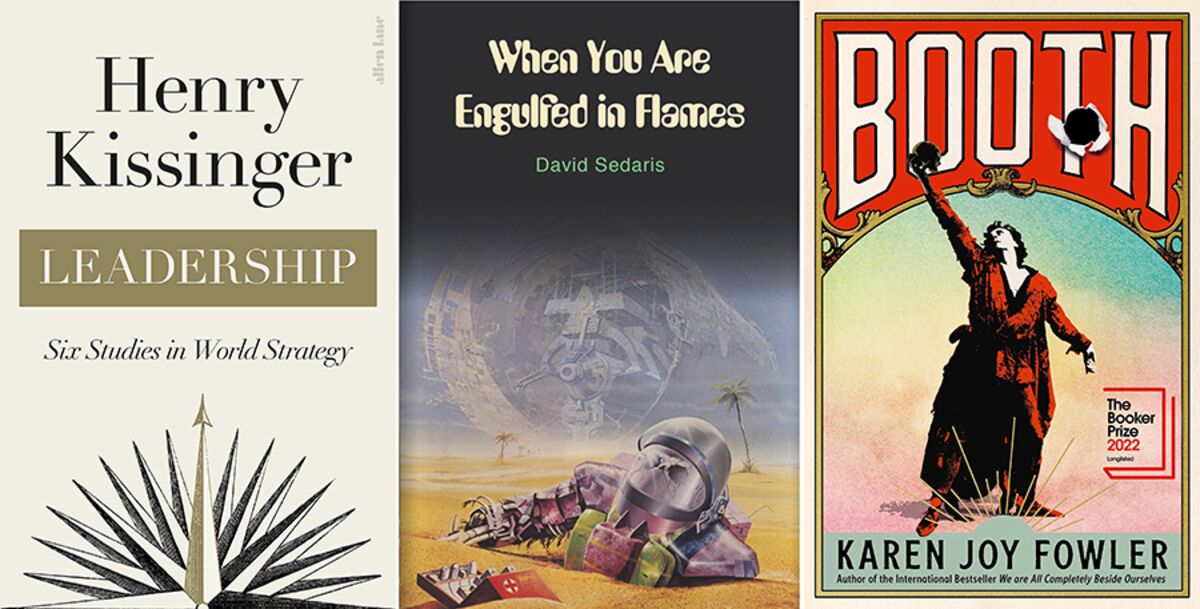 Welcome to The Readout with Allegra Stratton.Welcome to The Readout with Allegra Stratton.Welcome to The Readout with Allegra Stratton.Sign up here to get it in your inbox daily.Sign up here to get it in your inbox daily.Sign up here to get it in your inbox daily.
What does a Bloomberg journalist read on holiday? This year, you might expect books about Russia, about gas, or about failing economies. But what about Poldark, childrens thrillers, or even The Iliad?
As we take a break  normal service will resume towards the end of August  I asked a host of people around the newsroom for books theyve enjoyed this year or are hoping to read this summer.
One operational note: Putins People by Catherine Belton, which riled up plenty of rich Russians, was recommended by many of Bloombergs writers. (To quote Ben Sills: I think we were all rooting for Catherine. I hope she sells a million copies.)
So, just assume that everyone below recommends that one. Here are the best of the rest. Enjoy.
The Readout is taking a summer holiday of its own. Well be back with regular programming on Tuesday, August 30.
What were reading this summer
Philip Aldrick, Senior economics reporter
When You Are Engulfed in Flames, David SedarisIts been a while since Ive choked with laughter while reading a book on the tube. This one did it.
Paradise, Abdulrazak GurnahHes been writing sensitively about colonialism from the subjects point of view for years  well, before it was trendy. Plus, hes from the East African Swahili coast, where Paradise is set, and thats where Im going.
Javier Blas, Energy and commodities columnist
The Bridge: Natural Gas in a Redivided Europe, Thane GustafsonPublished a couple of years ago, but still crucial to understand the current crisis and how Europe and Russia got interconnected via gas. Im re-reading it again right now.
Paul J Davies, Global banking columnist
Disorder: Hard Times in the 21st Century, Helen ThompsonThe first third on the history of energy geopolitics is really excellent. In the rest there is much to argue with, but lots of fascinating food for thought. 
Fully Grown: Why a Stagnant Economy is a Sign of Success, Dietrich VollrathA real pleasure to read, so simply written, a book about big issues that can be appreciated by even the least economically expert reader, Id say.
The Pike by Lucy Hughes-HallettAn incredibly detailed and deeply researched biography of an absolutely insane character, written in the prose of the very best novelists. One of my favorite books, perfect for long lazy reading  especially if youre in Italy.
Andrea Felsted, Consumer goods and retail columnist
Poldark by Winston GrahamI have read all 12 novels since the TV show its taken me five or six years, helped by some of them being available free on Kindle Unlimited. Totally escapist, but also an amazing level of detail on history, current events, even the early theatre. I was actually genuinely sad when I read the last one.
Reto Gregori, Deputy Editor-in-Chief
Portrait of an Unknown Woman, Daniel SilvaIve read pretty much all his novels (with Gabriel Allon, his protagonist spy/art restorer), so his books feel a bit like old acquaintances.
Henry Kissinger: Leadership: Six Studies in World StrategyIm managing up here (John Micklethwait contributed a blurb on how good the book is). That said, it is quite good.
The 6:20 Man, David BaldacciLow brow, but with page-turner potential. Great for a plane ride or to kill time when youre waiting around at the airport after your flight got cancelled.
Francine Lacqua, Bloomberg Television
I really enjoyed Rebel Ideas, Matthew SyedIts an easy, enjoyable read looking at the power of diverse thinking.
Next, Im reading The Future of Money: How the Digital Revolution is Transforming Currencies and Finance, by Eswar Prasad.
And one of Mario Draghis closest advisers told me years ago that Hamilton by Ron Chernow was one of his favorite books (the advisers, not Draghis.) Its still sitting on my night table.
John Micklethwait, Editor-in-Chief
I just read David Copperfield (mainly because I had always pretended to read it before). I am reading Cuba: An American History by Ada Ferrer, and am about to read Klara and the Sun by Kazuo Ishiguro.
David Merritt, Senior Executive Editor, EMEA
What Ill be reading while stuck on the M20: Booth, by Karen Joy FowlerThe weird and wonderful story of the family of the assassin of Abraham Lincoln promises to put our own political upheavals into perspective.
Rule, Nostalgia: A Backwards History of Britain, Hannah Rose Woods The historian traces our addiction to nostalgia, and what it tells us about the UK today. 
Rebecca Penty, Editor, Bloomberg Businessweek
This is Going to Hurt: Secret Diaries of a Junior Doctor, by Adam KayTold through the sometimes hilarious and heartbreaking diary entries of a maternity ward doctor in England, this is vital for understanding the plight of underfunded public health systems anywhere.
Red Notice: A True Story of High Finance, Murder, and One Mans Fight for Justice, by Bill BrowderThis first-person account of a banker trying to save an innocent friend from imprisonment opens a window into the rampant corruption in Putins Russia. Highly relevant as the war in Ukraine rages on.
Therese Raphael, Bloomberg Opinion columnist
A Swim in the Pond in the Rain, by George SaundersStrongly recommended by former Bloomberg Opinion editor David Shipley. 
Plus a lot of non-fiction: Bill Browders Freezing Order; Javier Blas/Jack Farchys The World For Sale, and The Mystic Hand by former Belgium Finance Minister Johan von Overtvelt (honestly very readable and interesting!)
Akshat Rathi, Senior climate reporter
This year I read George Monbiots Regensis: Feeding the World Without Devouring the Planet. The system put in place over the last 100 years now feeds four times as many people as it did in early 20th century. But its a system built for efficiency not resilience. 
I also want to read Nutmegs Curse: Parables for a Planet in Crisis, by Amitav Ghosh. 
Ben Sills, Managing Editor, European Economy and Government
Stalin: Paradoxes of Power, 1878 1928, by Stephen KotkinWe all need to be Russia experts now. Lots of people say this is important, and that its not boring. Im 100 pages in and its touch-and-go.
Shuggie Bain, Douglas Stuart. Yeah, Im a year late. But theres been a lot of news. Glasgow folk are great.
Allegra Stratton, Contributing editor
If my time were my own it would be Bewilderment, Richard Powers (having really loved Overstory), but my children still to read with me were on The Mysterious Benedict Society by Trenton Lee Stewart. Its a damn good thriller, and by happy accident it also turns out to be on the importance of truth and resisting disinformation.
I also highly recommend The Great Circle as an almost perfect novel if you enjoy Los Angeles and Alaska equally. I will also read The Wall by John Lanchester, and would really like to manage Kissingers Leadership given the autumn we are all about to have.
Giles Turner, Managing Editor, Tech, Media and Telecoms
The Dawn of Everything: A New History of Humanity, by David Graeber and archaeologist David Wengrow. This changed my view about what life was like before we created a left vs right monoculture. 
Civilisations by Laurent Binet. Ive been saving this book for about half a year until I go on holiday. I will be very cross if I forget it. 
Simon White, Markets analyst
Why Zebras Dont Get Ulcers, Robert SapolskyIts a fascinating book on the effects of stress on the body (heart disease, reproduction, immune response, sleep) by a professor of biology at Stanford.
The Midlife Cyclist by Phil Cavell looks at the effect of high-performance training on people in their middle age. The current stock of people in their 50s and 60s who train hard are the first generation to be physically fitter than most sedentary 25 year-olds.
Lara Williams, Social media editor, Bloomberg Opinion
The Unbearable Lightness of Being, Milan KunderaI read it as Russia invaded Ukraine, which made the books imagery of Soviet tanks rolling into Prague feel a bit more real.
True Story: What Reality TV Says About Us by Danielle J Lindemann.I started watching Selling Sunset and now I am a little obsessed with the entire genre and what it can teach us. 
Adrian Wooldridge, Bloomberg Opinion columnist 
The Iliad, Homer (Every summer a group of us get together in Ireland and study a set text), and Leadership: Six Studies in World Strategy by Henry Kissinger.
Please send thoughts, tips and feedback to [email protected] You can follow Allegra on Twitter. The Readout is edited by
Adam Blenford.