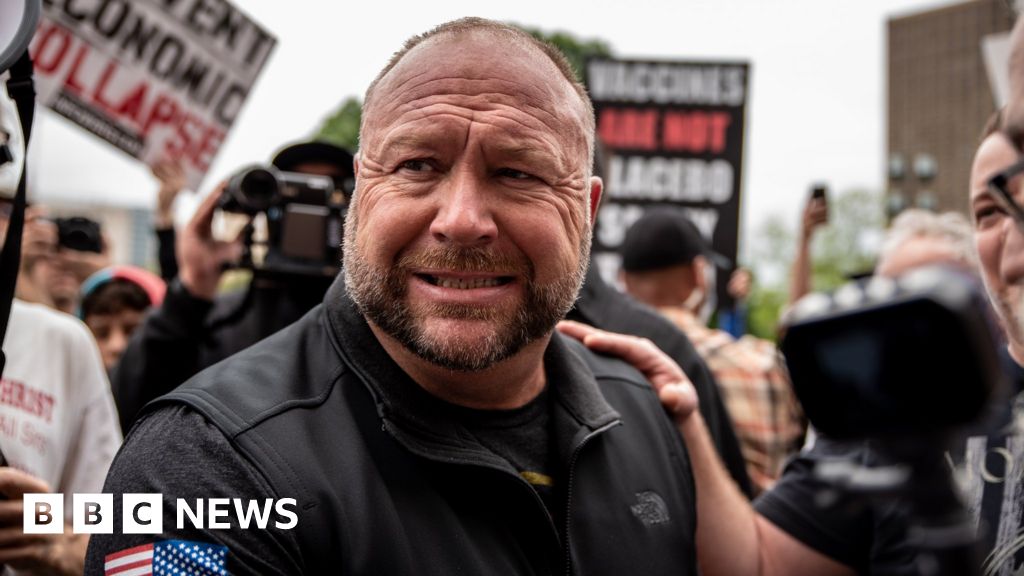 US conspiracy theorist Alex Jones has been ordered to pay $45.2m (£37m) in punitive damages after falsely claiming a 2012 school shooting was a hoax.
The same jury in Texas on Thursday ruled the radio host must pay $4.1m in compensatory damages to the parents of a child killed in the attack.
The parents said they had endured harassment and emotional distress because of Jones' misinformation.
Twenty children and six adults were killed at Sandy Hook in Connecticut.
The case was brought by Scarlett Lewis and Neil Heslin, the separated parents of six-year-old Jesse Lewis, who died in the school shooting.
The compensatory damages issued on Thursday were meant to cover the actual costs to the family incurred by Jones' defamation, such as the private security they hired during the trial out of fear of an attack from a Jones supporter.
The punitive damages are meant to act as a deterrent, and stop Jones from repeating his offence.
"We ask that you send a very, very simple message and that is: Stop Alex Jones," a lawyer for the parents said in court on Friday.
"Stop the monetisation of misinformation and lies. Please."
Earlier on Friday, an economist hired by the parents testified that Jones, his media brand Infowars and parent company Free Speech Systems were worth up to $270m.
Free Speech Systems filed for bankruptcy protections at the beginning of the trial.