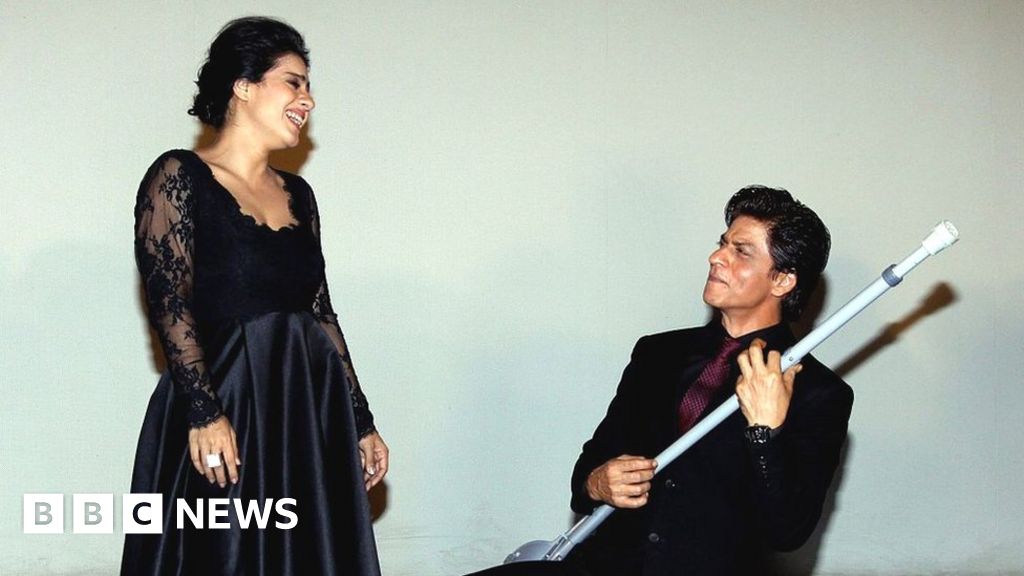 By Manish PandeyNewsbeat reporter
Fans of one of the biggest Bollywood films have criticised the decision to remake it as a musical where a main character is reimagined as a white man.
Dilwale Dulhania Le Jayenge, known as DDLJ, is being adapted for Broadway as Come Fall in Love – The DDLJ Musical.
But the renaming of the character Raj as a white man named Rog has led to accusations of "whitewashing".
The role – originally being played by Shah Rukh Khan in the 1995 film – will be played on stage by Austin Colby.
"Whitewashing" is the practice of casting white actors in non-white roles.
And followers of the popular original film say they are shocked that it is taking place in 2022.
"It's just truly horrible from every aspect, whitewashing the role of Raj," says 20-year-old Paridhi Puri.
Image source, Getty Images
Image caption, Kajol and Shah Rukh Khan have made a name for being one of the most iconic pairs in the Hindi film industry
For Paridhi, the "diaspora angle" of the film is one of the reasons why it's so valued and iconic.
Both characters are non-resident Indians (NRIs), with "the sense of immigration and how it feels to live in a foreign land" being strong in the film.
"The push and pull of what a lot of NRIs relate to, having one foot in India and abroad. It must have been so fresh and eye-opening for that time," Paridhi tells Radio 1 Newsbeat.
She says, as with any remake, there's a chance to make it "a better story" and address bits which may not have aged well over time.
But she says South Asian-American actors would want "to be considered and see their culture in a place which historically doesn't reflect" it, so the casting should show that for a main role.
Paridhi feels DDLJ goes beyond being "a simple movie", as it "has bridged generation, from my grandparents, parents to me, and I'm sure the next gen will be too".
Analysis by Haroon Rashid, BBC Asian Network entertainment reporter
DDLJ is the ultimate Bollywood romance. It's about a man who tells the woman he loves that he'll win her family over so that they can be together – and the audience roots for them throughout.
Shah Rukh Khan's portrayal of Raj became an instant hit and set him up to become known as the "King of Romance" in the years that followed.
However, he wasn't the first choice to play the hero. Director Aditya Chopra always imagined the film to be about an interracial couple and even wanted to cast Tom Cruise in the lead role.
His Broadway adaptation could be his attempt to tell a story that he wasn't able to, 27 years ago.
Raj and Simran, played by Shah Rukh Khan and Kajol respectively, became role models for couples who wanted to be together but were facing resistance from their families.
It's such a blockbuster that it's still playing in a cinema in Mumbai even today, with shooting locations as tourist attractions – a bridge in Switzerland has been rebranded the DDLJ bridge and even has a poster from the film permanently visible on it.
In an Instagram post following the news of his casting, Austin Colby admitted he wasn't familiar with the original production, but that he has become "in awe of this beautiful love story".
He told Variety that he understood he wasn't "the Raj that Shah Rukh Khan made us fall in love with, nor will I ever pretend to be".
Some fans of Shah Rukh Khan's portrayal of Raj have posted on social media saying they won't be going to see the musical.
Famous Indian chef Vikas Khanna tweeted to his 2.2 million followers that after initial excitement at a stage adaptation, he feels it's "terrible".
"Why destroy one of the greatest love stories of India. I remember the times when I was bullied nonstop for being brown. It hurts me that this is happening," he said.
Yash Raj Films, the producers of the musical, have not yet responded to Newsbeat with a comment.
The musical is set to open in San Diego in September with the aim of debuting on Broadway in the 2022-2023 season.
Follow Newsbeat on Instagram, Facebook, Twitter and YouTube.
Listen to Newsbeat live at 12:45 and 17:45 weekdays – or listen back here.