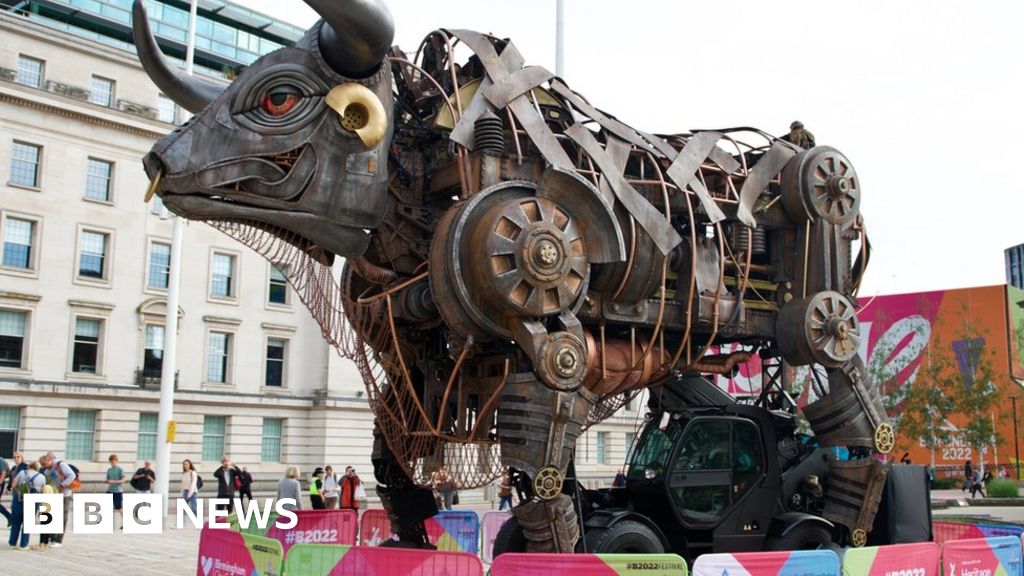 A giant mechanical bull that became the star of the Birmingham Commonwealth Games opening ceremony it set to stay in the city.
The 10m sculpture is on display in Centenary Square after its debut last week, although its future has been less clear.
Largely made of foam, it was due to be dismantled at the end of the Games, sparking public outcry.
But Birmingham City Council has confirmed the bull has won a reprieve.
It will stay in the square until the end of September before being moved indoors.
Image caption, The bull has attracted selfie-taking crowds to Centenary Square
Council leader Ian Ward said the bull's next home was still to be confirmed but the piece could not be left outside over the winter.
Since amazing a global TV audience as it came steaming into the Alexander Stadium, thousands of tourists have visited the bull every day.
Image caption, The bull will need to be kept inside over the winter
Mr Ward said the artwork had proved incredibly popular. A petition to save it attracted almost 10,000 signatures.
However keeping it is not without difficulties – its size makes it hard to transport and store and parts will need to be replaced.
Follow BBC West Midlands on Facebook, Twitter and Instagram. Send your story ideas to: [email protected]
The BBC is not responsible for the content of external sites.