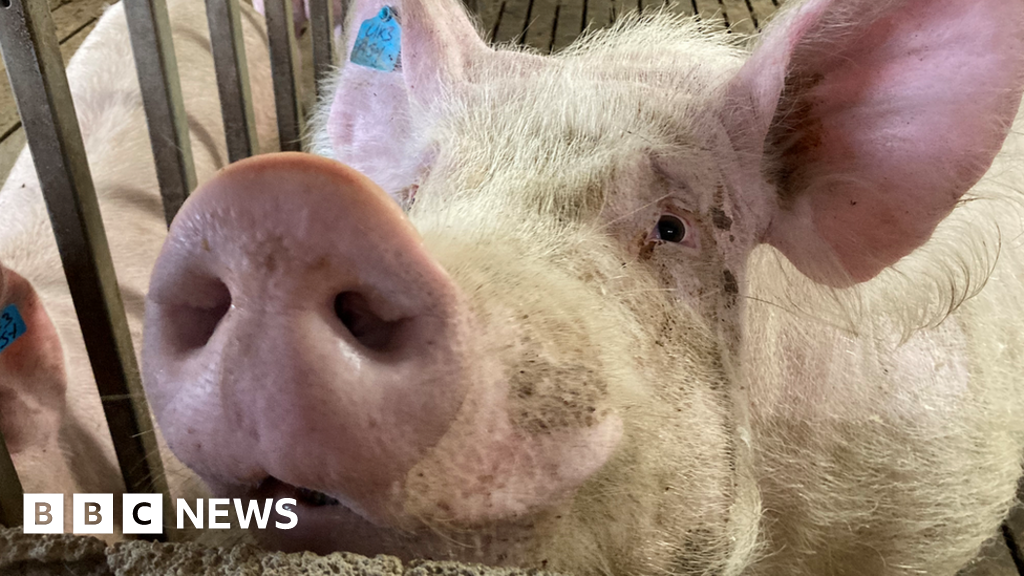 By Louise Cullen and Angela DavisonBBC News NI
A County Tyrone pig farmer has warned he is one of many considering leaving the industry, if costs don't come down significantly before winter.
Roger Johnston is used to fluctuating prices, but said this year is different.
"This past three, four months, we've probably made record losses," he said.
Rising energy costs have had a real impact, with more than 200 breeding sows and thousands of piglets each year to house.
Feed costs make up about two-thirds of outgoings.
On top of staffing challenges post-Brexit and rising energy costs, pig farmers like Mr Johnston are feeling the pinch.
"We've had challenge after challenge, but the Russian invasion of Ukraine brought things to different level with grain costs doubling within a month.
"About 20% of the UK herd has actually gone from going out of business," he added.
"So it's been very, very bad and the worst we've ever seen in financial losses.
"It's not even just with feed side, everything's gone up."
Image caption, Roger Johnston has 200 breeding sows on his farm
Industry leaders have called for more help, as farmers also try to recoup recent losses.
"Farmers here are very resilient," said Deirdre McIvor, chief executive of the Northern Ireland Pork and Bacon Forum.
"They take action to try and be innovative to address any problem themselves. But this is a problem that they just have no answer.
"These are wider issues that are out there, and we desperately need support.
"The end result for the consumer is there will be no locally produced product on the shelves ultimately, if things go to their worst endgame."
The Department of Agriculture, Environment and Rural Affairs (DAERA) said it recently delivered a Pig Sector Support Scheme and has no plans at this point in time for further financial support.
The forum has called on retailers to help as well.
"There's not been any sufficient increase in returns coming back up the supply chain from the retailers.
"All in all, it threatens a very, very bleak picture for the industry moving forward.
"We need strong intervention and support from government at this time to try and see us through, otherwise our industry could disappear."
Image caption, Roger Johnston's farm is near Lough Neagh
Grain prices have recently started to come down.
But after 18 months of losses, farmers like Mr Johnston are not seeing that change having an impact on their businesses yet.
"I still think to myself: 'What am I doing here, getting up every morning, seven days a week to go and look after the animals?'
"We do have a passion for the work, but there's only so much I can do. I still need to pay my mortgage and put food on my table.
"If I can't do that with the business, I'll have to close it down."