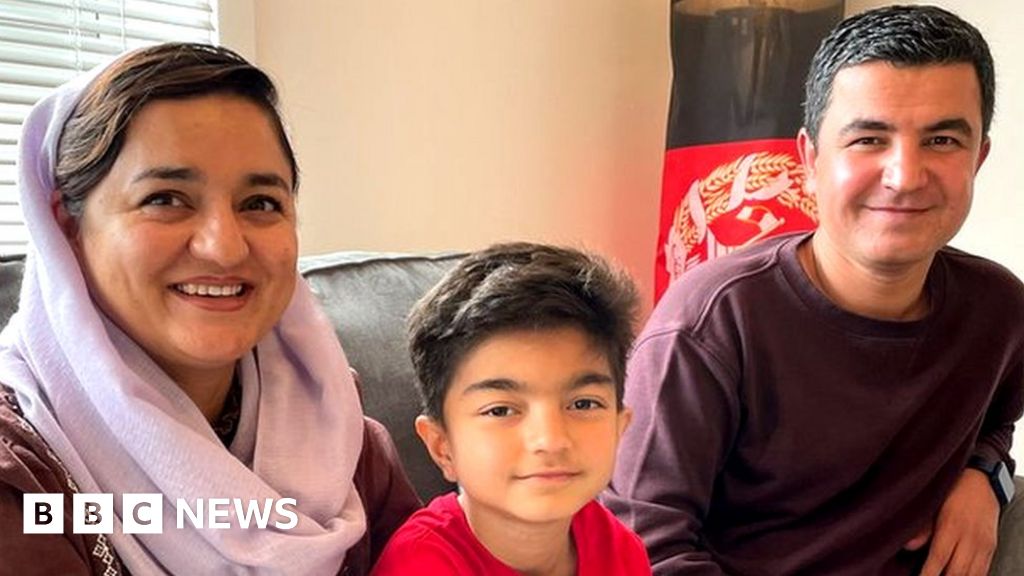 By Lucy ManningSpecial correspondent, BBC News
Six-year-old Sepehr Vesal stood with his face pressed against the window, counting the cars, counting the days until he would leave the hotel near Heathrow where he was isolating.
That was last August, when Sepehr, his father Burhan and mother Narcis had arrived in the UK from Afghanistan in the wake of the Taliban's takeover. They consider themselves the lucky ones.
BBC News has followed their journey: from hiding in Kabul, where former British Army interpreter Burhan pleaded for the UK not to leave them behind, to the crush and danger at the airport as he waved their documents, to their safe arrival in the UK.
Watching our reports was Helga McFarlane in Aberdeen, who was so moved by their plight that she offered them a flat in the city where they could restart their lives.
This week, almost a year since their arrival in the UK, we went to Aberdeen to meet them.
"I call it the city of opportunity," Burhan said. The Granite City has warmly welcomed them. Burhan has a job in security while Narcis is learning English. She hopes to use her skills as a doctor to help her adopted community.
When we first met Sepehr he could barely speak any English. "Good" was his reply when I had asked him last year how he felt about moving to Aberdeen.
With just a hint of a Scottish accent, it's clear Sepehr's development has been startling.
"I couldn't speak English at all, just a little bit. Now my English is better so I can speak so much and I've forgotten a little bit of… Persian."
He proudly describes what he has been taught at school: "We learned about the human brain… about cerebellum, it controls your body control."
Much like the Ukrainian refugees who have recently fled war to come to the UK, the Vesal family effectively have been sponsored. Helga McFarlane has provided them with accommodation, support and advice. Not all Afghan refugees have been as fortunate, and Burhan knows how much of a difference it has made to their lives.
"I can say that I'm the luckiest one amongst my friends, amongst tens of thousands of people who left Afghanistan, that I have settled well with the help of generous, good people around me."
When the UK launched its resettlement scheme for Afghans last year, it offered safety but not stability. There are nearly 10,000 still in hotels. More than £1m a day is being spent on rooms.
Unlike Ukrainian refugees, they have no official sponsors to help integrate them into communities. And also unlike Ukrainians, they can't bring over other family members.
Image caption, Abdul Wali Shelgari has been living with his six children in a hotel in southern England for nearly a year
Abdul Wali Shelgari has been living with his six children in a hotel in West Sussex. The children go to school but, each day, return to their temporary accommodation. It's not how they envisaged family life.
"I feel hopeless," the businessman says. "A hotel is not for long-term living. They say that it might be solved within one month or two months. But it's nearly one year."
The hotel serve the family Indian food which, he says, is more spicy than Afghan food and difficult for the children to eat. And he says many people are distressed that this situation has continued for so long.
Many of the Afghans who came here – while grateful for their rescue – feel defeated by the bureaucracy.
Marwa Koofi was living with her brothers and sister and their families in a hotel in Yorkshire after they fled Afghanistan because their mother was a politician targeted by the Taliban. However, they had to leave that temporary home of nearly a year.
Image caption, Marwa Koofi and her mother Maryam Koofi
Marwa says she asked to come to London because she will study at King's College from next month, and she asked for her family to remain together.
But while she was sent to a hotel in West Sussex with one brother, her other brothers are now in a Manchester hotel and her sister is living in a hotel in Leeds.
"It's very hard for me to be away from my family. It was upsetting for us. To be honest, I couldn't stop my tears."
The Home Office said "The housing of Afghan individuals and families can be a complex process and we are supporting people with many different needs. We… have moved – or are in the process of moving – over 7,000 people into homes since June 2021."
That leaves nearly 10,000 Afghans in hotels. It's a year since they fled from their homeland – but they still haven't found homes.
Additional Reporting by Vinnie O'Dowd.